Farmers have long struggled against multiple negative forces, and the coronavirus pandemic has simply intensified the need for even more innovation in the sector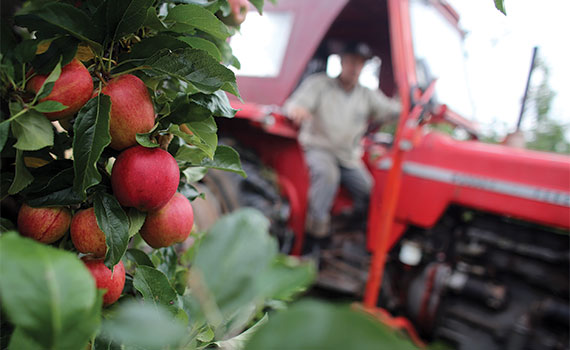 This article was first published in the June 2020 UK edition of Accounting and Business magazine.
As the global pandemic continues, businesses continue to suffer. All sectors of the UK economy are affected, but one is facing particular stress: agriculture.
While businesses in many sectors were ordered to close, farmers – whose job often entails physical isolation from other people – were still out working. Business decisions might have been taken out of the hands of many companies, but for the farmer, commercial decisions have never been more important, and now must be made in a climate where nothing is sure.
'Anyone claiming to know what the long-term impact is of coronavirus on agriculture doesn't know what they're talking about,' says John Strak, a consultant and agricultural economist for more than 30 years and professor of food economics at the University of Nottingham. 'It's a situation where wise men are full of doubt.'
The virus's impact is extraordinary. The Office for Budget Responsibility (OBR) forecasts it will result in a 35.1% drop in the UK's GDP in the second quarter of 2020, dwarfing the impact of the 2008 financial crisis. However, the OBR also predicts a strong recovery in the third quarter that will win back much of that lost growth. Farmers, though, face tough choices if they are to survive and make the most of this possible recovery.
Advisers vital
Sarah Baker, strategic insights manager at the Agriculture and Horticulture Development Board (AHDB), is under no illusions as to the scale of the challenge and believes farmers will need expertise as never before. 'I think accountants are going to be key to the survival and recovery of the sector,' she says. 'Farmers are used to volatility and were already facing uncertainty due to the challenge of Brexit, but this is extreme volatility. There are big decisions to make.'
The collapse in demand from the foodservice industry as the hospitality sector closed down has had huge implications for farmers, particularly dairy farmers. Baker fears the sector risks facing a 'perfect storm', as the production time lag in agriculture makes it impossible to exploit the forecast upswing in the third quarter after earlier moves to cut production. 'The risk is of cheaper products from overseas becoming available as a result of new supply chains,' Baker explains. 'Once these are established, they're harder to break. Farmers have to maintain their current supply chain but will need the help of their accountant and bank manager to do that.'
Planning production on the assumption of a Q3 upswing may seem sensible, but if another spike in Covid-19 leads to a second lockdown, with a further collapse in food-service demand, such a decision could be disastrous. 'There will be investors who stick their neck out,' says Strak. 'But it's a gamble.' Decisions could involve whether to grow fresh produce such as green beans, as the global nature of Covid-19 potentially impacts agriculture in East Africa. Expensive polytunnels, machinery and packhouses allow such crops to be grown in the UK all year round, but it's not as if cost is immaterial. As Strak points out: 'You can grow any fruit or vegetable on Ben Nevis, but in Ethiopia sunlight is free.' The much more expensive UK-grown green beans could not compete in such a cost-driven market, and the gamble would have failed.
The position of the farmer isn't enviable, but positive action can make a difference. The AHDB has compared the top 25% of farms by performance with the bottom 25% and identified eight key ways to maximise performance:
minimise overheads
set budgets
compare yourself to others
understand the market
focus on detail
have a mindset for innovation
improve people management
specialise.
Baker says: 'All these things are in the farmer's power. It doesn't require huge investment but relentless attention to detail and cost management. These are conversations that accountants need to have with their farming clients.'

Embracing innovation
Dan Crowther FCCA, CEO at Thorne Widgery, a Herefordshire-based practice with many farming clients, recognises these problems but is already seeing some change. 'Farmers don't always have great business skills; their trade is farming,' he says. 'They like investing in machinery, but seeking new customers can be a different world for them. The sector can be slow to embrace new ideas, but the younger generation of farmers is more ready to adapt to the digital world.'
He also sees growing interest in entrepreneurialism. Clients with farm shops have done well recently, as people tiring of the grim experience of supermarkets have turned to them.
These businesses, especially those with delivery services, have seen a boost.
Strak thinks those who will survive are those who find opportunities. Marketing, he says, is key. 'To be a good marketer, you have to think like a customer. You've got to find a way of putting your produce in front of them. If you can do that, you'll reduce uncertainty. Don't invest too much in production – invest in marketing.'
With potential customers stuck at home and purchasing habits changing, farmers with an online business have a real opportunity.
But even farmers who adopt best practice face huge difficulties. Dairy producers are tipping away milk, demand for expensive cuts of beef has slumped as mince is now the meat that consumers want for spaghetti bolognese, ornamental producers have seen garden centres close, fruit growers fear labour shortages and crops rotting unpicked, and potato growers have lost the UK's chip shops.
Strak fears that farmers won't plant if they worry there will be no demand for their produce, but as the pipeline of food is used up this could result in major food supply issues. 'Agriculture is sitting on the next crisis,' he warns. 'Farmers are going to say, I'm not doing this any more until someone guarantees the price. This is what governments around the world need to be doing.'
Crowther says his clients are still out in the fields farming. 'They can't furlough themselves – there are crops in the ground, and I see them fulfilling their obligations.' Agricultural workers are the forgotten key workers. Largely unseen, they have not had the attention given to the NHS, delivery drivers and retailers. But if farmers fail to get support and choose not to take on all the risk in this uniquely uncertain environment, the resulting empty shelves will show us just how vital they are.

Matt Warner, journalist
"Farmers have to maintain their current supply chain but will need the help of their accountant and bank manager to do that"