As technology transforms the banking industry, an adaptive mindset is vital, says Jacqueline Chan FCCA, CFO and managing director at DBS Hong Kong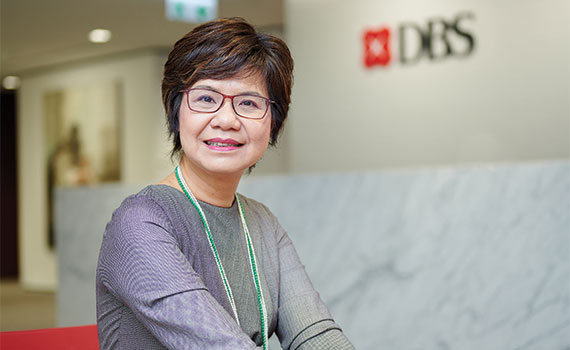 This article was first published in the June 2020 China edition of Accounting and Business magazine.
A valuable career milestone for Jacqueline Chan is being part of DBS's digital transformation journey, which enables a seamless banking experience in the everyday lives of its customers and, ultimately, 'making banking invisible'. As managing director and CFO at DBS Hong Kong, Chan takes a proactive stance in this strategy.
'Disruptive technology trends, like 5G, cloud computing and artificial intelligence, transform the way people interact with banks or even reimagine the definition of banking,' says Chan, noting that 'the whole banking industry's ecosystem and landscape are changing with the introduction of new technologies. With more accessible data intelligence, our competitive edge is the ability to leverage and process data faster with insights to enable a seamless banking experience for our customers. We have a slogan that says "Live more, Bank less".'
Chan's experiences throughout her career have helped her understand how banking and finance can change. She has long been at the forefront of this digital transformation – since 2013 at DBS, where she is responsible for all finance functions and corporate treasury, and previously in leadership roles at Deutsche Bank, Barclays Group and Salomon Brothers, covering financial controllership, strategy and planning, change management, business development and joint ventures across Asia Pacific. Chan believes the ability to leverage new technologies has given DBS an edge in moving forward and creating innovative banking services.
As Chan talks about this digital transformation she grows animated. She is passionate about the prospect of digitalisation and has full confidence that her team can adopt the right mindset to 'go digital to the core'.
DBS' digital transformation has looked to global technology giants for inspiration and guidance, such as Google, Amazon and Netflix, instead of an ordinary bank.
'We need to learn how to operate like a tech company rather than a bank, looking at what kind of culture, people strategies and operating model tech companies have adopted,' she says.
Chan believes that reimagining banking by making the lives of customers simpler is key to remaining relevant. In fact, DBS has excelled in its ability to transform itself by implementing three strategic shifts.
Firstly, DBS's digital transformation applies to its systems, platforms, people and operating model. 'If we decide to go digital, we have to be digital to the core,' Chan says. Secondly, the bank has to embed itself in the customer journey where it focuses on an end-to-end journey from the front to the back. Thirdly, DBS has to change its culture to facilitate transformation and encourage its employees to develop an entrepreneurial mindset.

Building a data-driven culture
'Leveraging data analytics is a critical success factor. The general business environment has become more difficult since the global financial crisis and you really need to think outside of the box to remain competitive,' she says.
'Knowing how to leverage your data to improve the customer experience is important. New technologies add value and enable us to do something that we weren't able to do before. It also answers questions such as "What gets the business moving? What are our revenue drivers and expense drivers?"
'Now we are able to measure the value of digitisation efforts and link them to the financial performance, leveraging data analytics and visualisation tools to support business review and decision-making.'
'When we assist our clients in managing their investment portfolios, we have taken holistic consideration of their needs: for example, kids studying abroad and overseas property investments. We adopt an ecosystem approach with a 360-degree mindset to understand our customers' needs; that is how we differentiate ourselves from others.'

Agile operating mindset
Chan stresses the importance of running an agile operating model in her organisation. 'I always think about the operating model that provides the speed, accuracy and flexibility to quickly unlock new sources of value and radically reduce costs,' she says. 'This combines digital tech and process improvement capabilities in an integrated way to drastically improve customer journeys and internal processes.'
For example, Chan's team has reduced the use of PowerPoint during meetings, relying instead on interactive intelligence dashboards that make it possible to capture key information at granular level instantaneously and detect abnormal activities for risk management. New capabilities are gradually built up, including data analytics to support business growth and robotic process automation to improve efficiency.
Chan admits that the transformation is not without its difficulties. 'The digital evolution has brought many new opportunities to the markets, but it has also increased competition and added pressure to the industry,' she says.
Chan passed over opportunities to join government organisations in her career path. 'I would say I enjoy a more competitive challenge with global exposure. My preference has always been working outside of my comfort zone, rather than staying in a stable environment,' she says. 'I like to challenge myself and try something different. That really helped build up my confidence and led me to where I am today.'
'Being a CFO is not an easy role, especially after the global financial crisis in 2008. It is even harder to be a successful leader in the banking industry because it is a highly regulated sector and its business environment is changing rapidly,' she says.

Global challenge
But the difficulties are what drive Chan forward, with the challenges she faces particularly interesting in today's environment. 'The global economic environment has weakened signficantly since 2019 due to geopolitical tensions including the US-China trade war and Brexit,' she says. 'They have had significant impact on Hong Kong's economy while private consumption and visitor arrivals have declined due to the social unrest.'
In terms of the trade war, Chan notes that Hong Kong's business cycle has traditionally been closely in sync with the US's while China's influence has been increasing. Any headwinds impacting both economies at the same time would have a significant impact on Hong Kong, especially on small and medium-sized enterprises, of which the Special Administrative Region has an abundance.
'Government authorities have been announcing various kinds of supporting measures to assist local residents and businesses, and that will provide a positive stimulus effect for Hong Kong's GDP growth,' she says.
Chan believes 2020 will be a challenging year. Globally, markets are paying close attention to central bank policies and their efforts to combat slowing economic growth.
'Interest rate cuts add challenges to banks as lower interest rate environments put pressure on our financial performance,' Chan says, adding that 'during volatile times with uncertainties, the key to organisations' survival is to assess the strategic position, the major market shifts and risks, and implement strategic moves decisively and speedily.
'Accountants need to be more than about just having accounting and finance knowledge these days. Digital technologies create opportunities for finance professionals, putting them in a more value-added position to become a strategic partner. New skills required are critical thinking and analysis, creativity, complex problem-solving and social influence. The key is being willing to experiment more and to not be afraid to fail,' Chan says.
These transformations have not been simple. 'Leadership in the digital age is very different from before,' Chan says. 'We began our transformation by looking into our pain points, reviewing and updating our operating model multiple times to address issues that we could improve on, and fulfilling stakeholders' demands. It was also a learning journey for me because digital-related knowledge isn't something I was taught in school.'
Chan, who is an active member of ACCA Hong Kong, says that membership that has helped in developing her career. 'ACCA is a worldwide organisation that is highly respected and reputable. It has been very helpful for me and other accounting and business professionals across both the private and public sectors,' she says.
'I always believe we need a wide network to advance our careers, and ACCA provides a great platform for us to network with others and find out more about what the world is thinking.'

The interview took place before the Covid-19 pandemic.

Alex Ho, journalist

"We need to learn how to operate like a tech company, looking at the culture, people strategies and operating model they have adopted"