Accountancy Futures magazine
ACCA and Chartered Accountant ANZ's twice-yearly professional insights publication
Edition 19 - December 2019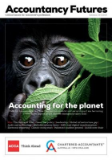 For the world's population to live well on an ecologically flourishing planet, we need to reset the way in which modern economies function. In this 19th edition of Accountancy Futures, jointly published with ACCA's strategic alliance partner CA ANZ, our cover feature looks at the role of finance and business in achieving this aim, taking as its reference point ACCA's report Social and environmental value creation.
Public trust in business will be more important than ever, as highlighted in our second article on a recent CA ANZ report. It throws down the gauntlet to professional accountants to build trust by putting ethics at the heart of every decision they make.
Elsewhere, there are articles on women and leadership, policing the global tax system, audit and technology, SMPs and digital transformation, electronic filing, China's rising corporate stars, and bridging the global infrastructure gap. We also look at how tax can be used in tackling the climate emergency.
Profiles include Sydney Water CFO Kevin Jones, the first member to obtain CA ANZ membership following the alliance; new IAASB chair Tom Seidenstein; and the auditor generals of Pakistan and Afghanistan.
Read the latest edition by downloading our Insights app or online