Accountancy Futures magazine
ACCA and Chartered Accountant ANZ's twice-yearly professional insights publication
Edition 17 - November 2018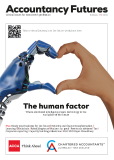 In a world where artificial intelligence (AI) is taking over tasks that require memorisation and logic, how will your human intelligence retain its advantage? What's your superpower going to be? Our cover feature explores these issues focusing in particular on new ACCA research on the role of emotional intelligence in the digital age.

Elsewhere we look at how robotic process automation is driving transformation in the finance function, look at the way professional accountants learn is changing, and look at why so few women reach the top in professional services. We also take a look at the milestones being met in developing the accountancy profession in countries such as Afghanistan and Rwanda.

Interviews in this edition include International Federation of Accountants chief executive Fayez Choudhury, who steps down at the end of this year after five years at the helm. We also talk to controversial economic historian Niall Ferguson, a keynote speaker at the 2018 World Congress of Accountants in Sydney.

You can also try our virtual experience and explore the workplace of the future.

Read the latest edition by downloading our Insights app or online