Cynthia Corby FCCA, audit partner and construction industry leader at Deloitte Middle East, on changes in the region, adding value, and the lack of women at the top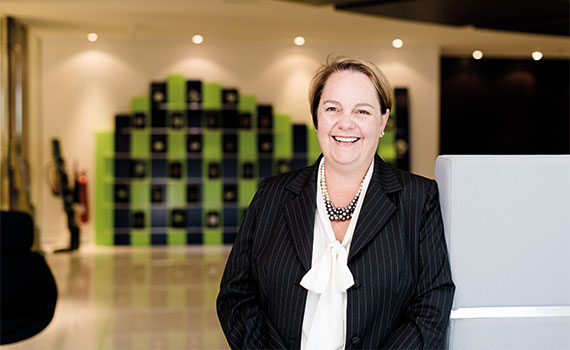 This article was first published in the March 2018 International edition of Accounting and Business magazine.
Cynthia Corby is not one to shy away from a challenge. Originally from South Africa, now an audit partner and construction industry leader at Deloitte Middle East, she had a rapid rise up the ranks of the profession. At 23 she was the youngest audit manager ever at Deloitte South Africa and a decade later became one of the Big Four firm's first female partners in the Middle East.
Now based in Deloitte's United Arab Emirates (UAE) office in Dubai, it's clear that her determination to make the most of the opportunities in life is not confined to her own career, but extends to her clients, too. The UAE office, Deloitte's largest in the region, has around 600 audit staff and more than 2,500 clients. Corby's portfolio includes construction, hospitality and manufacturing clients.
Given the fast pace of change in the UAE, she has had to pay close attention to this client base. 'When I arrived in Dubai in 2006, there was a vast amount of construction ongoing, with more cranes than anywhere else in the world. Today we can see the results – we have Burj Khalifa and the whole Downtown Dubai area where in 2006 nothing existed. Just seeing the rate of change that the country was going through was very exciting, not just from the perspective of auditing but in understanding the impact construction clients were having on the economy.'
Corby has built her career on a number of core principles. Key among them is the belief that to add value to a client you must understand their business and their industry. She is a frequent visitor to client construction sites, seeking an understanding of how the construction process works and the technical and commercial challenges encountered by the industry in shaping the region's complex infrastructure and capital projects.
'Of course as accountants we need the technical accounting qualifications, but alongside that it is key to have an understanding of the client's business and industry,' she explains. 'When you really understand your client's industry you can give insights into industry accounting benchmarks and make recommendations to improve their business and add value.'
Working in the construction sector, she has seen her share of challenging audit and accounting issues, but is content to take them in her stride. 'Challenges keep you on your toes. In all my years in the profession, they are the ones I have learnt the most from,' she says.
It's not just the Dubai skyline that is changing in the UAE. New accounting standards developed by the International Accounting Standards Board around revenue recognition, leasing and provisions are driving a new wave of change in financial reporting.
The same is true in Saudi Arabia, where Corby also works. The kingdom is in the process of moving from its current standards set by the Saudi Organization for Certified Public Accountants to International Financial Reporting Standards (IFRS). Since 1 January 2017, all listed companies are obliged to report using IFRS, while all other entities, including smaller businesses, are expected to report according to standards based on IFRS from 1 January 2018.
'That's a huge challenge, but it's important because if you're trying to compete on the global stage you need to be able to be benchmarked against comparable businesses. A fair comparison can only be done if both apply the same accounting framework and principles,' says Corby, who also served as IFRS technical support leader at Deloitte Middle East until late 2016.
Born and raised in South Africa, Corby's first experience with accounting was at age 13, doing the bookkeeping for her mother's interior design business.
At 17, she joined Deloitte in her home country. Studying part-time while she worked full-time, she gained auditing experience across a range of industries, including manufacturing, forestry, agriculture and coal export.
'Growing up in South Africa, it was normal for women to work. When I joined Deloitte, we had both women and men at junior levels, but when you reached the more senior levels, it was noticeable that there were more men,' she says. 'The same challenges apply now, 28 years later, in terms of trying to retain women in the profession once they start a family.'
It's a dilemma Corby faced herself – her son was nine months old when she was offered a job in the UAE. She was lucky, though, in having the support of her husband and they relocated to Dubai.
As well as her roles as audit partner and construction leader, Corby also serves as Deloitte's UAE human resources partner and Middle East director of operations for audit and assurance, giving her a clear view of the gender ratio. 'At senior manager level 26% are women, but going from senior manager to partner we lose some,' she says. 'We're seeing more female partners now than before, but we haven't reached gender parity yet, by any means.'
To retain female employees who might consider leaving their jobs once they start a family, Corby favours the options of part-time and flexitime policies. 'We have a number of women who have opted for this. It ensures they remain up to date and that their career can progress, and we retain this talent pool.'
Obtaining an ACCA Qualification facilitated Corby's career path. Already qualified with the South African Institute of Chartered Accountants (SAICA), she moved to the UK in 1999 to work as senior manager in a mid-tier firm, Baker Tilly. To become a UK partner she needed a UK audit licence. This required a globally recognised qualification, and she chose ACCA, qualifying in 2002.
'At the time, ACCA was by far the most international accounting body. The organisation recognised my SAICA qualification and gave me certain exemptions, which was hugely beneficial for me,' she notes.
While Corby herself now specialises in construction, she advises fresh graduates to get as much exposure as they can to different clients and industries before narrowing down their focus.
'You should get as much and as broad experience as you can initially, then choose what you have a passion for. Because that will ensure you stay happy and engaged.'
Heba Hashem, journalist in Dubai
"We're seeing more female partners now than before, but we haven't reached gender parity yet, by any means"