Taiwo makes $20 go a long way
Scholarship leaves a lasting legacy
"In the end, it doesn't matter how much power, wealth or influence you have. It is what you do with it that counts. That is your legacy."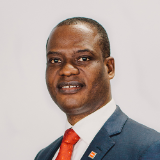 Twenty dollars does not sound like a life-changing sum of money.
But it could be if you are so poor that you have no prospect of borrowing or earning $20. And if it is exactly what you need as a bright boy from a remote village in Nigeria to pay the registration fee which is all that stands between you and a place at university.
It may as well have been $2m for Taiwo Oyedele, who could see a promising future snatched from his grasp for the sake of an amount which other people might spend in a coffee shop on the way to work.
'I was not ready to admit defeat,' said Taiwo. 'At that moment it seemed like I would be a farmer or a taxi driver like many other boys in my village, and there is no shame in that, but I had dreams of achieving something more, and that looked impossible.'
That's when fate, or destiny, or chance, intervened – in a way which transformed not just the lives of Taiwo and his family, but the lives of hundreds of other poor children across Nigeria.
Life chances
Taiwo said: 'About the same time I thought my chance of going to university had gone, I was called to the Principal's office. They told me that some people from my village, Ikaram Akoko, who were employed at a steel company a few towns from my village had formed an association. They contributed money to award a scholarship to the best final year student in our village high school.
'The Principal said to me, "Taiwo, that is you. The scholarship is yours."
The amount was precisely $20 – Taiwo was going to university.
Everything that Taiwo has achieved since flows from that moment, so he is doing his best to ensure that other children can enjoy the same fortune that fell his way. That includes leading the foundation which he set up, Impact Africa Foundation, to improve the life chances of poor children. He funds the work largely through fees from speaking engagements, lecturing, and donations from friends and the public. Taiwo's foundation is supporting the education of 560 children across Nigeria and he plans to expand the initiative to other African countries soon.
'I started the foundation on the day I turned 40,' said Taiwo, 'because I was keenly aware of how my life had been changed by a helping hand.
"We live in a society of contradictions, where there is abundance of resources, yet we are the poverty capital of the world; where many people are incredibly rich while millions struggle to survive."
'The foundation is about three things. First, it pays for education. Second, mentorship. My career choice was informed by a five-minute conversation about accountancy with my uncle. It gave me a new direction. Even a brief intervention can guide a child. And third, advocacy. The foundation seeks to influence government to adopt policies that promote equality.
'It is desperately needed, because we live in a society of contradictions, where there is abundance of resources, yet we are the poverty capital of the world; where many people are incredibly rich while millions struggle to survive.'
Impact Africa Foundation gives Taiwo as much satisfaction as anything he has achieved. That includes his work at PwC, where he made partner in just seven years – which he believes is a record at a Big Four firm in modern history. He has also served ACCA at a global level since 2011. It is quite a record for a man who confesses that accountancy mystified him at first. 'I didn't understand why you had to record everything twice!'
Taiwo said: 'I could see at once that ACCA was right for me. It was about knowledge, not just qualification. And our values are in perfect alignment.'
'ACCA has always been committed to integrity, innovation and inclusion, and so have I throughout my life.
Important value
'It's not always easy to do what is right. In Nigeria it is twice as hard to live ethically, where corruption is everywhere, and it can take months to achieve something as simple as renewing a driving licence if you do not pay a bribe. But tough situations are the best test of character, an opportunity to demonstrate your commitment to ethics and values.
'I try to innovate every day. Even as a little boy I wanted to do the best I could and be the best at everything I did, and to find ways to improve.
'And inclusion is such an important value to me. You have to take people with you. 'In the end, it doesn't matter how much power, wealth or influence you have. It is what you do with it that counts. That is your legacy.'