Sanjay Sharma FCCA, CEO and founder of AASK Advisory Services, may be based in Singapore, but he has his sights firmly set on helping firms expand into Africa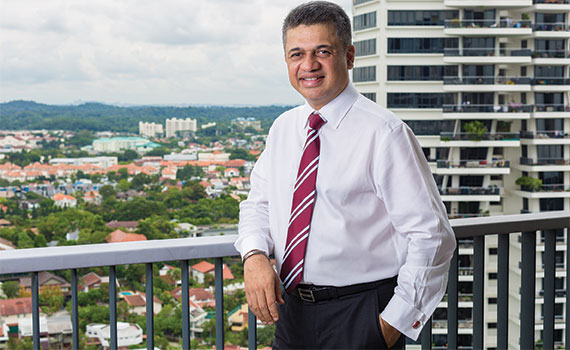 This article was first published in the March 2018 Africa edition of Accounting and Business magazine.
Sanjay Sharma is in many ways a true citizen of the world. Indian by ethnicity, he was born and raised in Kenya, cut his teeth as an accountant in the UK for close to 17 years and is today based in Singapore, where he runs his own firm providing advisory services to companies that require guidance in developing their business.
Prior to setting up AASK Advisory Services in 2015, Sharma enjoyed a successful career in Deloitte beginning in the early 90s. Proving himself as an effective leader and business developer for Deloitte, he became a partner in the London office in 2006.
Despite his successes, Sharma had one more dream that he wanted to fulfil. He wanted to experience running his own business and, in his words, to 'create something from a blank piece of paper'. He took the plunge in 2015, four years after moving to Singapore.
For him, Singapore was the perfect place to start out. 'Not only is it an easy place to set up a company, it also has a strong framework of corporate governance, risk management and compliance policies, which gives it a strong brand name as a country,' he says. 'When you are selling your services and people hear that it's a Singapore-based company, it helps.'
Shareholder value
Another push factor for Sharma was identifying a niche for himself in the market, helping SMEs with corporate governance, risk management, tax structuring and boardroom appraisals, amongst other services. 'My aim when I set up AASK was to enhance the shareholder value of the companies that I worked with. Ultimately, we know that if you have better shareholder value, more companies want to do business and establish long-term relationships with you,' he says.
In addition to helping clients get their financial governance in order, AASK Advisory Services, which comprises Sharma and tax partner Rohit Shah, also provides tax advisory services to boards. 'We sit down with boards on a regular basis to challenge the matters that they are discussing,' he explains. 'Because we are not shareholders, we are able to ask all the difficult questions, which the clients understand will ultimately help them to become a better company.'
African opportunities
Beyond what Sharma describes as the 'bread-and-butter' aspects of the business, he is also passionate about helping companies increase shareholder value by strategising business development growth outside Singapore and, in particular, into Africa. Even though Sharma admits having a soft spot for Kenya, the main impetus for him in wanting to bring Singapore companies into Africa was really based around the opportunities that he believed were available.
'Margins in Africa are higher than in South-East Asia. Trade between Singapore and Africa has been growing at a compound rate of around 5.2% since 2005 and, today, trade value for the whole continent still stands at only around US$20bn,' he says. 'Frankly, that's not a lot. We should be at least three to four times that figure.'
Sharma, however, cautions that Africa is a huge continent made up of 54 countries and 1.2 billion people, and that a good strategy is required for breaking into the market. For now, he believes that East and Central Africa provide several distinct advantages as a launch point, including 'being an English-speaking five or six countries, having a highly educated workforce, and having legislation and taxation rules that are very much based on the familiar English system', with Nairobi, the capital of Kenya, being the ideal location to set up a company.
In terms of sectors that have potential, Sharma has identified several, including infrastructure (demand for roads, railways and bridges), real estate, retail and advisory services, which are booming thanks to the growing middle-class population – expected to become the world's largest by 2030.
To date, Sharma has assisted a Singapore-headquartered engineering firm to acquire a Kenyan-based company, advising on the due diligence and overall deal, and set up 'look-see' trips and arranged meetings for fintech, real estate and service companies. His objective is to have at least 50% of his income from Africa. To accomplish this, the governments involved need to sign double-taxation agreements.
He attributes his success in the African market to conscientious efforts in embedding himself within the local economy. For example, AASK has a strategic relationship with Anjarwalla & Khanna, one of the largest law firms in Africa. 'When I started this initiative, I studied which sectors of the economy were doing well,' he says. 'Today, I continue to visit Kenya and other countries in the region every six weeks, and that is what enables me to stay intimately in touch with the markets there.
'To help Singapore companies be successful in that region, we help them with look-see trips, arrange meetings with the right people, identify potential businesses to acquire and come up with a step-by-step acquisition plan,' he adds. 'It's also important to have someone like us constantly making trips up and down to represent them.'
Looking back at his decision to become an accountant more than two decades ago, Sharma believes that it has made all the difference in helping him to get where he is today. While he may have initially chosen to be an accountant because of his ability with numbers and the profession's reputation for stability, his qualifications have opened many more doors.
Being an accountant provides you with a 'stepping stone to understanding different businesses,' he says. 'You get the opportunity to understand a business, its operating cycles, challenges and financial results. This really prepared me for my role providing advisory services.'
Being an ACCA member since the mid-1990s has also allowed Sharma to work seamlessly in numerous countries throughout his career. 'ACCA is one of the largest brand names in the world. People recognise it anywhere you go,' he says. 'The network has allowed me to meet many different people from different organisations and develop a lot of meaningful relationships.'
His experience of working across different markets, from co-leading the Japanese services group while based in London, to being seconded for a two-year stint to Mumbai in India, to joining the partnership in Singapore, has also prepared him well for adapting to different cultures. 'Running a Japanese meeting is very different from running a meeting with an Indian or a Singaporean client,' Sharma says. 'Luckily, my financial background has allowed me to adapt a lot more, given the different experiences I gained from working with different clients in different regions.'
One final ingredient for success, which Sharma is eager to emphasise, is the importance of nurturing long-term relationships. 'Even though clients may start off by contacting your company, they are at the end of the day working and building trust with the individuals within your organisation,' he says. 'If you build a good relationship with your client, the confidence comes automatically, and this makes it easier when you have to get them to understand difficult issues later on.
'Emphasising relationships is how we've chosen to build AASK Advisory. We're now in our second year and we are starting to see the relationships that we've worked on materialise into clients and revenue.'
Passionate about charity
Grateful for the numerous opportunities that he's received in life, Sharma is always ready to give back to the profession. Besides having spoken at ACCA and other accounting conferences in Colombo, Mumbai and Singapore, he's also involved with the Institute of Certified Public Accountants of Kenya. In addition, he works closely with International Enterprise Singapore to help advise companies that are interested in investing in Africa.
On a more personal level, Sharma is deeply passionate about charity work in Africa – something that was seeded as a young child growing up in Kenya. He explains: 'Many years ago my father, who was a teacher, took me to a rural area where kids went to take their exams. They were supposed to shade their answers on optical answer sheets, but they were so poor that they didn't even have pencils. In the end, we took whatever pencils we had, chopped them up into three, sharpened them and gave them out.
'This incident has always been at the back of my mind, and since then I've been wanting to do something to help the underprivileged there.'
Recently, Sharma came up with the idea of collecting used running shoes that are in good condition and donating them to underprivileged schools and children in Kenya. 'This project is meaningful on several levels: I used to like running as a kid but never had proper running shoes, Kenya is famous for its runners, and it's a nice symbolic gesture to ask companies to join me in "running with Africa",' he says.
'We are starting small and, so far, we have managed to get four-dozen pairs of shoes from personal contacts alone. Within the next year, we are also looking at organising a two to three kilometre run and getting more sponsors on board.'
Of course, Sharma has faced his fair share of challenges. One of these, he admits, is dealing with clients who are emotionally invested in the business. 'It's extremely difficult when you have to sit with the chairman to appraise board members, and it's also difficult working with family businesses that have been around for four or five decades. Suddenly, you're asking them to invest money in governance or IT or cybersecurity, for which they don't always immediately see the benefit,' he says.
'Ultimately, you've got to take a step back and come up with a solution that will help your client understand that it's for their benefit in the long-term. You need patience and good relationships with your clients to achieve this.'
Nevertheless, Sharma believes that opportunities are often found in challenging circumstances. 'For me, this was true working with Japanese clients, moving to India for two years, deciding to relocate to Singapore and, more recently, setting up AASK Advisory. There are always opportunities that are arising. Instead of saying no, be positive and think about how you can succeed. There may be an easier and more comfortable way, but I say "take your opportunities and run with them".'
Rufus Tan, journalist
"We are able to ask all the difficult questions, which the clients understand will ultimately help them to become a better company"
"My financial background has allowed me to adapt a lot more, given the different experiences I gained from working with different clients in different regions"