The adoption of integrated reporting is bringing about integrated thinking as it becomes embedded into companies' strategic planning processes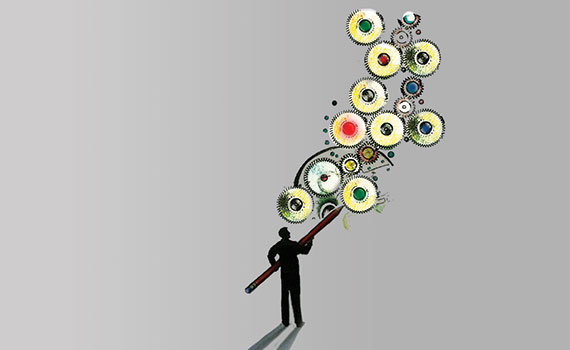 This article was first published in the April 2018 International edition of Accounting and Business magazine.
The integrated reporting (IR) approach of encouraging organisations to explain how they create value over the short, medium and long term is helping them to operate in a more joined-up way. It strengthens the connections between different departments and gives management teams a clearer understanding of their particular value-creation process. There is strong evidence of external benefits too, particularly improved engagement with stakeholders, including providers of financial capital.
Implementing integrated reporting has its challenges, though. Adopters struggle with some of the concepts and requirements of the IR framework developed by the International Integrated Reporting Council (IIRC). Some of these challenges, along with suggestions for overcoming them and examples of good practice, are identified in the ACCA report Insights into integrated reporting 2.0: walking the talk.
The report draws on the experiences of participants in the IR Business Network, a forum for organisations committed to adopting the IR framework. For the second year running, ACCA has worked with the IIRC to review a sample of corporate reports produced by network participants. They found these companies have made 'striking' progress over the past year. Data quality has improved, for example, and organisations are applying performance measures in a more consistent way, providing better bases for comparison with other entities.
Integrated reporters still face areas of difficulty, however, with some new challenges identified this year. For example, some participants in the IR Business Network struggle to link their strategy to the way they use and manage their resources (known as 'capitals' under the IR framework). Materiality also causes headaches. For example, organisations don't always explain their materiality determination process well, and it is not always clear that their reporting focuses on matters that substantively affect the organisation's ability to create value in the short, medium and long term. Reporting on an organisation's 'outlook' – the challenges and uncertainties that could affect delivery of the strategy and future performance – could also be tricky, as boards worry about sensitive information and managing stakeholder expectations.
Fundamental change
What is clear is that adopting integrated reporting has a real impact on organisations. Interviewee Russ Houlden, CFO of United Utilities, believes the major change that integrated reporting can bring to organisations is around integrated thinking. 'That fundamentally changes the way we operate the business,' he says. 'In terms of the reporting, it gives all our stakeholders a little bit more of a broad understanding, so they can then engage with us on their specific topics. It gives them a broader feeling of the sort of responsible company we are and the way that we try to give the best service to customers by operating in a more integrated way.'
Yen-pei Chen, ACCA subject matter expert in integrated reporting, says: 'It's notable that integrated thinking is seen as an important aspect of integrated reporting. In some organisations, integrated thinking develops internally before integrated reporting is adopted. In others it is encouraged and supported by the integrated reporting process. There's no right or wrong way.'
Chen is also encouraged by how integrated reporting is becoming embedded in some companies' strategic planning processes. For example, life insurance, pension and asset management company Aegon has brought forward the timing of its materiality assessment – an important aspect of internal reporting – so its outcomes can inform its other internal processes. Previously, the company did its materiality assessment towards the end of the year, and reflected the outcomes in that year's report, but there was too little time to formulate strategic or operational responses to the issues identified.
Aegon has now changed the cycle, performing the materiality assessment at the end of the prior year. 'We then use that as an input for our strategy cycle, which kicks off in January,' says Marc van Weede, global head of strategy and sustainability at Aegon. 'Then we have a whole year in which we go through our strategy planning and action planning and responses. So by the end of 2018, we will have a much better story about how we responded to those issues.'
The outcome of the materiality assessment now provides 'a core input' into Aegon's strategic risk assessments, which are becoming a standard element in the strategy review process at group and business unit level. Van Weede sees this as a 'more integrated approach'. He also believes conducting these strategic risk assessments in the right way should help with risk reporting.
Sarah Perrin, journalist
"Integrated thinking fundamentally changes the way we operate our business"