For Aliko Dangote, president and CEO of Dangote Group, improved intra-Africa trade and the nurturing of tomorrow's entrepreneurs is vital. Thomas Isibor finds out more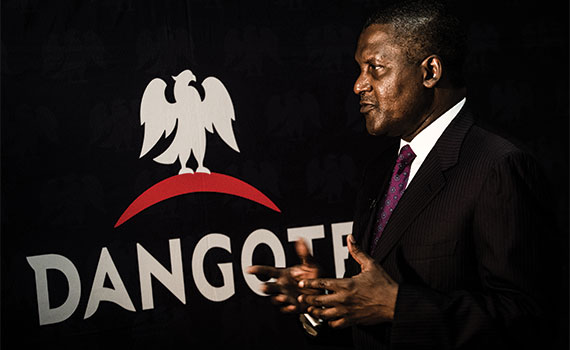 This article was first published in the May 2018 Africa edition of Accounting and Business magazine.
Given the right conditions Africa's business possibilities are endless, according to Aliko Dangote, president and CEO of Dangote Group, one of the continent's major success stories. 'The future is so dynamic,' he says. 'It isn't cast in stone.'
Lagos-based Dangote, Africa's largest producer of cement, has made significant investment in Nigeria and across the continent, with projects in 16 countries. As well as its core business, the group has diversified into areas as diverse as food and drink, telecommunications, real estate and oil and gas since its establishment in 1981. The company's success has put Dangote at the top of Forbes's Africa billionaires list for seven consecutive years with a net worth calculated at US$12.2bn.
'At Dangote, we strive to keep working towards wealth creation in Africa. The opportunities are huge and there is potential for diversification,' Dangote says. 'Our profitability doubled during the recession because we mastered the art of cost-effectiveness and innovation. Capacity development will be one of the biggest opportunities of doing business in Nigeria, and this should be our prime focus.'
Blocks to progress
There are, as Dangote recognises, a number of risks, too. One in particular is the lack of infrastructure, which has increased the cost of doing business. This is, he says, exacerbated by inconsistency in government policies. 'This is where capacity building becomes critical, so that policies are developed to overcome inconsistencies,' he says. 'Sometimes unsustainable policies end up destroying the value chain.'
Dangote notes that intra-Africa trade is still very low, at less than 20%, and points out that 38 visas are required to move around Africa. But there is, he says, a prospect of things improving in the near future, with the development of the Economic Community of West African States passport, making it easier to move across a number of countries in the region. 'These passports are not accessible to all Africans, but with more countries working to institutionalise the process of visas on arrival, there is progress,' he says. However, Nigeria's president, Muhammadu Buhari, recently declined to sign the African Union's Continental Free Trade Area agreement, which would commit the signatories to removing tariffs on 90% of products, as well as tackling some non-tariff barriers and possibly leading to free movement among member states.
Dangote adds that Africans need to be more accepting of each other. 'This will enable us to benefit from cluster systems to grow businesses across the region. The objective should be to foster cooperation and not competition.' He points out the anomaly that products are exported from Africa, only for other businesses in the same environment to import them back in.
Look to the young
Against this background, Dangote is optimistic that growth can come from an entrepreneurial younger generation. 'We can see the growth trajectory in the small to medium-sized business sector,' he says. 'I was very pleased to hear the results of ACCA's Generation Next global research, which highlighted that 81% of respondents aged under 36 want to start their own businesses. Our charge as leaders in different sectors is to create an environment for entrepreneurs to succeed.'
The survey revealed the skills professional accountants will need to be relevant in the future, including technical, technology, vision, emotional intelligence and creative. As a leading employer with an interest in skills development and education, what other attributes does Dangote see as crucial?
'It has become critical to train professionals in business agility and how to adapt to changing business models. Revenue in our organisation is projected to increase from US$4bn to more than US$30bn in 2020,' he says.
'We are building capacities to run not only current business but also future business potential. What I see missing is entrepreneurial skills; I believe an ACCA member with entrepreneurial skills will be a more effective problem-solver.'
Thomas Isibor is head of ACCA Nigeria
"We strive to keep working towards wealth creation in Africa. The opportunities are huge and there is potential for diversification"