Hyundai's digital dealerships have changed the face of car buying in the UK, according to 'light touch' director of finance, systems and HR, Ray Pope FCCA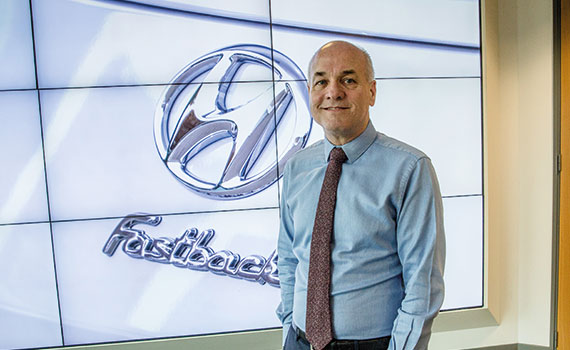 This article was first published in the May 2018 International edition of Accounting and Business magazine.
If you grew up in the 1970s or 1980s the chances are that, if your family had a car, you gave that car a name. Something like Bluebell, maybe, or Mabel. It took you on holiday every year and you kept it until it fell apart. These days, we tend to refer to our cars by the model or make ('the Corolla', 'my Fiesta'), buy on a finance package, and change them every three years or so. As Ray Pope FCCA, Hyundai UK's director of finance, systems and HR points out: 'The emotional attachment we had to our cars has gone. They've become a true commodity.'
This cannot be better illustrated than by the fact that visitors to the Bluewater shopping centre in Kent, or in Westfield in East London, can pop into the Hyundai shop and, if they are so inclined, buy a car. Just like that. And thousands have done so; 45,000 people visited the store in Bluewater last year, and just under 2,000 people have bought a car there since it opened in 2014, making it one of Hyundai's top 10 dealerships in the UK for retail share.
Hyundai's digital dealerships have changed the face of car buying in the UK. Its staff are there purely to advise and are not on commission – a sales model that has attracted an entirely new group of customers to Hyundai. The average age of a customer at the stores is 39, compared with 59 for those buying a Hyundai through a traditional dealer, and 58% are women (compared with about 26% in dealerships). 'There are no sales staff and no one pushing you to buy, which some people prefer,' says Pope. 'It's the future of car retailing, and we're at the forefront of it.'
It is this willingness to push the boundaries that has made South Korean Hyundai – the name means 'modernity' in Korean – one of the success stories of the UK car market. Globally, the company is one of the fastest-growing car manufacturer in the world; it has sold almost 40 million cars in the past 10 years and its Elantra model is the second biggest worldwide seller (after Toyota's Corolla).
Hyundai cars have been available in the UK since 1982 but the serious business of selling cars began in 2005 when the company set up its own subsidiary, Hyundai Motor UK. At that point it sold around 35,000 cars in the UK; in 2017 it sold 93,403 through 164 dealerships and is the ninth largest car company in the country. But it is not done yet. 'Our market share has grown from 1% in the UK to 3.68% and our turnover from £300m to £1.8bn since 2005,' says Pope. 'Our aim is to be the biggest Asian brands in the UK.'
Into the public eye
Getting into the public's consciousness as a brand has been a fight – for years Hyundai was seen as the refuge for elderly drivers, although its average customer age has steadily fallen – but the company's UK directors (who, says Pope, are trusted to make the necessary decisions by the 'hands-off' parent group) have been prepared to take bold steps along the way.
It was the first car dealer, for example, to offer a five-year warranty on its cars. 'Our models were good, but the brand wasn't widely accepted and we needed to do something about that,' says Pope. Much of the company's growth, though, came in the difficult years after the 2008 financial crash. 'In 2009, when the government announced the car scrappage scheme, the four other UK directors and I met here in our offices that same evening to discuss how we could make the most of it. Other companies took weeks to decide what to do, but we went for it on that day. And we were the number one in scrappage sales – we sold 45,000 cars under the scheme. We've never looked back.'
The company continues to make bold decisions. 'The way cars are sold will change,' says Pope. 'We have to think about what the role of the dealer will be in five or 10 years' time.' The shopping centre stores were the beginning of that recognition; its 'click-to-buy' website – the first time a car manufacturer offered customers nationwide the opportunity to buy a car – was the next step. Cash sales can be made through the website in as little as five minutes – customers can then either go to a dealer for the handover or take delivery at home. Old cars can also be traded in through the website and finance packages arranged. The site had 127,000 visitors in its first month.
It is an attractively simple approach for the customer but it is Pope's finance team that has felt the business end of most of the innovations. 'The admin that the scrappage scheme generated was unbelievable, and click-to-buy causes nightmares in terms of processing invoices,' he says. But this also means that the finance team is at the heart of decision-making. 'With all of our innovations, the first thing we have done is look at whether we can afford to do it.'
Pope calls his finance team 'the navigator of this business. We ask the business where it wants to go, set the KPIs [key performance indicators] and then tell them how it's going and where they might end up.'
Hyundai does not manufacture in the UK – all of its cars are imported from South Korea, Turkey and the Czech Republic – which means that the fall in UK sterling since the Brexit vote has had a huge impact. 'Cash and foreign exchange management is very important. We hedge and model every day, and we are constantly monitoring and managing payments from the manufacturers and dealers.
'New registrations are another daily issue for us – as a national sales centre, our basic role in life is to register as many cars as possible. The finance team sets our incentive packages, which are worth £150m a year.'
Pope says that the attention to detail required by finance is 'immense': 'Every report I send, I have to know every number inside out and be prepared to talk about it. I'm probably one of the few FDs that sits down every week and looks at every balance sheet and reconciliation. I want to be sure that our numbers are solid. I want the business to focus on the real issues – what the numbers say – rather than on our ability to measure what's happening.'
TV appearance
Pope is keen to point out that he joined Hyundai under the transfer of employment regulations (Transfer of Undertakings (Protection of Unemployment)) when it bought out his previous employer, adding, 'I doubt I would have got the job if I had applied for it direct'. It is easy, however, to be left with the impression that Hyundai landed on its feet when it took him on. His willingness to do well even extended to taking part in Channel 4's Undercover Boss series. 'I said yes to the programme straight away. It meant that more people would see our product. Besides, I ended up learning a lot.'
He speaks glowingly of his finance team of 22 (16 of whom are either qualified as accountants or actively progressing through qualification) and says that while he is 'obsessed with detail' he is 'a light touch director'. He says he is a fan of an empowering style of leadership, and his likes to quote Chinese philosopher Lao Tsu To: 'To lead the people you must walk behind them'.
'I have a huge portfolio of responsibility here – finance, systems, legal services and HR,' says Pope. 'I see my role as giving the team the tools and responsibility to do what they need to do, and giving them the room to make mistakes if necessary, because that's how people learn.'
Pope is keen that none of his finance team makes the mistakes he did early in his career. He left school at 17 after the death of his father: 'I walked into the job centre and said I needed to work. I said I was good at maths and could talk to people, so they showed me a picture of a load of people in suits sitting around a table and suggested accountancy. I always wanted a suit, so that was it.'
He was advised to look for a business that would train him as an accountant, so he joined a local Ford dealership and began his ACCA training. 'My big mistake, though, was that I was tempted to give up day-release studying when I was offered a bigger job, which meant that I didn't pass my finals.' It took two more attempts. 'I cried tears of joy and relief when I got that envelope, and the opportunities immediately opened up for me. That's why I don't want anyone on my team to make the same mistake. We make sure they have time off to study, and the support they need.'
Brexit uncertainty aside – although the company has put on hold plans to build a new head office and training centre – Hyundai will continue with its expansion plans. A new state-of-the art showroom and dealership is being built alongside the M4 in west London, along with a new dealership in north London. Thirty new products are planned for the next two years, focusing on hybrids, electric and fuel cell vehicles. Hyundai has a plan and, as Pope points out, that means something: 'We have a very target-driven culture here – if you're given a target, the expectation is that you'll beat it.'
Liz Fisher, journalist
"I said yes to Channel 4's Undercover Boss series straight away. It meant that more people would see our product"