As CEO of Caribbean airline LIAT, Julie Reifer-Jones FCCA has endured a bumpy ride dealing with the fallout from last year's calamitous hurricanes in the region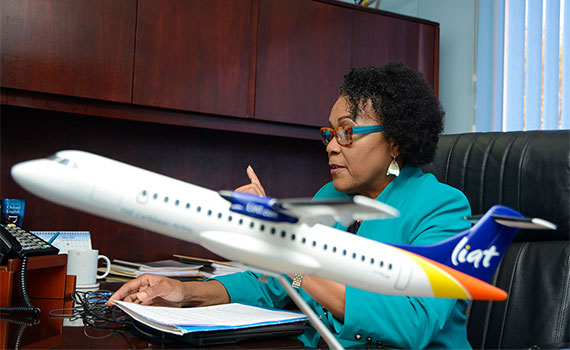 This article was first published in the July 2018 International edition of Accounting and Business magazine.
Running a regional air travel business in the wake of 2017's devastating Atlantic hurricane season was never going to be a walk in the park. Caribbean airline boss Julie Reifer-Jones FCCA is having to draw on her near three decades of experience in senior financial management to keep the business flying after a series of catastrophic hurricanes – among them Maria and Irma, two of the most powerful Atlantic hurricanes in recorded history – rampaged their way through the Caribbean one after the other.
Reifer-Jones is not just the first female CEO of Antigua-based airline LIAT, she is the only female CEO of any airline in the Caribbean. But she does not dwell on that. Speaking at LIAT's headquarters in the Antigua & Barbuda capital St John's, she says: 'I focus on my professionalism, the business and what I can bring to the table.'
More pressing needs in her in-tray include helping the already cash-strapped company, founded in 1956, recover from the devastating losses dealt out by last year's hurricanes, which wreaked destruction on a number of LIAT destinations, including Sint Maarten, Puerto Rico, Dominica and Tortola (British Virgin Islands), although the company's Antigua home base and aircraft fleet were spared.
Small but strategic
Such problems pose big risks for a small airline such as LIAT, which operates 10 aircraft between 15 destinations in 14 Caribbean territories. It is more than just a commercial entity, with its island government owners committed to the operator, which provides a vital link between communities connected by economics and culture but divided by the sea.
The airline is majority-owned by the governments of Barbados, Antigua & Barbuda, St Vincent & the Grenadines, and Dominica. As Barbados-born Reifer-Jones puts it: 'LIAT is a private company with a strong public interest.'
Exacerbated by multiple currencies and more than 50 different taxes associated with operating in 14 different states (some independent countries, some dependent territories), the business's complexities pose hefty challenges for financial management.
Seated at her varnished mahogany desk, with a trio of model planes to her left, Reifer-Jones has a ready smile that belies the task ahead.
'Hectic,' she declares, when asked about her daily duties in the role she has occupied officially since August 2017, and unofficially since April 2016 following the resignation of her predecessor.
'Our focus right now is on hurricane recovery,' she says. 'With our network extending from Puerto Rico to Guyana, last year's storms were disastrous for us. Four of our territories suffered more or less total devastation. Recovery has been slow; in Sint Maarten, we are still operating the airport out of a tent. A lot of hotel infrastructure has been impacted too, which suppresses passenger traffic.'
The 495 flights a week that LIAT usually runs in the pre-hurricane season currently stands at 405, while revenue for the last four months of 2017 dipped by 35%. 'It's been a very challenging time for the company, and for me personally,' Reifer-Jones admits.
Back-to-back major hurricanes (Irma and Maria) forced the company to activate its emergency plan repeatedly, assessing where passengers were likely to be at the height of each storm to minimise the impact of cancellations, and flying its entire fleet out of harm's way. 'That's unprecedented in LIAT's history,' Reifer-Jones says.
Compounding the headaches was the complete fleet change the airline had completed at the end of 2016, moving from 37-seat and 50-seat Dash 8 aircraft to ATR 600s that can take 48 or 68 passengers. Reifer-Jones had hoped 2017 would be the year LIAT would stabilise financially, but the storms have set these plans back. The dynamic nature of the airline industry comes with additional challenges for an organisation serving multiple small populations. 'The economies of scale make for very small margins,' Reifer-Jones says. 'Our operations are complex and we are vulnerable to shocks.'
Intra-regional travel has dipped 30% over the last decade, she explains, due in part to onerous passenger taxes, which can represent 35%–50% of the overall ticket price. 'Our fares have only increased 2%–3%, but taxes have soared by more than 50%. Then, because every LIAT flight is an international one, there are security and border control issues, which as a region we have not yet been able to harmonise.'
In recent years the airline has 'streamlined' its workforce from 900 to 650, and discussions are under way with regional governments to reduce taxes and simplify passage between the islands to boost regional as well as international tourism.
Before joining LIAT in 2008 as its CFO, Reifer-Jones had worked in diverse jobs – everything from an auditing post for a small accounting firm in Jamaica and a finance position at a development bank to accounting for a hotel chain and even a role with a manufacturer of flour and animal feed.
Address every complaint
One aspect that links all this work is client satisfaction. At LIAT, Reifer-Jones has made customer service improvement a personal priority, and she tries to address every complaint that reaches her desk.
Reliability is a key issue here. 'We have made significant improvements to our on-time performance, which so far this year is over 80%,' she says. 'So I am now focusing on customer service. We started training last year throughout the network and are putting more emphasis on it this year.'
But what really plays to Reifer-Jones's solid financial grounding is the formidable task of achieving commercial sustainability. A University of the West Indies graduate, she has a BSc in management studies, and is a member of the Institute of Chartered Accountants of Barbados (ICAB) and an FCCA.
It was not until she was in her mid-thirties, working full-time for Forest Industries Development Company in Jamaica, that she embarked on her ACCA training. 'It was quite challenging studying while working in a senior job with lots of responsibility, but I completed it in just two years – I was quite proud of myself,' the mother-of-one says with a smile. 'Because I did it fairly late in life, it was a consolidation of everything I had done previously – a bit like going to finishing school. My career has spanned so many industries; the ACCA training applies to all of them and gave me a solid foundation that helped me develop further.'
Cost tensions
She is bringing all this experience to bear at LIAT, which has only ever made a profit once – in 2009. And while government shareholders have borne the losses, there is constant political pressure to reduce them.
However, as LIAT's record indicates, this task is not easy. 'An operation like ours has a high percentage of fixed costs, such as salaries, airplane leases, maintenance,' she explains.
And even though the company usually makes losses, it still has to file tax returns – to the Antigua & Barbuda inland revenue department.
On top of that, there are 10 different regulatory agencies LIAT interacts with – 'demanding' is how she wryly acknowledges the challenge. 'As a private company with a strong public interest, international standards are very rigidly applied. The variety of currencies that we have to manage, plus over 50 different taxes we collect for governments, makes accounting complex. And often the associated administrative costs fall on us too.'
Constant monitoring is in place to avoid LIAT's flights being abused by drug smugglers and people traffickers in a region used as a transshipment point for both from South to North America. 'We have to submit passenger information to US and regional security authorities,' says Reifer-Jones. 'They review our passenger lists and alert us to any red flags.'
A more positive trend, which she hopes will help LIAT eventually balance its books, is the forthcoming introduction of new flights, including additional ones to Guyana, which has had major oil discoveries. 'Everybody is expecting a lot of economic activity there,' she says. 'We see this as an opportunity to participate in and benefit from that growth.'
This strategic outlook chimes well with Reifer-Jones's view of the airline: 'We serve an important need in the region, providing connectivity. That's why it's vital to address these financial challenges – no one has ever really come up with a model for sustainability before. I see myself as regional person and have always wanted to contribute – it's that part that is most rewarding.'
Gemma Handy, journalist in St John's, Antigua & Barbuda
"Last year's storms were disastrous for us. In Sint Maarten, we are still operating the airport out of a tent"
"Because I did ACCA fairly late in life, it was a consolidation of everything I had done previously – a bit like going to finishing school"