Why would a highly successful portfolio manager quit his job to become a standard-setter at the International Accounting Standards Board? Nick Anderson explains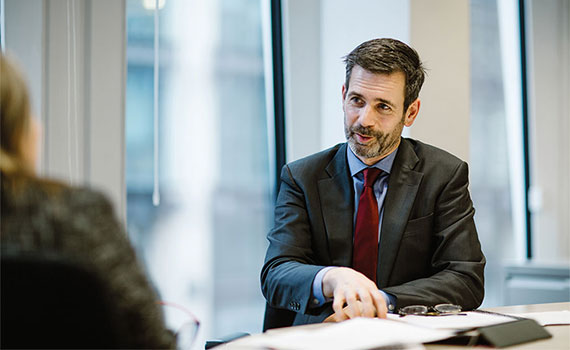 This article was first published in the July 2018 China edition of Accounting and Business magazine.
Nick Anderson's change of job certainly came as a surprise to his colleagues at asset management company Janus Henderson. They had never heard of an equity portfolio manager becoming a standard-setter. 'They knew that I had this rather weird interest in reporting, but they were still shocked,' Anderson recalls. And yet, to an outside observer, the appointment of Anderson to the International Accounting Standards Board (IASB) was an obvious choice, with his CV tailor-made for the role.
Anderson comes from a generation of investors with a keen appreciation of the advantages of international accounting standards. He started his career as a European equity specialist in the mid-1980s. 'There wasn't a great deal of corporate governance around,' he says. 'Reporting was variable, with lots of different national GAAPs.'
All that changed in 2002. The introduction of IFRS Standards 'transformed that world'. It was the biggest single improvement in reporting that Anderson witnessed in the 30 years of his career.
In the years that followed, Anderson actively participated in many reporting debates. A founding member of the Corporate Reporting Users' Forum (CRUF), and a part-time member of the UK's Accounting Standards Board, he realised that his perspective as a user of accounts could add significant value to the standard-setting process. And it is this hands-on experience of 'what works and what doesn't' that he hopes to bring to his new role at the IASB.
Of course, investment engagement is far from new to the IASB. The IFRS Foundation undertakes a wide range of investor-focused activities, including its highly successful Investors in Financial Reporting programme and regular contact between board members and investors around the world. But Anderson believes much more can be done to make the board – and the accounting profession as a whole – more customer-focused.
'I am sure that lots of accountants do understand the work of investors, but there are plenty that don't,' he says.
Misconceptions abound. 'Sometimes you get the impression that people think investors just work through a set of accounts – that this is all that happens; or that they depend on price-to-earnings or price-to-book ratios. In reality, the investment process is much more complex and full of judgments.' Anderson wants to correct such mistaken beliefs – to help accountants put themselves in the shoes of investors.
It is an ambition not without its own difficulties. 'I don't have a monopoly on investor views,' he says. 'The challenge to me is to keep synthesising views rather than replay my own personal beliefs.'
Investor engagement aside, what of the specific projects on the IASB's table? While he is keen to discuss what is on the board's front-burner, it is perhaps not surprising that this former investor is particularly attracted by the potential offered by the primary financial statements work; more subtotals in the profit and loss statement, as well as some improvements to the cashflow statement, would, he believes, be very welcome for investors.
Perhaps more intriguing, however, is Anderson's strong interest in the recently released insurance contracts standard, IFRS 17. In his investment days, Anderson avoided the sector. 'As a global generalist, it wasn't worth investing the time to learn the insurance accounting in every jurisdiction,' he says. Just as the adoption of IFRS Standards by the EU transformed his day job as a European equity specialist, Anderson believes that IFRS 17 promises a similar revolution for investors in the insurance sector. 'It's like first-time adoption of IFRS all over again. Talking to investors about the benefits that IFRS 17 could bring is really incredible,' he says.
And that sums up what motivates Anderson. Quite simply, he wants to make a difference. And accounting has the potential to do just that. 'I believe very strongly that accounting has a big role to play in allocating scarce resources and holding management to account,' he says. If that's not making a difference, what is?
Alison Thomas, consultant
"I am sure that lots of accountants do understand the work of investors, but there are plenty that don't"