The sub-Saharan digital economy may lag behind other parts of the world, but Africa is gradually building an infrastructure to support the shift to tech-based commerce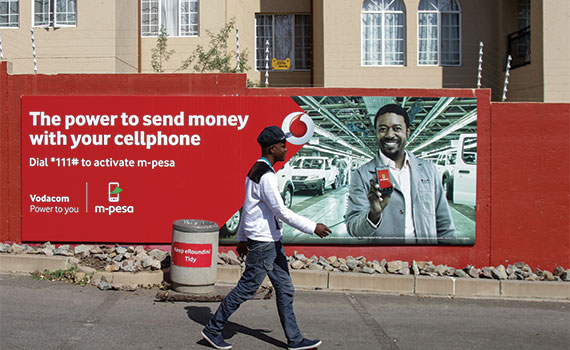 This article was first published in the January 2019 Africa edition of Accounting and Business magazine.
The streets of Africa's cities may still teem with vendors and hawkers, and physical markets maintain their busy trade, but the supremacy of traditional retail stores and business models is being fast eroded by the proliferation of mobile phones, artificial intelligence and improved internet connectivity. And as ever more Africans embrace digital technologies, so sub-Saharan economies are poised to capture significant economic benefits.
Early in 2018 the World Bank launched its Digital Economy for Africa (DE4A) initiative as part of a wider recognition that digital technology will be vital for Africa's future, empowering consumers and boosting economic growth. Technology is already improving access to many vital areas of the economy and public services, such as banking, trade, healthcare and education. But if the digital economy is to deliver on expectations, the right infrastructure needs to be in place, including a more reliable electricity supply, an extended fibre-optic telecoms network infrastructure and more widespread mobile device ownership.
There has been exponential growth in mobile phone ownership and internet connectivity recently, contributing in no small measure to an increase in financial transactions and social interactions, and to improved access to services. According to industry body the Global System for Mobile Communications (GSMA), mobile technologies and services generated 7.1% of GDP across sub-Saharan Africa in 2017, adding US$110bn of economic value.
The key to leveraging the growth in mobile and internet use for broader economic goals is internet connectivity. According to the International Telecommunications Union (ITU), internet penetration in Africa in 2017 stood at 21.8% of the population as a whole and 40.3% of those aged 15–24. (In Asia Pacific it's at 43.9% and 72.3% respectively, so there is still room for further growth.) Deloitte's 2014 report Value of connectivity: economic and social benefits of expanding internet access estimated that extending internet access to an additional 2.2 billion people in developing countries could raise GDP by US$2.2 trillion, create 140 million jobs and lift 160 million people out of extreme poverty. In short, the incentive is clear and compelling.
Digital platforms
In Africa's financial services sector, the number of mobile-based financial transaction platforms is expanding rapidly. This has encouraged the growth of small-scale enterprises and pulled many people in the informal sector into structured financial systems. There were 135 live mobile money services across sub-Saharan Africa at the end of 2017, with 122 million active accounts.
The most famous of these platforms is M-Pesa, the mobile phone-based money transfer and microfinancing service, launched by Vodafone's Safaricom mobile operator in 2007. M-Pesa processed over six billion transactions in 2016 and now serves 30 million users in 10 countries. It may not offer the sophistication of internet banking in developed countries but it has won laurels for helping to combat extreme poverty and increase financial inclusion.
The digital economy is also thriving in the retail sector. Jumia, founded in 2012 with a vision to become Africa's equivalent of Amazon, is a leading African e-commerce ecosystem. The online marketplace has a presence in 14 African countries and is becoming increasingly popular – the platform has grown from the 50,000 products on offer in 2012 to over five million products in 2017. Jumia also owns ventures that allow customers to order food, buy airline tickets and pay cable and electricity bills online.
The company launched its own proprietary payment platform, JumiaPay, to facilitate transactions between merchants and consumers, and to tailor its solutions to local needs. A mobile app enabling customers to access additional services such as music and airtime purchase has also been launched.
The power of tradition
Despite the rise of e-commerce in Africa, the ability to execute complicated delivery logistics is challenged by an unreliable online payment infrastructure. In 2017, Konga, one of Nigeria's leading e-commerce companies, was acquired by local tech company Zinox after the former laid off 60% of its staff. Analysts argue that traditional stores still exert a major pull in Africa and that Africans like to haggle over prices in physical market spaces. It can be a challenge to work around strong cultural traditions.
According to Mukhisa Kituyi, secretary-general of the UN Conference on Trade and Development, the continent suffers from the lack of a 'conducive ecosystem for digital trade' and lags behind the rest of the world in the adoption of digital trade. 'Africa needs to develop laws to enhance the integrity of procurement on electronic platforms so that consumers can trust e-commerce platforms,' he says.
Although Africa currently has the fastest-growing proportion of internet users in the world, it also has the lowest levels of internet access. According to ITU, the majority of those Africans who are online connect via their mobile phones and do not have access to high-speed services.
Yet the future looks bright. The number of domestic e-platforms that have emerged attests to this. The World Bank believes that digital economies can help Africa leapfrog old development pathways. There is still massive room for growth in the online retail sector, with companies such as Jumia leading the way.
Sub-Saharan Africa has one of the youngest populations in the world and this demography lends itself well to the harnessing of technology in a positive and forward-looking way. Many African countries have already taken the first steps on a solid path toward a digital economy. Senegal, for example, has set a target of generating 10% of its GDP from the digital economy by 2025. In addition, Kenya is a strikingly successful pioneer in the area of mobile money and its export of that innovative technology to the rest of the world demonstrates that Africa is ready, willing and more than able to participate successfully in the global technology revolution.
Kayode Yusuf FCCA is a finance professional and journalist.
"Digital economies can help Africa leapfrog old development pathways"