Female partners are still a relative rarity in professional services. But UK firms are working to rectify this and could prove an example for some other parts of the world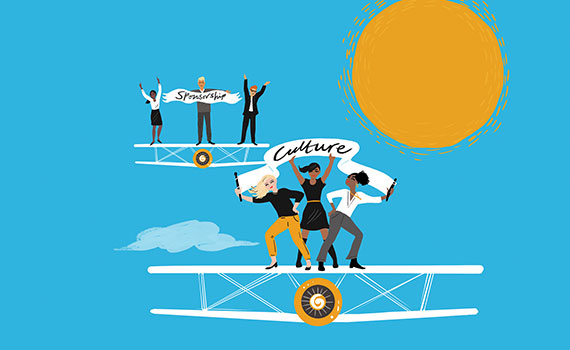 This article was first published in the February/March 2019 International edition of Accounting and Business magazine.
The gender imbalance at the top of professional services firms is stark. At PwC, for example, in the 2018 financial year women accounted for only 20% of the global partnership (up from 13% in 2006). Similarly, across KPMG's international network, only 16% of EMEA partners (covering Europe, the Middle East and Africa, including India) were female, although the picture was somewhat better in the Americas (22%) and Asia Pacific (23%).
Alison Temperley, former PwC tax consultant turned management coach and leadership expert, is struck by such imbalances, given that far more equal numbers of men and women enter these organisations. Temperley, also author of Inside Knowledge: How Women Can Thrive in Professional Services Firms, says women are drawn to such businesses 'because they are perceived as meritocracies that require the skills and intellectual power that they have excelled at previously at school and university'. But something then goes wrong.
Traditional theories for low female partner rates include the assumption that some women leave in their 30s because balancing family and work life is too difficult. Female character traits perhaps also play a part. Temperley thinks women tend to be more perfectionist and scared of failure than men, but less likely to attribute successes to their own capabilities or actions.
Firm action
Whatever the reasons, professional services firms are taking action. Many are setting targets. In the UK, for example, PwC is aiming for 24% female partners by 2020 (up from 20% now); and Deloitte has a target of 25% by 2020 and has made a commitment to achieve 40% by 2030 (up from 19% now).
Clare Rowe, culture and inclusion lead at Deloitte UK, says the firm has had 'a real focus' on gender since 2014, when it introduced a gender balance action plan. This has seen the firm focus on actions designed to address potential 'pain points' during people's careers. The firm is now focusing on trying to recruit more women at entry level, retain them when they reach middle-level roles, and develop and support them to help them keep progressing.
'It's not about fixing the women; it's about changing the culture, structures and mindsets within the organisation – as well as making interventions to ensure equality of opportunity,' Rowe says. 'While programmes and targets are important, they won't succeed in really changing the diversity or gender balance within the organisation without that focus on the underlying culture – in terms of hours, the way people behave and ways of working.'
In 2014 Deloitte UK introduced an approach called 'agile working'. Rowe explains: 'It's about providing an environment where people are judged on the value they bring and the contribution they make – not time spent in the office. People can flex their hours, work from home or another office and be trusted to do their job.' Deloitte also has more formal, contractual flexible working arrangements where staff can work fewer hours. In 2018 it also introduced annualised days contracts, enabling people to work a reduced number of days a year, which can, for example, enable school-term-time-only working.
Sponsorship programmes
Development programmes focused on women are now the norm in many firms. Return-to-work initiatives – where women and firms can see how well they fit together over a six-month period – are also widespread. One area of particular current focus, however, is sponsorship. Deloitte UK runs female sponsorship programmes for some of its senior women, which can take a variety of forms, including a one-to-one relationship with a partner. 'The partner, as their sponsor, can advocate for them, open doors and provide connections,' Rowe says.
Sarah Churchman, UK head of diversity, inclusion and wellbeing at PwC, also sees sponsorship as one of three key factors that will help bring more women through to the top in her firm. Sponsors are available to talented female directors and senior managers. 'A sponsor is somebody who is more of an advocate for these people – not just a mentor,' Churchman says. 'It's about making sure women are getting access to the right networks as well as visibility.'
Another key factor involves making PwC business unit leaders accountable for achieving gender and ethnicity targets across four grades, from manager to partner. The third is about fair work allocation, after analysis suggested that men and women were not gaining the same access to the highest profile engagements. 'We now produce quarterly reports for all our business unit leaders so they can see, for their top 10 revenue-generating clients, the proportion of women and men on those engagements,' Churchman says.
These and other initiatives applied internationally do seem to be having an impact. Globally, PwC's female partner admissions across the international network increased from 23% in 2013 to 30% in 2018. And market forces may be helping women's cause, too.
'When we are pitching for work, so many clients now want to see a diverse proposal team,' says Churchman. 'In addition, most people from the millennial generation want much greater flexibility in how, when and where they work. So the focus we now have on transforming work is helpful not just for attracting younger people, but is also really helpful for women.'
Sarah Perrin, journalist
"It's not about fixing the women; it's about changing the culture, structures and mindsets within the organisation"