Kiwi.com CFO Juraj Strieženec FCCA explains how tech-driven business disruption has allowed the airline ticket and travel agency to deliver staggering growth rates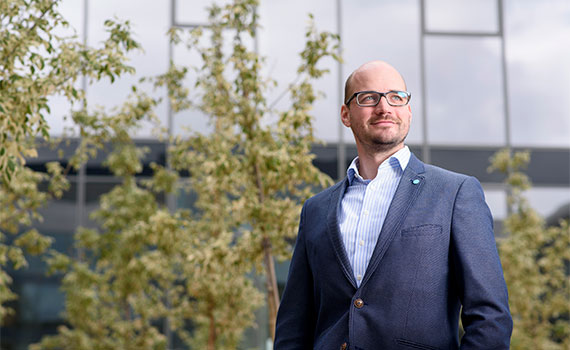 This article was first published in the February/March 2019 International edition of Accounting and Business magazine.
In a strikingly relaxed workspace in the Czech Republic's second city Brno, in the south of the country, groups of professionals lounge on blue bean bags, intent on their laptops. This unconventional space is the home of Czech travel technology company Kiwi.com, a relative newcomer in the sector but one that is rapidly making its mark. In October 2017, it was ranked as the fastest-growing technology company in central Europe by Deloitte, with a growth rate of 7,165% (in 2018 it landed second place in the same Technology Fast 50 list by notching up growth of 14,377%).
Overseeing the company's achievements is its Slovak-born CFO, Juraj Strieženec FCCA, who combines a long-held personal interest in the tech sector with work in a ground-breaking online business. 'I've been lucky enough to be in the right place at the right time,' he says. His part in Kiwi.com's achievement won him the CFO Club's Czech Republic CFO of the Year award 2017.
Finance and truth
As for so many in the profession, it was scientific curiosity that guided Strieženec to his auditing career. 'Even at elementary school, I always leaned towards maths and science,' he says. 'And I believe finance provides quite an objective view of reality, so that's how I ended up in auditing.' As a teenager, he dreamed of working for a Big Four firm.
After studying finance at Masaryk University in Brno, followed by a year of postgraduate business studies in France, he fulfilled his goal, joining EY Czech Republic as an assistant auditor. Strieženec regards his time at EY as like a 'second university', and says it gave him the opportunity to build extra skill-sets and fully understand the dynamics of finance.
With six years at the Big Four firm in Prague under his belt, he switched to IT solutions company Y Soft Corporation in Brno, where he was part of a team that launched a venture capital arm. As a financial manager in Y Soft Ventures, his main responsibilities were setting up the financial dynamics for the new fund, reviewing prospective investments and helping startups in the portfolio with their financial management.
Strieženec believes his move from EY to a tech startup was a natural progression. 'It was a logical step to move on to a tech project – I'm a technical person. At university, my roommate was an IT guy, so we worked on IT projects even then, and at EY I was heavily involved in audits of companies from the IT sector. I always tried to work on engagements with a technological component.'
Meanwhile, across town, local entrepreneur Oliver Dlouhý was trying to book and link together cheap flights from more than one operator. In 2011, he turned to a web developer to create a search engine for flight combinations, and in 2012 founded Kiwi.com, then operating as Skypickers.com.
What differentiates this fast-growing business is its 'virtual interlining' service. Using a proprietary algorithm, Kiwi.com's software allows customers to create itineraries that include flights from a mix of both low-cost and standard airlines. The company also guarantees cover for missed connections or delays.
Big buy-in
With the help of a cash injection from Czech investor Jiří Hlavenka, Dlouhý set up the company, initially offering a simple fare aggregator and flight ticket booking service.
In 2013 and 2015, local e-commerce investors pumped a further €200,000 and €1m respectively into the business, which expanded further. It financed integration with the Amadeus global distribution system, resulting in one of the world's largest local flights databases. Investment from external sources to date has totalled €1.5m.
The company may have been starting from a low base, but its 2015 revenue growth of 1,500% year on year is striking by any measure. Later the same year, the introduction of virtually interlined itineraries boosted business still further.
Strieženec offers what he calls 'a nice statistic' to demonstrate the scale of growth in another way. 'In the last half hour of our conversation, we made twice as many bookings as we made in an entire month in January 2014,' he says with a grin.
He attributes much of the company's success to technological change, thanks to which 'we could sell our product all over the world, rolling out globally without the constraints that some industries face, such as the cost of transporting goods. And we don't need special permission to operate in different countries.'
The general tech-driven cost cutting and customer experience improvements in the sector have also benefited the company. 'Today, we book everything online and have paperless boarding passes. We accept it as completely normal, but 20 years ago such an idea was revolutionary. And the internet, of course, is everywhere. It would be unimaginable for millennial customers not to have access to it.'
Expansion's downside
But skyrocketing expansion has not been without its problems for the finance function. 'Accounting is not the first thing the founders and management of fast-growing tech companies are thinking of,' Strieženec says. 'At the beginning, there is often no one around who has purely finance experience and finance knowledge.
'When you work at a global listed company, there are lots of established rules and policies you need to comply with. In smaller companies, it's much more agile, and finance heavily follows the business.'
The pace of change poses other challenges too. As Strieženec explains, traditional finance operations tend to be one month, one quarter or one year behind what happens. 'This arrangement is very, very slow for a business like ours, in which changes happen extremely fast,' he says. 'We need to know yesterday about the bottom line so that we can adapt – in a matter of days or a week – to the new situation and adjust the product in order to be competitive on the market. This is really hard. Our finance infrastructure, ie our banks and business partners, are used to reporting only monthly, quarterly or yearly. It's difficult for them to understand we need to request data right now about live transactions.'
To illustrate the complexity of reporting, Strieženec contrasts Kiwi.com's experience with that of businesses where only a few, very large transactions may be undertaken over any six-month period. 'I'm always asked about the turnover for yesterday or last month,' he says. 'When I ask the banks for the account balance at midnight, they give me the balance in Prague or London or Japan, then I have to aggregate the information by adjusting the data manually.'
Kiwi.com's success is in part due to the rapid speed of implementation of innovation, coupled with the company's fast-paced global expansion. 'We are currently introducing a world first – "intermodal interlining", whereby passengers will be able to book flights, hotels, buses, ride hailing, ferries and so on all in one app,' Strieženec explains.
What happens next partly depends of course on the state of the airlines. Strieženec notes that airlines have 'not been that flexible and have been slow in adapting to changes'. He cites overloaded infrastructure, lack of capacity and long delays between airport project announcements and actual completion as challenges for the whole sector.
But he is confident about the future. 'The airline market has been growing in the past 20 years, despite many challenges. First we had 9/11, then we had the financial crisis of 2008, but the market has continued to grow and the development has been steady. More people are travelling, more often and over longer distances. At Kiwi.com we are providing a solution for the traveller by the traveller. We aim to make the whole experience of travel better – it's that simple.'
David Creighton, journalist in Prague, Czech Republic
"We need to know yesterday about the bottom line so that we can adapt – in a matter of days or a week – to the new situation"