While environmental concerns are grabbing global headlines, Ireland is emerging as a key player in developing technologies to combat climate change and pollution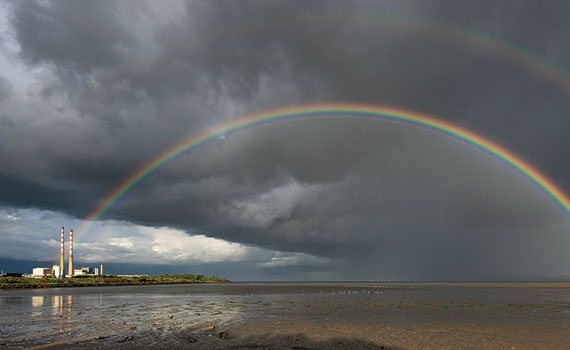 This article was first published in the January 2020 Ireland edition of Accounting and Business magazine.
If you've purchased a product or service recently that promises to substantially reduce your impact on the environment, chances are you've had an encounter with the burgeoning clean technology (cleantech) sector.
With its focus on replacing conventional technologies with alternatives that deliver improved energy performances or utilise sustainable sources of energy, cleantech isn't a distinct industry but, as noted by a 2018 Irish government report, it is 'pervasive across various sectors, eg manufacturing, construction, agri-food, smart cities, transport etc', with a correspondingly diverse offering that can include 'eco-building and construction materials; water/wastewater treatment; waste management; environmental consultancy, green ICT applications and software; and smart grid development'.

Astonishing growth
While this cross-cutting impact makes valuing the sector somewhat difficult, not least because cleantech products are frequently offered by businesses with their more conventional portfolio, its emergence as a distinct category has been pronounced, and its growth is little short of astonishing.
German government figures in 2012 valued the global cleantech market at €2 trillion, while a UK report the following year estimated it at double this.
A distinct Irish cleantech sector has emerged over the past decade, taking shape against the country's ongoing difficulties in addressing climate change. Data for 2018 offers little consolation, with EU figures showing Ireland exceeded its emissions targets by even more than in 2017. However, as the debate intensifies on how the government should respond, and some unpalatable choices face the public, the emergence of a vibrant cleantech sector here suggests not only that a culture shift is possible, but that the innovative solutions needed to deliver change can be sourced close to home.
Both IDA Ireland and Enterprise Ireland, the government bodies that promote foreign direct investment and indigenous business respectively, argue that Ireland is uniquely placed to capitalise on cleantech. The starting point is the country's enviable access to renewable energy sources. Ireland's seas have an estimated generation capacity of 60GW (a fifth of Europe's total), while its climate and geography make it ideal for wind energy and biomass generation. Converting this into real output has been somewhat troubled, with widely publicised data showing the country ranks 26th out of the EU-28 for progress towards the EU's 2020 renewable energy targets.
Against this, the achievements of the Irish cleantech sector are all the more striking. In 2017, Ireland ranked 10th in Europe and 16th in the world in the Global Cleantech Innovation Index, with particularly solid performances in emerging innovation and in the funding ecosystem. 'Ireland puts down high marks for general innovation drivers and emerging cleantech innovation,' the index reported, finding it 'is the top scorer for the number of cleantech funds' and also 'has high levels of early-stage venture capital investment'.
Some 500 cleantech companies now operate in Ireland, the vast majority being start-ups and SMEs established over the past decade. The global scope of cleantech may explain why many focus on opportunities outside Ireland from the beginning, and annual exports from this still nascent sector are valued at around €450m. Many are also gaining major accolades for their innovation.
In 2017, Tallaght-based HUB Controls, which manufactures smart thermostats for home use, was awarded a medal for outstanding achievement at the Global Cleantech Cluster Association awards in London. Follow-up investment saw the company, founded in 2014, set to deliver sales of €10m by the end of 2019, with the US and UK among its key markets.
Early last year, Carlow-based TE Laboratories secured EU grant funding of over €1m to fast track the commercialisation of its water-quality sensor Aquamonitrix, which offers real-time monitoring of nutrient pollutants in waterways. The device is also being trialled by the US Environmental Protection Agency.
Also being tested in the US is the wave energy device OE 35 Buoy by Irish wave energy technology company, Ocean Energy. The testing is part of a US$12m project part-funded by the US Department of Energy as well as the Sustainable Energy Authority of Ireland. John McCarthy, Ocean Energy's chief executive officer, said the research is 'a first globally for a device of this type'.
Meanwhile, start-up AquaRoot Technologies won the Irish round of the EU-supported ClimateLauchpad in 2017. AquaRoot combines 3D printing with biodegradable polymers to allow farmers to create customised irrigation and drainage pipes.
For accountants, the sector's vibrancy and potential presents obvious attractions. Both the major firms and, increasingly, specialist accountants, are advising cleantech companies on how to navigate its distinct funding environment and plan for the future.

Focusing minds
The country's difficulty in meeting its climate change obligations is also focusing minds in advisory firms, often with the benefit of their truly global perspective. Michael Hayes, global head of renewables, KPMG in Ireland, points to an International Energy Agency study from 2017 that shows 'only four out of 38 clean energy technologies and sectors were on track to meet long-term climate, energy access and air pollution goals'. The research finds that the reality of innovation in cleantech comes replete with high risk, significant cost and continued competition from conventional technologies. So KPMG has partnered with the World Economic Forum to address these issues. Hayes explains that 'one idea, in particular, is receiving a lot of attention, and this is the proposal to establish an international sustainable energy innovation fund'. Linking public and private investors in this way should, he argues, 'overcome some of the inherent difficulties that currently prevail across the funding spectrum'.
It's something that Ireland's cleantech sector, with its emphasis on research and its global outlook, would only concur with. For a country on the backfoot regarding climate change, Ireland's cleantech sector has the potential to deliver some welcome advances in national environmental performance in the decade ahead. A cooperative global approach may also allow it to unleash its significant economic potential as it does so.

Donal Nugent, journalist
"The starting point is the country's enviable access to renewable energy sources. Its seas have an estimated generation capacity of 60GW"