After the successful roll-out of homeworking across Asia, some SMPs are reimagining their workplaces – for good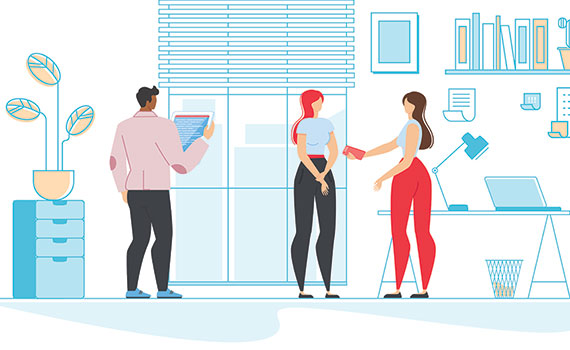 This article was first published in the July/August 2020 China edition of Accounting and Business magazine.
As Covid-19 lockdown restrictions across Asia are lifted, accountancy firms are reopening their physical offices. But for some small and medium-sized practices (SMPs), it is not simply a case of returning to business as usual.
Many are opting to keep in place heightened health and social distancing measures to reassure their staff, while others are retaining more flexible working practices introduced during the pandemic.
Despite Singapore's lockdown restrictions for businesses being lifted, Alan Chang, managing director at OA Assurance PAC, says the firm decided not to have all of its staff return to the office immediately, adding that flexible working measures had already been implemented last year before the outbreak of Covid-19.
When the pandemic first struck, staff were split into two teams, with one working from home and the other divided into a further two office-based teams with different shift patterns. Some staff will continue to work from home, only going back to the office if necessary.
'From the management perspective, I believe the mood of staff is both pretty anxious and looking forward to going back to work,' Chang says.
Safe space
Lily Yong, who founded Kuala Lumpur-based InTune Outsourcing with her husband Alex Wong, says the firm has put in place more stringent safety measures for staff following the guidelines of Malaysia's Ministry of Human Resources. These include daily temperature taking for all staff and visitors; hand sanitisation at the door; standard operating procedures for receiving parcels; and limiting visitor numbers in the office, instead conducting client meetings over the internet as much as possible. Social distancing measures have also been put in place at the office, and anyone who shows signs of being unwell is not allowed to come to work.
While Malaysia was in lockdown, the firm introduced flexible working hours to enable working parents to balance their professional lives with caring for their children while schools were closed. Staff were also measured on their output and deliverables rather than the hours they were putting in, which Yong explains was possible because InTune has always billed clients on a fixed-fee rather than a time-based basis. Since lockdown has been lifted, the firm has continued to offer staff the option to work from home or do flexi-hours, although Yong says that, in reality, everyone was keen to get back to the office.
But while social distancing measures forcing people to work from home may no longer be in place in the region, other restrictions that impact on SMPs' operations remain in place.
For RSM Hong Kong, a particular challenge has been servicing its audit clients based in mainland Chinese cities due to travel restrictions. Chris Wong, staff partner at RSM Hong Kong, says that it has had to work with its mainland China member firm more closely, directing it to carry out some procedures on behalf of RSM Hong Kong. He adds that the firm has also maintained many of the measures it introduced in the earlier stages of the outbreak, such as reducing social contact, recommending staff wear masks and increasing hygiene standards in the office.
Thomas Lee, of Hong Kong-based Lee, Au & Co, was relieved to be able to resume normal working hours when the partial lockdown was eased. 'We are happy to be back at work as working from home was not very efficient or productive sometimes,' he admits, adding that some practices, such as allowing casual dress, have been retained 'so that our colleagues feel easy and relaxed getting back to work'.
Lee says that the period of partial lockdown also showed that the firm did not have the technology it needed for its staff to work from home effectively. As a result, the SMP has accessed government funding in order to support future homeworking.

Our IT vendor has come up with some virtual desktop solutions for us and is revamping our cybersecurity measures,' Lee says. 'Hopefully, with the implementation of technology, we will be able to work anywhere in the case of another lockdown.'
Yong says that InTune also pushed through IT changes during the lockdown, introducing automation and digitalisation for some basic tasks to enable staff to focus on more technical work.

Increased demand
While SMPs remain cautious about the outlook, many have reported seeing an increase in demand for their services, as their clients need help getting to grips with the challenging business environment and applying for government support schemes.
Paul Gardner, founder and CEO at Fresh Accounting, which has offices in Hong Kong and Singapore, says that approaches from SMEs have increased significantly since Covid-19 first struck, including businesses that want to move to cloud accounting in order to gain greater financial visibility.
'With the introduction of various government initiatives, such as the Employment Support Scheme and the Hong Kong Productivity Council's Distance Business Programme, we are seeing an increase in business activity with SME's,' he says.
Lee agrees: 'With the various government funding schemes launched, there is a sudden demand for accountants to perform some verification work in relation to the funding applications. The government has granted different levels of funding to a number of industries and accountants are assisting their clients with applications.'
Chang says OA Assurance PAC has been contacted by firms looking for advice regarding cashflow projections, cost-saving plans, human resources planning and even business feasibility study assistance.
InTune has also seen an increase in demand after introducing a number of additional services for clients, such as helping them to apply for government aid and offering consulting on cashflow using a new modelling tool.
'Another of our new services, employee cost optimisation, will continue to stay as businesses endeavour to trim fat, adjusting employment related costs and maybe downsizing when the economy contracts,' Yong says.

Nicky Burridge, journalist
"With the various government funding schemes launched, there is  a sudden demand for accountants to perform some verification work"