An ambitious plan to open up trade routes across large parts of the world will demand massive investment in infrastructure, both public and private, over the next decade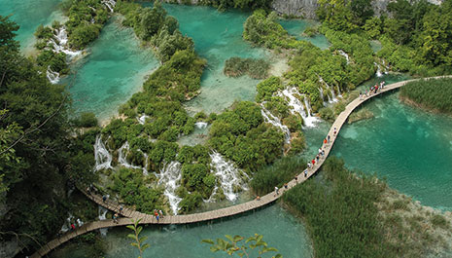 This article was first published in the April 2016 China edition of Accounting and Business magazine.
For China, the biggest economic story of last year, this year and for the foreseeable future is likely to be President Xi Jinping's ambitious One Belt, One Road (OBOR) initiative.
The onslaught of publicity has been relentless. Leung Chun-ying, the chief executive of Hong Kong, referred to OBOR 48 times in his annual policy speech in January. In the same month, almost all the participants at the Asian Financial Forum (AFF), which took place in Hong Kong, agreed that there are huge opportunities for investment through the new China-led initiative. More than 70% said in a survey that they believed the Association of Southeast Asian Nations (ASEAN) region would benefit from the policy.
OBOR is a development framework focused on promoting cooperation and boosting trade through policy coordination, better and more connected infrastructure, lowering or elimination of barriers to trade and more financial integration among 65 countries along an overland 'Silk Road Economic Belt' and a '21st Century Maritime Silk Road'. OBOR includes 16 countries in the Middle East and Europe, 16 in West Asia and North Africa, eight in South Asia, 11 in South-East Asia, 11 from the Commonwealth of Independent States, plus Mongolia and Russia, as well as China. President Xi launched OBOR in 2013 with two main projects as its basic framework: the land-based Silk Road Economic Belt and the oceanic 21st Century Maritime Silk Road. The idea behind both projects is to develop better infrastructure for trade and promote the bilateral development of key investment projects between China and the dozens of countries that OBOR would enable it to reach.
'It does not matter if it's China or someone else, it has to happen,' said Ronnie Chan, the chairman of property developer Hang Lung, in a speech at the forum. Chan pointed out that there is burning demand for infrastructure throughout the region.
The OBOR initiative would complement other efforts that China is undertaking to drive development and improve infrastructure throughout the region, and in particular Asia.
The Japan-led Asian Development Bank (ADB) estimates the continent needs $8 trillion of infrastructure investment between 2010 and 2020. Countries in West Asia in particular are among the least connected in the world.
Indonesia, the biggest economy in South-East Asia, now spends around 3% of its GDP on infrastructure. There, the need for better roads and railways for long-distance distribution and more urban transportation options is quite visible, particularly in large cities like the capital, Jakarta. According to data published by the Indonesian Chamber of Commerce and Industry, around 17% of company expenditure goes towards the cost of logistics. That figure is less than 10% in other countries around the region and lower than that in developed economies. Addressing this need is a key goal of OBOR.
'I think what China is doing, both through its central corridor and maritime road, in terms of trade, is very positive. China has become a very important economy for all of us, for Southern Asia and ASEAN as a whole. Anything that helps this route open up makes it easier for people to move goods and services, and anything that opens up new markets and new community along those routes is a positive thing,' said Jaime Zobel de Ayala, chairman and chief executive officer of Philippine conglomerate Ayala Corporation. 'The interlinks between China and ASEAN have become increasingly important.'
Investors and companies see OBOR as an opportunity even as they look for higher levels of investment to boost the development of countries affected by it.
However, while China says OBOR could be a catalyst for growth in the region, others are less certain that enough financing will be available to make a visible difference.
China has taken a multi-pronged approach to alleviating these concerns. In January it launched the $100bn Asian Infrastructure Investment Bank (AIIB), a multilateral bank which includes a wide range of members and is expected to lend $10bn-$15bn a year for the first five or six years.
'The Asian Infrastructure Investment Bank will largely help with infrastructure projects within the region,' said Kiatchai Sophastienphong, Thailand's vice-minister for finance, a former ADB and World Bank official. 'There are some financial institutes providing support to infrastructure across Asia, yet it is good to have one that is dedicated in this area.' Thailand has come out in support of the bank and OBOR, as the country works to position itself as a gateway for OBOR's maritime section.
Russia, another AIIB and OBOR participant, expects the AIIB to approve its first loan in the first half of 2016 to help finance railways that would transport goods to port.
'Hopefully we will have first loans provided within six months,' said the country's deputy prime minister, Arkady Dvorkovich.
Another source of financing for OBOR projects is the $40bn Silk Road infrastructure fund, which is backed by capital from China's massive foreign exchange reserves. The fund is already investing in a dam in Pakistan as part of a deal reached last year. The investment is being funnelled through a stake in the South Asia investment arm of China Three Gorges, which won the bid to build the $1.65bn Karot Dam on the Jhelum River, east of Islamabad.
Other companies, such as Bank of China, also see OBOR as an opportunity to expand their business. Over the past year, it has undertaken a wave of mergers, with the aim of becoming an 'ASEAN regional bank'.
'As far as the banking industry is concerned, we are ready,' said Yue Yi, vice chairman and chief executive of Bank of China Hong Kong at the forum. 'The Bank of China is ready to start more than 50 branches along the Belt and Road and we will continue to invest. In ASEAN countries we may merge some of our branches.'
However, Chen Shuang, chief executive of China Everbright, said the new institutions set up alongside the plan, including the AIIB and the Silk Road fund, will play only a limited part in providing the investment. What the banking industry is focusing on at present is how to involve private capital in the financing of the projects.
'Since its proposal by President Xi two years ago, the Belt and Road initiative has become a core strategy in China's opening up and reforms. It is a good strategy for internationalisation of Chinese corporates,' said Chen.
By bridging the gaps in infrastructure across the region, the projects in the countries along the road should benefit Chinese companies by making it easier for them to reach out to and penetrate untapped markets.
'I think the Belt and Road initiative is complementary to the overall outbound investment strategy of the Chinese government, as well as Chinese companies,' said Frank Lyn, China and Hong Kong markets leader at PricewaterhouseCoopers. 'Currently outbound investment is obviously focusing on lots of mature economic assets. But with OBOR, I would say that moving forward, you will see a lot more investment in some of the emerging economies, including ASEAN countries and African countries.'
Statistics from the International Monetary Fund confirm that by 2020, countries along the land and maritime belts will account for some 50% of global GDP and generate opportunities for both China and its increasingly international corporations.
Pearl Liu, journalist