Christina Christoforou
Not only was Christina Christoforou told as a schoolgirl in the UK that she would never amount to anything, she has it in writing. But a few years later she is a well-established 'virtual CFO' with a portfolio of clients who look to her, not just for accountancy support but also for strategic advice.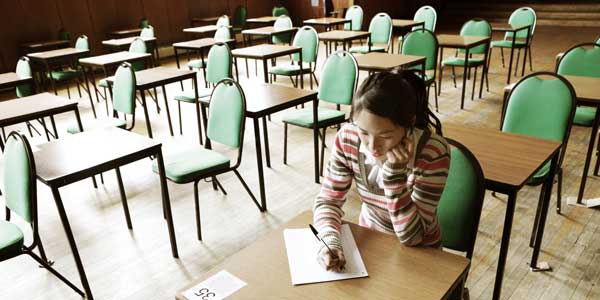 "All of my school reports said that I was underachieving, that I was below average. It wasn't that I couldn't learn or anything like that, I just took my time learning. I really need to understand how something works before I can grasp it"
Work experience gave her a taste for finance - 'I really liked that there's a way to know that you're right' - but a D grade in GCSE Maths scuppered her plans to study accountancy.
Fortunately, her aunt, Cordelia, helped her get a job as an office junior working in a law firm, Wedlake Bell.
"She managed to convince them to hire me and because I didn't go through a recruitment firm or anything like that there was no risk to it. And I loved it. I literally loved it. I wasn't pigeonholed in any particular area, and that kind of took my inquisitive-type brain, because I love seeing how things fit together."
Even then Christina was still determined to become a qualified accountant and a finance director (FD), and completed her accountancy diploma in a different learning environment.
"'I did night school, and I found that a lot of the people there didn't necessarily want to be there, they had to be there. Whereas I was there because I wanted to learn, so I dedicated a lot of time to it, pretty much all my weekends"
At this point (she was now 20) she toyed with launching her own bookkeeping and accountancy practice but decided she didn't yet know enough and instead became a management accountant for a law firm.
"But my exposure in the firm wasn't just that I did management accounts: I built really good relationships with the finance people. I would listen to what they said, and it would be my thing to make things more efficient."
She discovered she had a real knack for process improvement.
"I taught myself how to write macros in Excel to speed things up, I made things so much better and this built-up team morale. Because when you're in finance you do a lot of mundane data entry and this is a real reducer of morale."
This also meant standing up for the finance team with the senior staff in a male-dominated industry.
"They are the ones that have to say, "no you can't put your holiday in France on the business", "sorry, you don't have a receipt for that meal". And that's hard, to go against the owners of the business, especially if you don't have any backing."
Christina worked with the managing partners to make sure the finance team had the backing they needed.
"I would say, what rules do you want to enforce? I will distribute them, we will educate on them, but I need your backing. Because I felt I had a responsibility to elevate the firm and its finances, and to protect people."
Even though very few people in the industry were qualified or even studying, she took on the ACCA Qualification, because she believed that otherwise she would reach a ceiling in her career. Without a lot of support from her employers, she had a 'really rough time'.
"It took me six times to pass one of the exams, and I was literally on the verge of giving up. But then I came across this company called First Intuition and I reached out to the owners and said you are my last hope, if I don't pass with you, I'm going to give up. Since that day, I just constantly kept passing."
Her progress gave her more insight into her work.
"I would learn something at ACCA and right away I could implement that in my budgeting. And you learn about the legal side as well, so when I saw documents coming though from a legal perspective, I actually understood these things."
It also built her confidence.
"I remember having a discussion with one of the directors. It was really hard to stand up to someone like that who was so sure of what he was talking about. But once it all calmed down, I went back to him and said, look, I actually study this, what you are referring to is not right."
Her next move was to become a financial controller for a PR firm: her plan had been to learn from the financial director, but that person left, and she found herself combining both roles.
"I wasn't even qualified at this point. And I was managing the day-to-day transactions, working with the board, having to travel to Brussels and study all at the same time."
After a year and a half, she realised she didn't want to work for just one firm.
"I went back into the legal industry, but I told them at a very early stage that once I was qualified, I wanted to start my own business"
Her role was to rebuild the firm's UK finance function, and after three years she had transformed its position within the global network.
"I just worked with each of the finance people and understood what they did and looked at how we could improve things. So, then it becomes much more about mentoring and improving relationships."
When she qualified, her plan was to build her business and continue to work with the firm, which she reasoned she could do now that she was no longer studying.
"They said no, so I handed in my notice. But they actually hired me back as a consultant in the end."
Her initial goal had been to become a sort of holistic financial consultant, looking at business goals in tandem with personal financial advice.
But she quickly realised that that involved too many specialisms and her role has evolved into a 'virtual CFO', working with innovative companies. A lot of her leads come from Instagram and Facebook.
"When I was on LinkedIn, I only got finance people following me, who already knew what I was talking about. But there are a lot of people popping up in the online space, who earn an awful lot of money. They are business coaches, or virtual assistants, or social media managers, and they know nothing about finance."
Her next goal is to build an agency for financial professionals, and also to combine her role with training.
"Some of these firms are multimillion-pound firms, and they have a bookkeeper, and the bookkeeper wants to learn but doesn't know who to learn from. So, I'm coming in as CFO, but I train the bookkeeper up to FD level, so that means [that] the person grows with the firm."
She is also keen to educate budding accountants in the expanding professional possibilities open to them.
"People say you're an accountant, you're in finance, but my mission is much more involved with the strategic growth of a firm. I've done a lot of mentorship for budding financial professionals, getting them to think like an FD. That's where I'm really focusing my growth at the moment, because it's just such an important area. I speak to people all the time that are in university, and they're like, "Oh, I hate the learning that I'm doing. I don't want to become an accountant because of it". And I tell them "it's not like that: it's so different""
Reflections
Understanding your personal learning style can be the key to success.
Being persistent in achieving your goals will reap benefits in the longer term.
Build your virtual resumé and personal brand using social media.