Throughout his globetrotting career, Kevin Fitzgerald FCCA, regional director for Asia at Xero, has always focused on supporting the needs of SMEs – wherever they are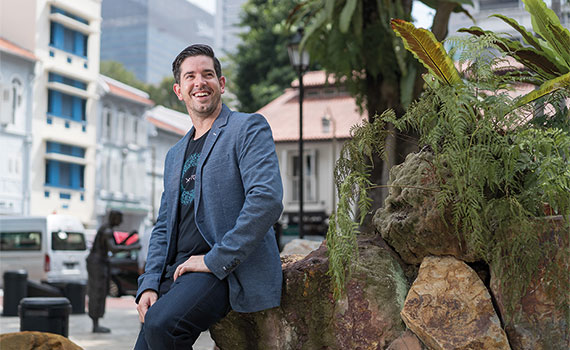 This article was first published in the January 2019 Singapore edition of Accounting and Business magazine.
Kevin Fitzgerald has had a diverse career, working in audit, recruitment and sales in four different countries across three continents. Yet the needs of small businesses have always remained close to his heart. And as Xero's Asia director, this is at the forefront of his role.
'For us, our value really lies with the back office of a business,' Fitzgerald explains. We can't help with the sales and marketing, and the language challenges. But we can help companies to better understand the health of their business, thereby freeing up their time to combat other challenges.'
A consistent challenge for small and medium-sized enterprises (SMEs) is, Fitzgerald says, access to capital. 'A lot of them fail because of cashflow problems and not because of customers,' he says. 'How Xero tries to combat that is to help small businesses keep their records up to date, and give them a good understanding of the financial health of their business. With Xero you can actually see the up-to-date financial state of your business with direct feeds from your bank, whereas previously, if you weren't in the cloud, you were probably a few months behind with your financial records.'
This, he notes, is particularly useful in applying for loans, since the latest financial reports can be forwarded to the bank in almost real time.
Now based in Singapore, Fitzgerald's globetrotting career has taken him from Dublin to the Channel Islands, back to Dublin, then on to Australia. He began his career as an auditor with Moran and Partners, a small accounting practice in Dublin, Ireland, with just 25 staff. This meant he could observe how the business worked operationally. 'Because I was part of the team, it made me understand the stresses and the pressure that the partners were under to make sure the business was a success,' he says.
Many of the firm's clients were also SMEs. 'Our clients were attracted to us because we were a small practice. They understood that we knew their pain points and that we were there to help,' says Fitzgerald.
After five years with Moran and Partners, Fitzgerald made the difficult decision to leave the practice where he had 'built up a lot of strong personal relationships'. For him, a big reason for leaving was that he wanted to explore the world. He thus moved to the Channel Islands – British crown dependencies – where he worked as an audit senior at KPMG.
Helping SMEs succeed
The experience of working in one of the Big Four firms helped Fitzgerald realise that his passion was very much rooted in helping SMEs succeed. 'KPMG was a brilliant firm but my role there didn't suit me,' he says. 'I was doing the audit of banks and I felt there wasn't as much of the personal touch that I was used to. I wasn't engaged with the client as much as I had been at the smaller firm. That really helped me figure out where I wanted to be in my career.'
After returning to Dublin as a hedge fund supervisor with International Fund Services (State Street), in 2011, the travel bug bit Fitzgerald again, this time taking him to Melbourne, Australia, some 17,000km away, where he joined Robert Walters as a recruitment consultant, specialising in accountancy roles for practices and banks.
Around this time he first started to take note of Xero, an online accounting platform for small businesses, which had started out in New Zealand and had gained ground in Australia and the UK. 'I kept seeing the advertising and I wondered who they were,' he says.
After almost four years with Robert Walters, Fitzgerald was offered the position of associate director – a role he declined. 'This was taking me into business leadership in a recruitment business that did a lot more than just accounting,' he says. 'It ended up being a really easy choice for me; I wanted to be back closer to the accounting world.'
Through a friend who worked in Xero he set up a meeting and in 2015 he joined as territory sales manager for Victoria and Tasmania.
After two-and-a-half years with Xero in Melbourne, Fitzgerald was posted to Singapore as regional sales director, Asia, then subsequently promoted to regional director, Asia. Setting up shop in the city-state did come with its own share of challenges. One of these, Fitzgerald identifies, is Asia's diverse nature. Unlike the US and Australia, where markets are more homogenous, language and regulatory differences can make trade with other Asian countries more challenging.
Brand recognition
The other challenge that he faced was that while the small business platform was already an established brand in Australia, it was less well known in Asia. Building brand recognition in the region has therefore been a priority for Fitzgerald. 'In Australia, we've got 600,000 small businesses using us, which is pretty much 25% of the market,' Fitzgerald says. 'When I walked down the street in my Xero t-shirt, people would say "hello" and that they loved the platform. Here, we are still trying to get people and small business to relate Xero to accounting.'
In spite of these challenges, Xero is already gaining ground, with a 49% growth in rest of world including South-East Asia for the year to 31 March 2018. This has led to the creation of a second office, in Hong Kong, in 2018.
Support, train, educate
While the growth of technology is currently transforming the finance function, Fitzgerald is adamant that businesses' adoption of Xero will not lead to job losses. For a start, one of Xero's main sales channels is through its accounting partners, who will often recommend the use of the platform to their clients. Fitzgerald points out that while it would be impossible for Xero to reach every small business globally, its key point of contact will always be finance professionals. 'Our strategy has always been to win over the accountants and bookkeepers, with our teams set up to support, train and educate them,' he says.
Furthermore, Fitzgerald believes that accountants need to play catch-up as the industry has evolved due to changing expectations of business owners. 'Accounting businesses need to go digital,' he says. 'Our focus is on teaching accountants how to use technology to understand their clients' needs and capture the opportunity that they're leaving on the table.'
Besides accountants, Xero also works closely with technology partners. 'We have an open API that we publish, so developers can go in and see what the end points are, and what they need to build,' Fitzgerald explains. 'If they can build something that a small business needs, they can connect to Xero and advertise in our marketplace. That's advantageous for them, because Xero has nearly 1.4 million users.'
Fitzgerald's passion for accountancy began as a child, when he observed the respect the local community had for his grandfather, who had been the treasurer of the local credit union. 'When I got a bit older, I understood that he worked in accounting and that he helped local businesses when they needed more cash,' he says. 'That was when I realised that I wanted to be able to help people in that way.'
Fitzgerald has enjoyed the support of ACCA throughout his career. While at Moran and Partners he began studying part-time for his ACCA Qualification. Today, he offers his time to help mentor the next generation of finance professionals. He first began mentoring in Melbourne, through the Irish Australian Chamber of Commerce, and will soon be part of a new pilot ACCA mentoring programme in Singapore.
ACCA recently invited Fitzgerald to represent South-East Asia on its global technology panel, which enables shared thinking on key technology and data-related issues affecting the profession. 'ACCA has opened so many doors for me. I'm grateful that since I've been in Singapore, the local team has been really supportive,' he says.
As for his future plans, Fitzgerald says that while he's currently excited about building up his team in Asia, he doesn't rule out moving again in the future. 'Who knows? I've been qualified as an accountant for 15 years, and worked in four different countries. It wasn't that I wanted to leave Ireland; it's that I wanted to explore the world. I don't think Singapore will be my final destination.'
Rufus Tan, journalist
"Our focus is on teaching accountants how to use technology to understand their clients' needs"