Your ability to constantly evolve your technology skills – your digital quotient – is a pivotal competency that will keep your career, indeed your profession, in the game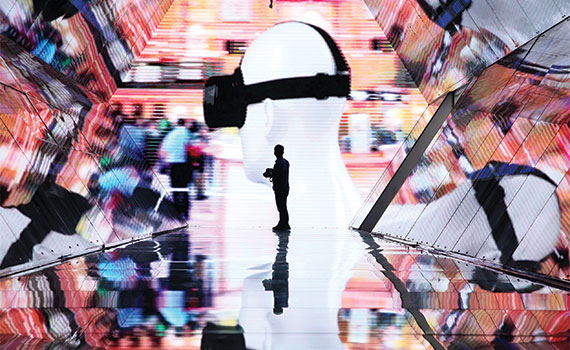 This article was first published in the April 2019 International edition of Accounting and Business magazine.
It is a given these days that professional accountants need to be technologically competent at the very least – and ideally, much more than that. 'Digitally savvy' may be one way of describing it. Technological innovation (and its many offspring, from global connectivity to social media) remains the most significant driver of change across every sector of business – and as businesses change, so do the competencies they look for in professional accountants.
The central aim of ACCA's Drivers of change and future skills report was to identify the changing needs of business and to understand how professional accountants need to develop to keep their capabilities relevant. More than half (55%) of the 2,000 professional accountants and C-suite executives across the world who took part in the research for the report identified the development of intelligent automated accounting systems as the external factor they expected to have most influence in the next three to 10 years.
The report identified seven 'quotients for success' for professional accountants in future – an optimal and changing mix of professional competencies (covering technical knowledge and skills but also interpersonal qualities and behaviour) that will add value for their employers and clients. Among the seven is the digital quotient (DQ), defined as 'the awareness and application of existing and emerging digital technologies, capabilities, practices and strategies'.
The spread of digital technology has already transformed the practice of accounting and the skills that professional accountants need – and the evolution is ongoing, with no clear view of the final destination. The automation of manual processes has already influenced business models, powerful analytics is bringing real-time reporting closer, and communications technology has reshaped companies' interaction with stakeholders. Arguably, the biggest potential change of all – blockchain – is still a relative unknown.
The rise of big data presents particular challenges. The report points out, for example, that a simple Google search can uncover more data than any assurance report. 'By 2020, stakeholders with internet access will have the tools to analyse big data – if not the technical knowledge or experience to interpret it,' it says. 'By 2025, Google may employ more audit and assurance professionals than the Big Four.'
The professional's added value
The obvious question is, if both data and the powerful analytics tools to make sense of it are widely available, what value can professional accountants bring? For centuries, much of the profession's value has been based on its ability to translate and interpret complex financial information for a non-technical audience. The profession has largely been able to set its own pace in fulfilling that need, but in a world where social media is rapidly becoming an acceptable outlet for formal company announcements, that is no longer an option. Stakeholders want better, more informative and accessible reports, as quickly as possible – and if an accountant cannot provide that, they will look elsewhere.
The report points out: 'Some tax professionals see as a significant threat the widespread familiarity with faster and smarter analytics and big data tools among those who are not tax professionals. Within a decade, they expect this to reduce dramatically the role for some tax professionals and diminish the need to translate tax for non-technical stakeholders.'
In other words, professional accountants are fighting to stay ahead of the game. That is why the ability to apply technology to analysing, interpreting and presenting financial and non-financial data tops the list of skills that professional accountants say they need. Many believe there are gaps in the digital skills they will need in the coming years, including capabilities around mobile and cloud business models, blockchain, digital currencies and payment mechanisms, and new routes to investment such as crowdfunding.
The report says: 'Professional accountants see an urgent need for members of the profession to become accomplished exploiters and users of business intelligence and data analytics technologies so that they can improve identification of all types of related risk in the business, its supply chain, and local and global economies; manage and mitigate these risks better; and improve the strength of internal controls, the integrity of the supply chain and the quality of corporate governance.' Nurturing your DQ, in other words, is about much more than understanding how technology works; it is about developing a digital-savvy way of thinking and working.
Liz Fisher, journalist
Technology will replace many entry roles in the profession
| Strongly agree | Agree | Neutral | Disagree | Strongly disagree |
| --- | --- | --- | --- | --- |
| 25% | 32% | 27% | 12% | 4% |
Technology will enable finance professionals to focus on much higher value-added activity
| Strongly agree | Agree | Neutral | Disagree | Strongly disagree |
| --- | --- | --- | --- | --- |
| 42% | 42% | 13% | 2% | 1% |
"The obvious question is, if both data and powerful analytics tools to make sense of it are widely available, what value can professional accountants bring?"