Decluttering your workspace can give your productivity a boost, keep you focused, give you a more professional image and improve your psychological wellbeing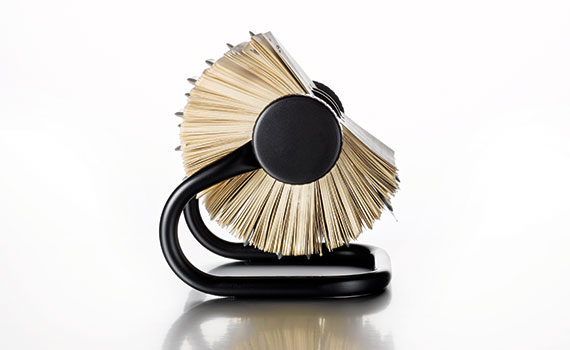 This article was first published in the April 2018 China edition of Accounting and Business magazine.
The saying 'Tidy desk, tidy mind' is well known, but having an uncluttered workspace really does have a positive impact on productivity. From boosting efficiency to enhancing your professional image, there are many benefits to tidying up your desk.
'Having an organised workspace means less stress, higher efficiency and a better bottom line,' says Georgina Wong, CEO of Asian Professional Organisers, who adds that research suggests workers waste an average of six weeks per year looking for information they have misplaced.
Nathalie Ricaud, professional organiser at Singapore-based Get Organised & Beyond, agrees. 'Clutter makes it difficult to concentrate on the task at hand. It brings feelings of being overwhelmed and stressed, weighs us down and steals our energy,' she says.
By contrast, Ricaud says the benefits of having an uncluttered workspace include better focus, reduced stress levels and a more professional image.
Organising gurus
The trend towards tidying has picked up speed in recent years, partly due to the prominence of organising gurus such as Japanese author Marie Kondo, whose book The Life-Changing Magic of Tidying Up was a New York Times bestseller, partly as a result of the minimalist movement and a shift towards embracing a simpler life.
Wong founded Asian Professional Organisers in 2012 and works in both Hong Kong and Singapore. She says the average number of enquiries she receives has risen threefold since she started, while business has doubled.
Kris Tan of Singapore-based The Declutter Professionals agrees. 'For the last two years I have seen a rise in enquiries. Space is getting smaller. People are starting to realise that they have to face their clutter issues,' she says.
But while many people want to organise their workspace, they often need external help to do so. Wong, whose services cost an average of S$400 for a minimum of three hours, uses the FAST method when helping people to declutter at work.
When processing paper, she advises clients to either Forward or delegate it, or Action it immediately, before Storing or scanning it for reference. It should be Trashed when it is finished with, if it is junk mail or if it has not been used for six months.
Wong advises people to treat their desk space as prime real estate. 'Do as developers do and go vertical with stacked trays, such as "in", "out", "pending" and "to action",' she says. 'Use magazine boxes to store paperwork upright and a cork or magnetic whiteboard to keep notes visible.'
She advises having a telephone handset on the left side of the desk (for the right-handed) to free up their right hand for note-taking. She also suggests using the deep drawer in an under-the-desk cabinet to store ongoing projects or paperwork in hanging files for fast retrieval. For digital clutter, Wong suggests creating broad categories in their email and folder structures, using sub-folders to try to ensure each file is no more than three clicks away.
For Ricaud, the first stage of the decluttering process involves bringing a large rubbish bag to your desk. She tells people to empty their desk of everything except their computer and telephone, throwing away whatever they do not need or is broken. Next, she suggests sorting the things they need to keep into categories, such as papers, pens, cables and chargers, and personal decorative items.
'Keep only the essential items on your desktop: a computer or laptop, a phone, a pencil holder, a notepad, your active files, and a tray for incoming and outgoing mail. Move the rest to a different area,' she says.
The next step is to assign a home to each category of item based on how frequently it is used. 'The more often you use them, the more accessible you want them without having to stand up,' Ricaud says.
Tamara Norris of Hong Kong-based Vivid Vibrations does not use a set method to help people declutter, but prefers to watch people in their space and then offer a bespoke solution.
'I like to gear it very personally for every client and base it on their needs, how they use their space, what their challenges are emotionally and physically,' she says.
Out of reach
Norris started out working in the food and drinks industry in Canada, where one of her corporate roles involved restructuring kitchen areas to make them more user-friendly. In a similar way, her solutions for offices aim to increase the efficiency of the workspace.
Norris, who typically charges around HK$450 an hour, says that people often have to reach for things but do not notice that they are hindered. 'It might only take an extra split second to reach something but over a year those moments take up a lot of our time,' she says.
First, she asks clients to think about the purpose of their space, and its positives and negatives. This is followed by what she describes as 'a huge deconstruction'. 'You have to pull it all apart,' she says. 'You can't see your space properly until it is empty.'
She then challenges her clients' thoughts on what they really need. 'There is a lot of looking in to get people to be honest with themselves about how they think and to understand their own behaviour,' says Norris, who has a background in psychology, mentoring and life coaching.
Tan says one of the main challenges she encounters is encouraging clients to dispose of items they do not need. 'I will first work to understand the character of each client. By doing so, I find the best method to meet the objective of getting things disposed of or recycled,' she says.
Donna Simchison of Hong Kong-based D-clutter, whose one-hour consultation fee is HK$500, says many people find it hard to identify why their workspace keeps getting messy. 'To me, clutter is delayed decisions and delayed actions – procrastination,' she says.
Her solutions revolve around two key pillars of organising: like objects together and everything has a home. She suggests starting the process with what she describes as an initial purge. Once it is done, she recommends scheduling decluttering time in your calendar and sticking to it like any other appointment.
Ricaud agrees that the decluttering process sometimes needs revisiting. 'It's not always possible to get the system right the first time, so a couple of weeks after you've finished organising your space, evaluate how well your system has been working and make changes if necessary,' she says.
But all the organisers agree that once you have successfully reorganised your workspace, the benefits are significant.
Norris says: 'Just having clarity and being able to focus and approach your day in a calm and organised fashion is important.'
Nicky Burridge, journalist
"Clutter brings feelings of being overwhelmed and stressed, weighs us down and steals our energy"