Rudy Chen FCCA, can-do founder and director of Yes Accountants, London, and keen badminton fan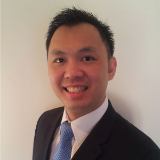 First published in the February 2015 UK edition of Accounting and Business magazine.
Early on, I acquired experience in smaller accountancy firms. I particularly benefited from the support of the late Mr Sharma of F Winter and Co, and its current principal, Hilesh Khakhria. Both have an excellent management style and preached an approach that combined flexibility and open-mindedness and shaped the accountant I am today. I also spent seven years at top 20 firm Crowe Clark Whitehill, where I was exposed to much larger clients and a more hierarchy-focused environment.
My early career gave me a solid grounding in working with SMEs and larger clients. After 13 years, the time felt right (both mentally and financially) to strike out on my own, and I formed Yes Accountants.
My father was also a strong driving force and role model. He worked at lightbulb supplier Scott and English before founding his own lighting business.
I conducted thorough research before launching. I wanted a strong emphasis on being truly client-focused and providing a personal touch.
I focus on start-ups. A Companies House survey revealed that around 530,000 new businesses were incorporated in 2013. I would be delighted with just 0.1 per cent of that market share!
"Around 530,000 new businesses were incorporated in 2013. I would be delighted with just 0.1 per cent of that market share!"
I have a diverse range of clients – from fashion consultants to architects, property investors and builders. New clients come via word of mouth and networking events.
The inspiration behind my firm's name is an old Malaysian phrase. 'Malaysia boleh' loosely translates as 'we can'. I simplified this to 'yes'. It reflects a positive, can-do attitude, with an important link to my heritage.
I harbour a long-term ambition to open a branch in Malaysia. ACCA has a significant presence in the country and the process will be smoother if I can employ ACCA-qualified staff at both ends.
ACCA provides a wide range of support for small practitioners like me. I regularly attend webinars from the comfort of my office. The technical factsheets and guides are also useful.
Accountants are sometimes seen as dull, but I love my job! It's not just about figures. It is a people business that allows me to engage with a wide cross-section of people from different backgrounds.
Away from my desk I'm a big fan of badminton. It's one of Malaysia's biggest sports. I try to play twice a week. It helps promote a healthy mind and allows me to switch off from work.