Chas Roy-Chowdhury, Head of Taxation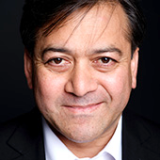 Chas' role as ACCA's taxation expert takes him to the heart of UK Government and the European Commission.
He joined ACCA after 11 years working in private practice. As taxation expert and Portfolio Head of Business Reporting, he is in demand to represent ACCA at a range of high level government committees, working groups and ad hoc meetings.
He is in regular contact with HM Treasury and HM Revenue and Customs, and often gives evidence to parliamentary select committees.
Chas also makes presentations on key international tax issues to the European Parliament, and has contributed to the EU Commission consultation process for the Common Consolidated Corporation Tax Base (CCCTB).
In addition, Chas represents ACCA at the Business and Industry Advisory Committee to the OECD (BIAC) and sits on the EC Platform for Tax Good Governance. He is also involved with technical groups on VAT and financial information exchange.
He also chairs the Taxation Working Group of UEAPME (European Association of Craft, Small and Medium-Sized Enterprises) and sits on the Indirect and Direct Tax Working Parties at Fédération des Experts Comptables Européens (FEE).