Stand out by becoming officially recognised as a QuickBooks certified user.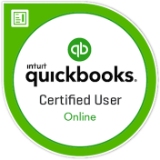 Overview
Bookkeeping in the 21st century requires more than knowledge of GAAP principles or an eye for detail - relevant computing skills are needed. Intuit® QuickBooks, the industry leader in managerial accounting software for entrepreneurs and small business, provides an easy-to-understand platform to grasp accounting concepts while honing skills in the most prevalent bookkeeping application in small business today. You can validate your QuickBooks knowledge by becoming an Intuit QuickBooks Certified User (QBCU).
QuickBooks Certified User Online version
The QuickBooks Certified User Online exam will test candidates on new features found in the QuickBooks Online software. While many of the features are similar, QuickBooks Online is our cloud-based subscription service that provides the flexibility to take care of business anytime, anywhere. With Online version you are tested on the new features including receipt capture from a mobile device, cloud-based app support, work from anywhere on any device, instant file access for accountants, schedule and send invoices automatically.
QuickBooks Online Version: Exam objectives
QuickBooks eKit

Intuit QuickBooks Certified User Online – global version (QBCU) eKit

The eKit includes:

Intuit QuickBooks Certified User Online – Global Version LearnKey Video Training using GMetrix
GMetrix Practice Tests test a learner's preparation and exam readiness
The Intuit QuickBooks Certified User Exam empowers learners with an internationally recognised qualification from Intuit® QuickBooks. One exam voucher (12 month expiry).

This package gives you full access to all that Intuit® QuickBooks has to offer. You'll get 12 months access to the GMetrix online training platform and an exam voucher for your local Certiport test centre to sit the QBCU exam. With this you'll earn the official Intuit QuickBooks Certified User certification and digital badge for your CV and online profile.

With the video training and practice assessments you can claim a minimum of 20 CPD units.

GMetrix online training platform

15 hours of combination online learning, pre and post assessment labs and lesson plans
an analysis of your current skills to create a learning pathway specific to your development needs
5-8 hours of in-depth practice exam assessments tailored to the QBCU exam objectives
downloadable detailed activity report highlighting strength and weakness areas so you can measure your progress.
requirements

Internet Explorer 9 or later, Chrome, Firefox, Edge, Safari
flash plugin installed
high-speed internet connection.

QBCU certification exam voucher

exam vouchers are sent via email
contact the Certiport Authorised Training Centre (CATC) to book your exam at one of their available test centres
15-20 GBP exam administration fee is not included and is made payable to CATC directly
On passing the exam, you'll get an official certification from Intuit® QuickBooks to say that you are an Intuit QuickBooks Certified User (QBCU), as well as the Intuit QuickBooks Certified User badge to add to you CV.

Cost: 160 GBP
Worth a minimum of 20 CPD units

Prodigy Learning in partnership with Certiport.
Disclaimer: This course is available for ACCA members. This course and outline is provided by a third-party course provider. All course bookings are subject to the terms and conditions agreed with the course provider. Please see full terms and conditions.
You will be redirected to an external website for booking.