The coronavirus has paralysed major sports events all around the world. We explore the future for the top tournaments against a backdrop of financial uncertainty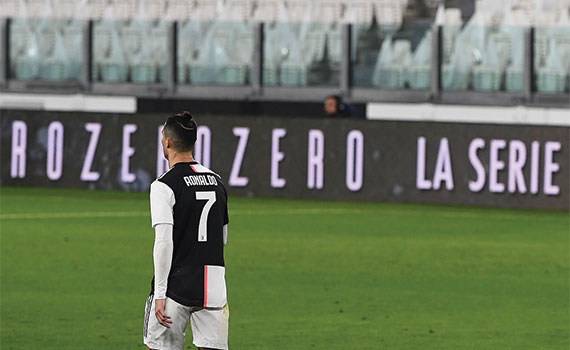 This article was first published in the June 2020 China edition of Accounting and Business magazine.
With this year's Olympics and the Euro 2020 football tournament both postponed until next year, the Wimbledon tennis championships cancelled, and plans for European football seasons to be completed behind closed doors, the financial landscape for major sporting events remains on a knife-edge.
Experts estimate the five big leagues in European football combined (Spain, Italy, England, France and Germany) stand to lose US$4.4bn if their seasons are voided due to the Covid-19 outbreak. These losses will be reduced to around US$685m if the remaining games are played in empty stadiums. While the five European leagues cannot avoid taking a financial hit, the bulk of the losses will be avoided if they fulfil their contractual obligations to broadcasters and sponsors by completing their domestic calendar for the 2019/20 season.

Hefty damage
With the shadow of catastrophic financial damage hanging over the sport, the regional governing body Uefa has outlined plans to extend the football calendar deep into the European summer, arguing it is better to hold the remaining games behind closed doors than not to play at all. The option of ending seasons prematurely (and how to decide relegation and promotion) has been discussed. As we went to press, European leagues had been given until 25 May to tell Uefa whether they want to complete or cancel their seasons, although Uefa aims to complete its lucrative Champions League and Europa League competitions by this August.
Uefa faces devastating losses put at US$660m if its Champions League and Europa League tournaments are not completed, largely as a result of failing to meet its commercial and broadcast obligations. Uefa had expected to generate a combined US$2.95bn through TV rights and sponsorship deals from its two major international competitions this season.
Broadcast and commercial agreements for the Champions League cover 149 matches this season. This includes 98 qualifying games and the 51 matches from the group stage through to the final, originally scheduled to take place on 30 May in Istanbul. Due to the coronavirus lockdown, a total of 17 games are still to be completed, including the second leg of Manchester City's last-16 match against Real Madrid.
Based on a formula that distributes total income evenly across all games, Uefa earns an average of US$20m per Champions League game from TV and sponsorship, so the 17 games still to be played represent US$334m in unfulfilled obligations. However the latter stages of the competition have a higher value; according to sports property experts, the outstanding games are worth 30% more than earlier matches, meaning those remaining games could be worth around US$435m. The rest of Uefa's potential losses come from the Europa League, based on current contract valuations.
While the Olympics in Japan and the Euro 2020 tournament have been pushed back until 2021, doubts remain about whether it will be safe to allow any major sports event to be held in 12 months' time in front of tens of thousands of people. The International Olympic Committee (IOC) has been exploring ways to scale back the Olympics, including reducing the presence of broadcasters and sponsors at the event.
Sport could be played out in empty stadiums 'for another 18 months' until a vaccine is developed, according to Zach Binney, an epidemiologist at Emory University in Atlanta, Georgia. 'As a scientist, I hate to say I am ever 100% sure about anything, but I am as close to 100% as I've ever been that we cannot return to filled-to-capacity stadia until we have a vaccine. The best guess is about 18 months – could be a little more, could be a little less.'
Likewise, ticket sales look bleak for the foreseeable future. While sports fans will probably want to watch live sport again as soon as possible, they may want to do so only when it is safe. Surveys of US sports fans suggest that three-quarters would be unwilling to go to a live game until there is a vaccine.
Sports analyst Peter Rohlmann says: 'Long-term, there is unlikely to be a decline in the sales of season tickets or in attendance at games. However, the question is: how soon will this actually be possible?'

Insurance worries
Uefa officials refuse to confirm whether sufficient insurance cover is in place for the rescheduled Euro 2020. A spokesman says: 'Uefa does not disclose any information on such arrangements, but we are obviously conducting a careful assessment of risks in connection with the staging of Uefa Euro in 2021 (as we are for all of our competitions) and will put in place any additional measures as appropriate.'
The IOC takes out US$800m of protection for each summer Olympics, which covers most of the approximately US$1bn investment it makes in each host city. Insurance sources estimate it pays a premium of 2%–3%, giving a bill of around US$25m to insure the Tokyo event.
Munich Re is a provider of cancellation insurance for Tokyo, for an amount running into hundreds of millions of dollars. The policy covers setbacks ranging from war to natural disasters. While most large event policyholders purchase communicable disease coverage, pandemic insurance is likely to move from being a niche product to an essential one for sports organisers in the future.
Wimbledon is to receive an estimated insurance payout of US$140m, following its decision to cancel its tennis championships, originally scheduled to run from 29 June to 12 July. The event organiser, the All England Lawn Tennis Club, has bought pandemic insurance for the past 17 years, making it one of the few sporting events financially prepared for Covid-19. If Wimbledon had been postponed instead of cancelled, there would have been no payout.
Ben Carey-Evans, insurance analyst at GlobalData, says Wimbledon learned from the Sars outbreak in 2003 and has been paying US$1.85m per year in pandemic insurance ever since. A number of insurers have recently excluded Covid-19 from event cancellation policies, and cover for the virus will not be included in any new policies until an antidote has been developed and is available, according to insurance experts.
Edel Ryan, from the special risks team at insurance broker Marsh, says: 'As things stand, organisations won't get coronavirus cover for any major sporting event until we know where we are with this virus. It is simply not available in any form. It is impossible to find, and that means there is no certainty in terms of being able to reschedule major sporting tournaments.
'Insurers of sporting events are working around the clock to help organisers keep the show on the road. Individual conversations are taking place, but only once the virus is contained will it no longer be considered a substantial risk.'
Tim Thornhill, director of sales in entertainment and sport at Lloyd's of London broker Tysers, agrees. He says: 'Insurers aren't going to look at coronavirus until there is more certainty on how it is spreading – and particularly when we know it has peaked, and the likelihood of second or even third waves. It could be months until there is enough clarity to allow any major sporting event to get new cancellation policies covering coronavirus.'
Sponsors will need to factor this risk into their marketing and sponsorship strategies in relation to all global sporting events.
Rohlmann says: 'Companies that focus on the sports landscape as a marketing platform will continue to sponsor their favourite sports partners. But they will be forced to reconsider the volume and content of their sponsorship strategies, as well as checking whether certain insurance options or repayment clauses are possible.
'Rights holders of major sporting events will also have to agree certain get-out clauses for unforeseen events, as sponsors are not going to be willing to pay big amounts for "ghost events" or events that may not take place at all.
'There is no marketing platform that can produce more reach, more emotional impact and more true commitment than sport,' says Rohlmann. 'It is an easy game, and the language of sport is international and understandable by everyone. Therefore advertisers who want to improve their marketing have little alternative, but safeguards will have to be implemented for both sides.'

Sponsorship slump
Sports sponsorship expert Adrian Wright, CEO of Sporting Group International, believes sponsorship valuations will fall. 'The post-coronavirus landscape for sports sponsorship could look very different,' he says. 'It is extremely likely we will see a resetting of values. I would expect a reduction in values by as much as 10%–20%.'
Wright expects sports sponsorship to become a buyers' market. 'Whether the property in question is a sponsorship opportunity for a Premier League team shirt or a headline sponsorship opportunity for a major sports tournament, it is difficult to see values simply re-emerging at pre-lockdown values. In time, the valuations will increase again, but it may take several years before tournaments and rights holders find they are able to generate the same level of revenues for their property as they were pre-coronavirus.'

Alex Miller, journalist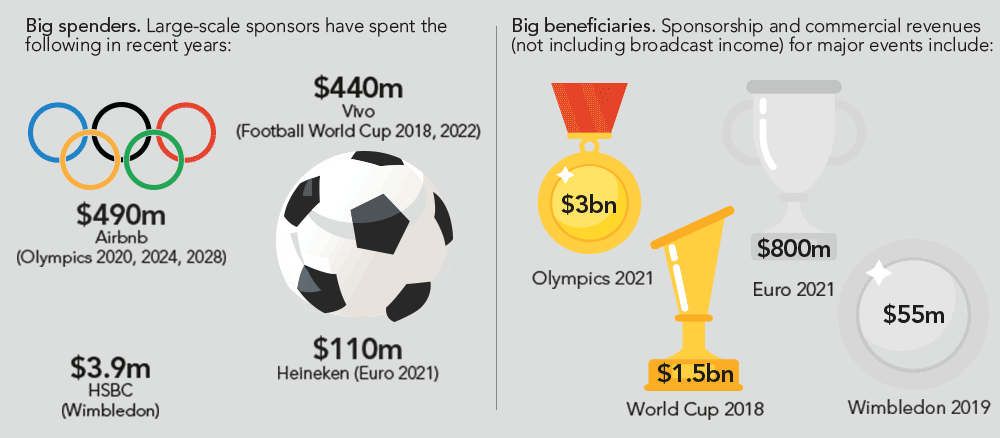 "It's impossible to find insurance, which means there is no certainty in terms of being able to reschedule major sporting tournaments"