Ayla Majid, FCCA
Ayla Majid is able to see how BRI is developing, where opportunities are emerging and where economic activity is likely to be strongest.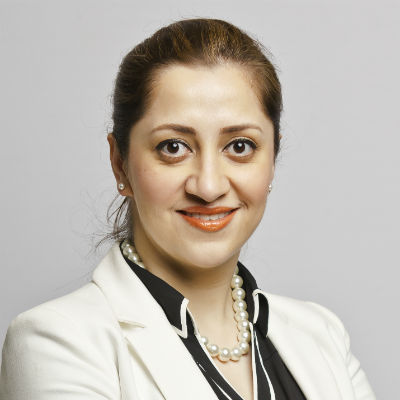 Heading up CAMCO, a Pakistan capital market and advisory company; and leading the business advisory portfolio at Khalid Majid Rehman Chartered Accountants, Ayla Majid spends much of her time advising on mergers and acquisitions (M&A) and setting up projects across various industries such as infrastructure development (public private partnership projects), minerals, oil & gas, power and digital fin-tech.
"In that role since 2013 I have been advising companies on projects which fall under the BRI banner. These include road building, power generation, pipeline companies. As well as dealing with Chinese companies I am working with a lot of stakeholders in my country: business, policy makers, government."
As an ACCA Council Member Ayla has worked with ACCA in promoting the initiative, creating awareness and talking of ACCA's BRI research. "The whole idea is to create opportunities and find synergies."
"People to people challenges are there. But once the fruits of these projects can be seen there will be less apprehension."
She is also involved through her recent appointment on the Executive Committee of the Pakistan Board of Investment (BOI) which is responsible for creating an investment roadmap and bringing together stakeholders.
Ayla is clear that eventually all the countries along the route will benefit from the initiative. China-Pakistan is one of the first economic corridors to be developed. "The government [of Pakistan] is doing a lot such as building special economic zones, power and infrastructure".
At the centre of BRI is the building of the infrastructure in the 60+ countries – and around half the world's population – signed up to link and to connect. But don't just think bricks and mortar. Ayla says: "An interesting development is the digital evolution which is taking place in various countries, and this digital growth can be exponential."
She notes how China has achieved much in the digital space and in pushing forward artificial intelligence (AI) and robotics and spreading this knowledge down the Belt Road through Chinese companies making strategic investments. (See Box for examples.)
Challenges, according to Ayla, include regulation, building mutual understanding and trust, organisations learning to communicate with one another, language and interpretation of law. "ACCA is going to play a major role in harmonisation. Accounting is a common language which, if simplified, can be understood by everyone. And with its network in different countries, ACCA is well placed to provide information. Lack of information and barriers are big issues." And ones that she expects the accountancy profession to help overcome as well as providing value such as transparency. "There will be a need for financial professionals to work in roles such as strategy, analysis and implementation."
She acknowledges there are concerns in her country that BRI is 'China taking over' and there can be a lack of a level playing field. But she spends enough time speaking to Chinese companies to know that they feel at times they need more support and greater help when dealing with the government of Pakistan.
"People to people challenges are there. But once the fruits of these projects can be seen there will be less apprehension."
As well as economic benefits, Ayla believes BRI will deliver social benefits such as increased employment and greater ease in making logistics work which will lift living standards. China has lifted millions out of poverty over the last few years and Ayla thinks BRI can do the same for millions of poor people who live along the BRI with better access to services such as health and education.
She points to a project under the China-Pakistan Corridor in the southern Pakistan region of Thar – a previously deprived region with a large minority Hindu population, lacking in education and health care. In Thar, alongside a commercial power project, the company developing the project is building schools and healthcare facilities and is training, upskilling and employing local people. "Women have been trained to drive dumper trucks – this is pretty rare especially on mining sites – and are earning $200-$300 a month." A figure above the basic wage.
"That one project is benefitting the whole community and is an example of how BRI can be about inclusive growth. Imagine if that sort of initiative was implemented along the entire BRI."
"ACCA is going to play a major role in harmonisation. Accounting is a common language which, if simplified, can be understood by everyone."

Ayla Majid
BRI-inspired investment
Ant Financial Services, an affiliate of Chinese e-commerce giant Alibaba recently invested $184.5m in Pakistan's Telenor Microfinance Bank (TMB), a subsidiary of telecom company Telenor. Ayla says: "The idea is to work in the digital transactions space. Financial inclusion in my country is very low. Out of a 208 million population, 100 million are financially excluded." They may not have bank accounts but they do have phones (including smart phones) and they are starting to use digital wallets.

China's share of digital financial transactions stands at 42% outstripping the US and dwarfing other digital players such as the UK, Germany and Japan.

Ayla says: "It is interesting to see how China is taking the lead [in digital]. Chinese e-commerce companies are actively investing in the rest of the world. And this is helping small and medium sized enterprises as digital companies are creating the platform to trade and do business."

For example early in 2018 China's Alibaba Group purchased Pakistan's online marketplace Daraz.