Jamie Lyon, Head of Business Management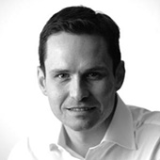 Jamie brings a wealth of experience to his role at the head of a team of technical and policy experts.
Professional Insights comments on key issues relating to a range of policy and technical areas. It strives to influence technical and policy experts in governments, regulators, professional bodies and employers across the globe.
The Professional Insights team use their combined skills and expertise to demonstrate the value that professional accountants bring to society by creating successful businesses and sustainable economies. The work of the team supports ACCA's global thought leadership agenda.
By working with employers, governments and regulators across the world, Jamie and his team produce cutting edge, practical and accessible advice and insight on the most pressing issues impacting the business environment. His most recent research series, Digital CFO, is the result of an extensive collaboration between ACCA, PwC and leading CFOs.
His extensive experience of financial management, corporate transformation, risk management and talent development was gained during his career in industry with a number of leading FTSE 100 businesses including Royal and Sun Alliance and Marks and Spencer. Jamie is a chartered certified accountant with a degree in economics from Sheffield University.
Jamie is passionate about the future of the profession in a very practical way too. He also works with the UK Social Mobility Fund to mentor and support disadvantaged students to enter the accountancy profession.