Yen-Pei Chen, Manager (Corporate Reporting and Tax)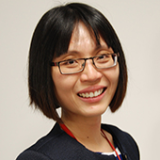 A qualified accountant, Yen-Pei brings extensive knowledge of influencing tax policy, corporate reporting and the growing field of integrated reporting to the Professional Insights team.
She has carried out international research into technical and policy developments, and works alongside policy-makers at key organisations, including HMRC, FRC and the UK Government.
She also engages with the EU Commission and the Organisation for Economic Co-operation and Development.
She convenes ACCA's Global Forum for Taxation, the UK Tax Committee and our Global Forum for Corporate Reporting.