Celebrating Ethel Ayres Purdie
This year is the 100th anniversary of Ethel Ayres Purdie's election as an associate to the London Association of Accountants, a founding organisation of ACCA.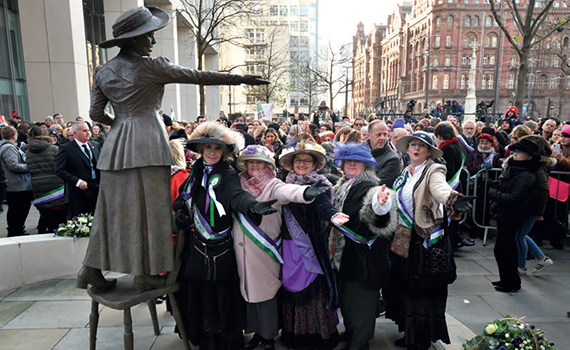 A statue of suffragette Emmeline Pankhurst was unveiled in Manchester last December to mark the centenary of the first UK general election that women could vote in.
She became the first woman to be admitted to an accountancy body in the UK. She spent most of her working life pursuing women's equality. Where she saw gender inequality she resisted, campaigned and fought for the reform of public policy.
Born in Islington, London, in 1874, Purdie worked as a 16-year-old as a clerk at the Post Office. Here she was involved in a campaign to return deferred pay to female civil servants who had been forced to leave the service due to the marriage bar, the rule that required women to give up their jobs once they got married.
Soon after her own marriage in 1897 and giving birth to two sons, she defied conventions by taking accountancy exams and launching a career as an accountant.
The chartered accountancy bodies did not admit women at that time, and the Privy Council, the body that heard applications for royal charters of incorporation, turned down her request to become a chartered accountant as an individual. She eventually joined the London Association of Accountants, which had a more progressive admissions policy.
Purdie became the leading provider of income tax advice to women, eventually operating as the Women Taxpayers' Agency. She pursued a vigorous campaign against the unfair treatment of married women in the tax system. She was a leading figure in the Women's Tax Resistance League, which argued that if women did not have the vote, they should not have to pay tax.
Purdie argued that women winning the vote was a key step in redressing wider gender inequalities, and that economic, social and political emancipation was essential to the progress of women. She believed that the success of women in business and the professions depended on access to capital, which should be supplied through co-operative ventures such as the formation of women's banks – financed, owned and managed by women.
Purdie died in 1923 but remains an inspirational figure to all who seek to forge gender balance and challenge bias.
Stephen Walker, Edinburgh University Business School
"Ethel argued that women winning the vote was a key step to redressing wider gender inequalities."

Professor Stephen Walker, Edinburgh University Business School
A leading qualification for a changing world
Our changing world needs high-quality, professional accountants more than ever. With ACCA Qualification - looking to the future, we introduce innovations that set the standard for others to follow.