As head of audit and assurance at Mazars Singapore, Rick Chan FCCA is acutely aware that a successful M&A depends as much on compatibility as it does on figures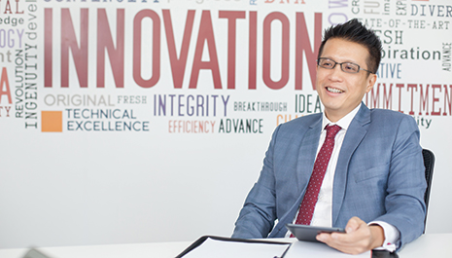 This article was first published in the July/August 2016 Singapore edition of Accounting and Business magazine.
Rick Chan may dress like an accountant but he talks like a marriage counsellor. The latter is because, as the head of audit and assurance at accountancy firm Mazars Singapore, he has handled more than his fair share of mergers and acquisitions (M&As), and knows what factors make or break a merger.
The corporate world is replete with examples of M&A efforts that sounded good on paper but that floundered in practice: eBay and Skype, AOL and Time Warner, Daimler-Benz and Chrysler. Most recently, Microsoft has essentially written down its acquisition of Nokia. At the same time, this has not stopped companies from seeking to take advantage of the benefits that a merger or acquisition can bring, just as couples who are getting married do it despite knowing that divorce rates are high. M&As can make sense financially but, to be successful, they have to go beyond the books.
According to Chan, the secret behind a successful M&A is to treat it like a marriage. 'From a long-term perspective, you have to ask: what do you try to achieve? There must be synergy, there must be expectation of fruit,' notes Chan, who is himself married with two children.
But focusing on the 'fruit' of the partnership is just one element of making a marriage or partnership work. On a day-to-day basis, there must be policies and processes that allow both parties to mesh differing styles and cultures. What is important, Chan says, is that there is a management of expectations. Both parties need to have realistic expectations of each other and must want to make it work.
Finally, a successful merger requires chemistry. 'At the end of the day, it's all about the sparks and the ability to get together,' he says. If there is no chemistry, it's very difficult to make that thing work.'
Chan has seen more than his fair share of firms come together. Mazars specialises in dealing with small and medium-sized enterprises and, in this space, companies often merge in order to take advantage of differing strengths. Firms such as Mazars are usually called on to ensure that all the numbers are correct so that the deal can move forward.
But, as Chan says, the real work begins after the agreement is signed. 'As they say, love is blind but marriage is an eye-opener,' he quips. The integration process is where the management of expectations comes in, he says. 'Both parties must list what they expect. Then they have to talk about what happens if things fail. You need a plan B of how to get back on track.'
The integration process also brings together differing corporate cultures; maybe one is very buttoned-down while the other takes a 'casual-Friday' approach to the entire week. 'Now that you are together in the same room, how do you respect each other's diversity?' Chan asks. 'You are now no longer alone. On paper there is synergy; there is a need to focus back to that reason.'
To make things work, they must remember what brings them together in the first place, says Chan. 'Each party needs each other. We were attracted to each other because of the differences but we forget that.'
First-hand experience
In counselling companies that are thinking about merging together in some form or another, Chan and Mazars do not merely offer the wisdom of the consultant that has advised numerous other clients about the exact same problem; they also offer something much more valuable, namely firsthand experience.
In Singapore, Mazars is made up of a number of small firms that were themselves acquired, notes Chan. 'We merged four different small firms,' he recalls. 'One was a tax partner, we had an internal audit team that merged with us, and we had two CPAs that merged with us.'
'Agree to disagree'
As Chan points out, bringing a group of entrepreneurs together has its benefits. But in terms of managing people, it was no easy task. 'We emphasised the value of respecting each other's values. And we learned the importance of hearing out what other people have to say.'
Which is not to say things are always smooth-going. 'Managing conflict is part and parcel of partnership,' he notes. Entrepreneurs are focused, driven and opinionated. But according to Chan, a common failing they have is the inability to see different perspectives. 'If we begin to open our minds and listen, those views can value-add,' he says. 'We have to enjoy the partnership, respect each other's diverse views. We learn to agree to disagree.'
But as he notes, there must be underlying foundation for the relationship. 'In marriage, it's love. In a partnership, it's results: growth and profitability.' Growth and profitability for Mazars in Singapore comes from focusing on small and medium-sized enterprises, which make up 60% to 70% of the entire market. Mazars handles everything 'from inception to succession', as Chan describes it.
While there are many milestones in a company's career, perhaps the most significant one is going public. An initial public offering is typically a sign that a company has come of age, offering a chance to raise money on the capital markets and for the founders, and usually presenting an opportunity to get extremely wealthy. However, as Chan notes, like a merger, going public is not merely about the numbers making sense. Meeting the regulatory requirements for a listing, while undoubtedly challenging, is usually about being able to check things off a list. This alone, though, is not a good reason to go public, and certainly does not guarantee a successful transition from a private entity to a publicly owned one.
Chan believes that, for an entrepreneur, one of the biggest stumbling blocks to going public is the ability to change one's mindset from shareholder to manager. 'They have to put on the hat of the role of the steward,' says Chan. 'That means being transparent and accountable to shareholders, going above and beyond the minimum requirement.'
It is a hard transition to make. Previously, the entrepreneur was accountable to no one but himself. But as a public company, he is now accountable to other people, notes Chan. Founders who do not make the switch end up trying to keep to the letter of the law but stumble because they do not appreciate the spirit of the law. However, when the switch in mindset happens, things become easier.
In the end, though, not everyone is ready to make the switch. 'We have had situations where people don't want to go public,' Chan says. 'They are not ready to be so accountable, to disclose what they need to disclose.'
But not every company needs to go public; each needs to find its own path forward, just as every individual has to find his or her own destiny. Chan's life is a testimony to this. He stumbled into accountancy almost by accident. A science student who did not do very well in science, as he describes it, he was steered towards accountancy by an uncle who had a Master of Business Administration. 'He suggested I take up accountancy because that would give me the background to get an MBA.'
After considering a number of options, he settled on Tunku Abdul Rahman (TAR) College in Kuala Lumpur, Malaysia, which offered not just accountancy training but also the opportunity to acquire the ACCA Qualification. 'The college offered a two-year certificate programme and a three-year diploma programme,' Chan recalls. 'The Qualification sounded good so I signed up.'
He graduated in 1993 and obtained his ACCA Qualification the next year. He then worked for various audit firms in Kuala Lumpur, including BDO Malaysia, from where he transferred to BDO Singapore in 1998. He was promoted to manager the same year and stayed on till 2003.
His subsequent career involved a three-year partnership with a good friend and a tour of duty at Deloitte before he rejoined BDO in 2007, this time as a partner. This, he says, was a turning point. 'That was when I began to embark on a new phase in my career,' he says. 'I was a salaried partner then. I knew that one day, I would be one of the owners of a firm.'
Stewardship model
Chan joined Mazars at the end of 2011 as head of technical and training, before going on to head the audit and assurance division. 'I joined Mazars because of its stewardship model,' he says. 'We are all equity partners; we are also stewards. We take care of the business for the next generation. I liked this concept.'
Chan may have spent just over two decades working in auditing and assurance, but he is still energised by the discipline. He enjoys the ever-changing nature of the work, with new regulations, new services and the need to adapt. He also likes the fact that his job allows him to meet people from different industries. In particular, he enjoys meeting entrepreneurs. 'Entrepreneurs are very passionate about their business,' he says. 'That enriches me a lot in terms of knowledge. 'Another aspect of his job that he enjoys is the training element. 'I'm passionate about seeing young professionals develop,' he says.
Chan attributes a large part of his success in the last two decades to his early decision to gain the ACCA Qualification which, he says, has opened doors for him; without his FCCA status, for example, he would not have been in a position to take on his role at BDO Singapore. On a more personal level, Chan met his future wife while they were students. He persuaded her to study with ACCA; today she is CFO at a non-profit organisation. And his move to Singapore ultimately led to his becoming a Singaporean citizen. 'ACCA changed the course of my life,' he says.
Chan's affinity with ACCA is reflected at Mazars Singapore. Back when he first joined the company, he was the only partner to hold the Qualification; today, more than half of the audit partners at Mazars have followed suit. Not only that, the firm is now on ACCA's list of Approved Employers.
Chan is especially proud of his FCCA status which demands, he says, that he uphold and live up to its high standards. His thoughts for those just setting out on their journey? 'ACCA training and its rigorous examinations make the ACCA robust and resilient,' he says. 'After getting the ACCA Qualification, you will be able to conquer the world.'
James Ye, journalist
"Both parties must list what they expect. Then they have to talk about what happens if things fail"