Roger Burritt and Katherine Christ outline what is known as Industry 4.0, or the fourth industrial revolution, and discuss what the digital world might mean for the profession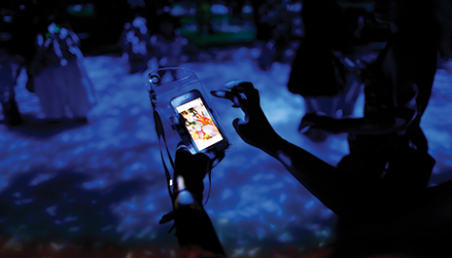 This article was first published in the November/December 2016 international edition of Accounting and Business magazine.
Business magazines and social media are awash with commentary on digitalised information, communication and technology and how these might benefit accountants' clients or the companies for which they work. In the article 'The robots are coming' (AB, July) readers were put on notice of significant change ahead as robotic and artificial intelligence innovations begin to take centre stage.
A related development that accountants should be aware of is Industry 4.0, otherwise referred to as the internet of things, or the fourth industrial revolution. Industry 4.0 is in an embryonic stage at present but is set to change the way professionals and organisations do business. For the accounting profession this represents a challenge, but also an opportunity for those prepared to embrace it.
Industry 4.0 is an umbrella term used to describe the deliberate bringing together of smart technologies which connect machines, computers and people. Nicholas Davis, head of society and innovation at the World Economic Forum (WEF), defines the fourth industrial revolution as 'a new era that builds and extends the impact of digitisation in new and unanticipated ways…and can be described as the advent of "cyber-physical systems" involving entirely new capabilities and connectivity for people and machines'.
Klaus Schwab, founder and executive chairman at the WEF, observes that the breadth, depth and rapidity of technological changes encouraged by Moore's law (see box) heralds the transformation of entire systems of production, management and governance, which might amount to a fourth industrial revolution.
The ideas for Industry 4.0 began in Germany and are rapidly being taken up in other countries and regions such as the US, South Korea, Japan, China and the European Union under different names, with Industrie 4.0, the internet of things and the industrial internet being terms in common use. In principle, based on current development, Industry 4.0 could come to affect every country and organisation in the world in the not too distant future.
Enthusiasm is also reflected in the enormity of the funds being invested. Predictions suggest US$15 trillion (£11.5 trillion) will be invested in the concept by 2030. Furthermore, what was initially seen as a way for developed countries to compete with low labour costs in emerging economies is now being taken up by those countries as well. China, for example, which seeks to be the world's leading industrial power by 2049, is providing CNY500bn (£58bn) of government-funded development support at national and regional levels.
Given the developments outlined above, a question in need of an answer is how Industry 4.0 might affect the accounting profession. It can be argued that Industry 4.0 will present a new mindset within which accountants must learn to operate. Industry 4.0 can be expected to influence accounting practice in the following ways. It will:
enable accountants to obtain previously unobtainable data in real time – through embedded sensors
facilitate data extraction from large common pools – for all types of decisions, all types of managers, all types of gatekeepers and all kinds of stakeholders
raise the quality of data – through greater timeliness and higher accuracy and detail to improve efficiency, data assurance and other decision-making purposes
improve transfer of data for management planning and control – eg, in supply and value chains and between countries
increase the credibility and relevance of reporting – through self-controlling, self-auditing systems and demand pull custom accounting for individuals.
Thus, in an Industry 4.0 world, accountants in business would have the opportunity to be less involved with automated operations and focus more on big-picture strategies such as resource efficiency.
Accountants can prepare for the new era by increasing their awareness, building knowledge through professional development and continuous education, encouraging skill development in new entrants and collaborating with other professionals. Several steps can be taken to keep on top of developments.
Awareness: One of the most important steps is to become aware of Industry 4.0 developments and look for opportunities that may arise. At this point businesses themselves are only just beginning to understand the potential developments. In Germany, 80% of companies have Industry 4.0 on their agenda; China is not far behind with 60% building knowledge; but most countries are at the very early stages of information dissemination, with few as yet considering investment in implementation.
Professional development: While awareness can be created inhouse for accountants in business and the public sector, pressure is likely to rise on professional bodies and their continual professional development programmes for face-to-face and online presentations about Industry 4.0 developments such as smart factories and how these might affect members.
Education: For new entrants to the profession, whether in business or practice, professional bodies can assist by bringing pressure to bear on educational institutions to make curricula relevant to graduates who may need to grapple with the new digital connectivity. This might be through, for example, investment in technology for practical experience, experience with role play in Industry 4.0 scenarios, gaining knowledge of the potential social effects of automation and intelligent systems and how to address these. Working with providers, professional bodies can help make suitable courses available. These might include coding, management of information on shared platforms such as the cloud and assessing the real-time accounting needs of different types of manager, shareholders, employees, non-government bodies, regulators and other stakeholders.
Reaching out: Accountants operating in the fourth industrial revolution will also need to recognise that they have less control over accounting data than in the past. Accountants are becoming part of a transdisciplinary mix of advisers. For example, environmental accounting is heavily influenced by physical information largely in the hands of engineers. If connectivity continues apace accounting information might not remain the preserve of accountants.
Accounting in a cyber-physical world
The prospect of the Industry 4.0 era arriving is both credible and intriguing and professional accountants need to anticipate its potential. Despite claims from some that careers will be lost, professions destroyed and accounting and audit services made redundant by new digital technologies, there are unknown opportunities for those with knowledge of new cyber-physical systems. Accounting for the integration of these systems and boundary riding will likely be at a premium, as will engagement with local accounting issues in global business settings operating on high levels of connectivity. Professional accountants who become well versed in the new technologies and social settings arising from them are likely to remain strongly in demand.
Dr Roger Burritt, a long-time member of the accountancy profession in Australia, is visiting professor at the universities of Kassel and Leuphana. Dr Katherine Christ is an academic in the School of Commerce at the University of South Australia