Education and awareness are the key elements in the fight against corruption in government, says Jamaica's auditor general Pamela Monroe Ellis FCCA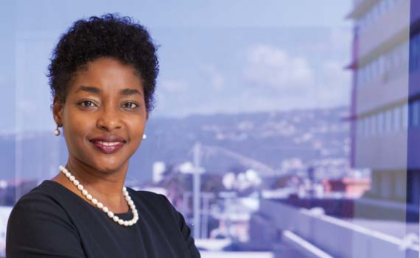 This article was first published in the November/December 2016 international edition of Accounting and Business magazine.
As auditor general for Jamaica's public sector institutions, Pamela Monroe Ellis FCCA commands respect. Yet her easy laugh and cheerful personality quickly dispel any preconceived image of a dour, dogged bean counter searching for unapproved expenditure or inadequate accounting practices. She could just as easily be located in the hospitality industry, one of her earlier career interests.
In the eight years since being appointed to the role, Monroe Ellis believes she has seen more public sector personnel develop a better appreciation of proper accounting standards and auditing systems, rather than viewing her department's probes as agenda-based witch hunts. Yet her elevation to this senior position did not follow a clearly marked pathway.
While in high school, she was still uncertain about what she wanted to do as a career. The transition into accounting followed a conversation with her father, who is also a trained accountant. When she shared that she was looking at the financial sector or hotel industry, he asked: 'Why not do accounting? When you do accounts, you can work in any field, industry or sector you desire.'
After leaving school, Monroe Ellis landed a job at PwC in Jamaica's capital Kingston and, on the advice of her father, decided early on to pursue the ACCA exams, with the intention that, on completion, she would have the requisite experience to support her qualification.
Thanks to PwC's support, it was not difficult to work and study. 'They had a structured system and so once you became a part of the system, it was a given that you would study,' she recalls. 'When you had completed the examination, you would be automatically promoted to senior accountant.'
After four years at PwC, Monroe Ellis left to support the family book retailing business, working with her father as chief accountant as she completed the final part of her ACCA Qualification. On successful completion a year later, she sent out a number of applications including to the Office of the Services Commissions, the body responsible for appointments and promotions in the public sector. Fortuitously, her letter was forwarded to the auditor general's department.
Scope for growth
At the interview, the then auditor general asked whether she would be willing to join as a senior auditor. 'I asked about the scope for growth and he said it was "tremendous". So I accepted.' She found, however, that the training for the government department's audit unit was not structured, lacking the defined training plan that she had encountered at PwC.
'After three months, I was promoted to director and my acceleration in the department was relatively rapid,' Monroe Ellis says. Following her promotion to director, she progressed to become senior director and moved through a series of appointments to become Jamaica's first female auditor general in 2008.
Education and awareness
One of the big issues that can challenge Monroe Ellis's cheery persona is advancing the fight against public sector corruption. In Transparency International's 2015 Corruption Perception Index, Jamaica was ranked 69th among the 168 countries assessed. While this was 16 places higher than in 2014, clearly work is required to clean up the country's business landscape and government.
According to Monroe Ellis, the planks in the fight against corruption should include education and awareness. This means creating a culture of good governance beginning with recognising what it is. 'Those who are charged with governance responsibilities and those who benefit from the services provided by these entities must have equal understanding of what is necessary and the benefits of having proper structures in place,' she says. 'Ethical conduct and value is paramount. We must be consistent in our own definition of what it is so that it is not relative to a particular action or individual but is a common tool used for everyone.'
Specifically, Monroe Ellis sees her department's annual reports as contributing to the anti-corruption drive, not only by highlighting problems within a public sector organisation but by generating awareness about the negative impact of weak governance and the financial and social problems caused by graft.
She is now more focused on seeing that established principles are followed across the public sector and welcomes the finance ministry's decision to improve the capacity of her department to carry out its work through improved pay packages and remuneration to attract and retain qualified staff.
There is also support from the International Organisation of Supreme Audit Institutions in developing and implementing international standards. In addition, assistance comes from the Caribbean Organisation of Supreme Audit Institutions, of which Monroe Ellis is the current secretary general.
'Jamaica has been very active in ensuring that, as part of our restructuring, we are creating the infrastructure to ensure that we are compliant with international standards,' she says. 'We have received assistance from donor agencies such as the Inter-American Development Bank, to help with training in performance audits, for example.'
The department has also established a quality assurance unit charged with independently reviewing the agency's work, as well as an inhouse audit committee assessing the technical quality of agency output. In addition, an internal review process checks on the quality of departmental reports for evidence of compliance with international and regional standards.
Public confidence
Given the increased workload, efforts have also been made to improve excellence among lower levels of department management. This is essential as even relatively minor errors can undermine public confidence in the department's work: 'While a private auditor who publishes an error may be sued, for us it is reputation damage that we have to guard against,' she notes.
So how has her ACCA training helped her within this demanding role? 'I was exposed early to corporate law as well as accounts and auditing and financial reporting,' she says. 'My preparation for those examinations inculcated in me very early a level of discipline and the need to be prepared and to prepare early. Time management is very important.'
Indeed, her work keeps her busy, both in Jamaica and on international accounting committees – she was elected to the board of the International Federation of Accountants in 2012 and re-elected in 2015 for another three-year term – so is away from home frequently. 'Thank goodness for technology, which bridges the communication gap so I need not be away from home for an extended period,' she chuckles.
Monroe Ellis is very involved in the lives of her two daughters, whose pictures are prominently displayed on a cherry wood cabinet in her neatly arranged, uncluttered office in the New Kingston commercial district. While her elder daughter is majoring in technology at college, her younger one is still in high school and is considering, among other things, becoming an entrepreneur. 'I don't press them along any particular career path,' she says.
Despite her demanding role, Monroe Ellis does her best to maintain balance. 'I am learning to enjoy life; to live in the moment,' she says. 'I enjoy getting up on a Saturday morning and pottering around my orchids and in the garden. I am making an effort now, more than ever, to find a balance – to take care of body, mind and spirit and to spend time with family as much as I can.'
Colin Steer, journalist based in Kingston, Jamaica
"Those charged with governance responsibilities and those who benefit must have equal understanding of what is necessary"