As chair of the 100 Group of finance directors, Andrew Bonfield speaks out on national policy on behalf of business - and he has had plenty to say since the EU referendum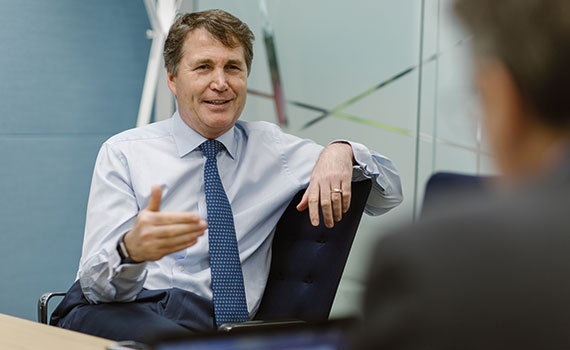 This article was first published in the June 2017 UK edition of Accounting and Business magazine.
If leading the UK's top FDs gives Andrew Bonfield a moment's concern, it doesn't show. We may be in an era of uncertainty, with geopolitical tectonic plates shifting, but the recently appointed chairman of the 100 Group is cheerful and constantly smiling during his interview with AB. 'My style is to be relaxed,' says Bonfield. 'I have been around a while, so not much comes along that surprises me.'
However, don't confuse relaxed with lack of drive. The CFO of National Grid lines up his facts and arguments, and marshals them with military precision. As his career shows, Bonfield has a strong preference for marching towards the sound of cannon fire (see CV section on this page).
An experienced 100 Group operator, he took over as chair for a two-year term in November 2016 but had been deputy for a year before that, and has chaired the tax committee for five years. His involvement reaches back to his time as financial controller of SmithKline Beecham (now GSK) in the 1990s, when his then boss, Hugh Collum, was in the chair. 'At that time there was a focus on accounting standards,' he says. 'I worked on, for example, impairment testing.'
Decades later and the key purpose of the 100 Group hasn't changed. 'It is a voice for the finance community, speaking out on finance policy.' As well as the main committee, the group has four other committees, whose areas of involvement demonstrate neatly the common preoccupations of the finance directors of the UK's largest quoted companies: financial reporting, pensions, taxation, and investor relations and markets.
The 100 Group goes about exercising its undoubted influence in a deliberate, understated manner. There is no scattergun approach to communication. The group knows whom it wants to talk to, whether that is financial institutions or government, notably through HM Treasury. And it isn't afraid to remind those it wants to influence that it speaks for important business entities. For the record, it represents companies that employ 7% of the workforce, on salaries that are higher than the average. All told, these members pay lots of tax.
'Acting as a collective voice, rather than individual companies, we are better placed to explain some of the consequences, and so people better understand the debate,' says Bonfield.
Working out Brexit
It is not a surprise, then, that government is often looking to the FDs to explain the practical consequences of national events and decisions. Since June 2016 the most immediate concern for the 100 Group has been the process by which the UK leaves the European Union.
'How do we bring a collective voice around Brexit?' asks Bonfield. 'That is an area of opportunity for us to become involved – 100 Group companies are going to be impacted significantly. What are the implications for tariffs and custom duties? Many of us trade across Europe and we have to understand elements such as VAT repercussions.'
Bonfield wants to ensure that business has enough lead time for practical considerations ahead of the oncoming changes. For instance, top FDs are mulling over the likelihood of London's capital markets moving in some way after Brexit. If that were to happen, the 100 Group would be concerned about access to finance and the cost of capital.
While Bonfield says that 'it would have been much easier and much clearer if we hadn't left', he is now determined that the 100 Group will work to help create the best opportunities possible. For instance, he points to supplier diversity programmes in the US, which encourage minority-owned and women-owned businesses. National Grid is signed up to these programmes but they are not allowed to operate in Europe under EU legislation. 'Deregulation can happen that should benefit the wider economy. We know we won't win every argument on leaving the EU but the FDs' voice does need to continue to be heard.'
Acknowledging that 100 Group companies cannot and should not separate themselves from the broader economy, Bonfield is aware that since the global financial crisis there has been a 'significant deterioration' in the public's view of business. He is addressing these concerns as co-lead chair of the CFO Leadership Network for the Accounting for Sustainability (A4S) Project, an initiative of the Prince of Wales's Charitable Foundation. 'At the end of the day, if you don't have the trust of the customer, your product won't work.'
One long-running issue that can weaken trust is executive compensation. Bonfield worked at SmithKline Beecham in the late 1990s when the chief executive, Jan Leschly – who is Danish – became Britain's highest-paid boss. 'This has been an issue in the UK for a long time,' he says. 'A significant number of UK chief executives are not UK citizens … a big multinational hires in people from around the globe. One consequence of Brexit is sterling falling. If a company pays its executives in dollars or euros, it will look like they are getting a big pay increase.'
He continues: 'I am a non-exec director [at multinational retailer Kingfisher] on a remuneration committee, and we all understand the problem. But there are other voices in the debate that aren't necessarily heard. Why is it that pay increased substantially in the UK in the early 2000s? Partly it was due to the private equity boom, where people were being attracted out of big companies into PEs, where they could make a lot more money. There is no simple solution and we have to be thoughtful. We need to find the right balance and show the benefit of paying those sums.'
He points out that tenure for a CEO is on average under five years. 'If you have compensation that lasts beyond five years, then the guy is never going to pick it up.' Payment for failure rather than performance also causes controversy, and Bonfield says this is an area of governance where boards could take a stricter line. In general, the 100 Group is focused on how executive remuneration is reported.
Incremental value
At National Grid, the more immediate challenge for Bonfield is increasing competition in the energy sector on both sides of the Atlantic. 'We need to build more business partnering capability. That is how the world is changing,' he says. 'At the moment the finance team can add the most incremental value through financing – National Grid is the UK's largest issuer of debt – but in the future, value will also come by working on commercial areas such as competitive transmission projects.
'The biggest issue we all have is that, while we go through Brexit uncertainty, it is hard to make investment decisions – the biggest risk is we're going through a two-year pause. Implications will be felt in five to 10 years.' To mitigate this, he is looking to the government to push on with infrastructure projects. 'All 100 Group FDs make decisions for the long term, and for that we need a stable economic environment and a stable tax base.'
Bonfield sees leading FDs as having a key role to play here and is determined that the 100 Group will remain relevant. 'As CFOs we find significant common ground with other CFOs,' he says. 'We work across all the important parts of the business. And we all want to leave our businesses in a better condition than when we started. We need to articulate that vision and view from a finance perspective.'
Peter Williams, journalist
"The perception is big companies are tax dodging, but 13% of government receipts are directly attributable to the country's 100 largest companies"