A tough childhood followed by a varied career that has included a term as ACCA Hong Kong chairman have given financial secretary Paul Chan a solid ethos of service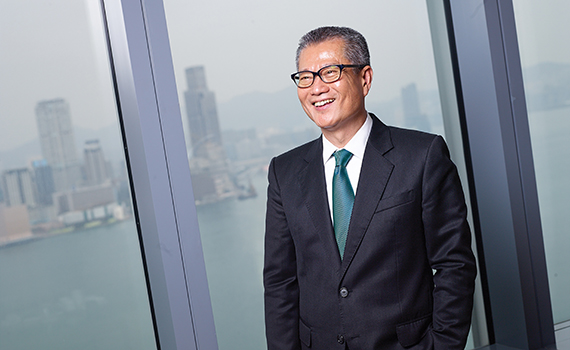 This article was first published in the June 2017 China edition of Accounting and Business magazine.
Paul Chan has had a varied and rewarding career as a finance professional in Hong Kong but it would be fair to say that his most challenging role yet came in January when he was appointed as the financial secretary and became Hong Kong's CFO. But he had to hit the ground running, with just a month to prepare his maiden Government Budget.
That task wasn't as onerous as one might think; as a professional accountant, he was armed with experience and technical knowledge that put him in good stead to prepare and deliver the Budget in February. Chan remarks that when he was working in the business sector, he offered his comments and critiques on the Budget as a representative of the accountancy profession. And, when he joined the Legislative Council of Hong Kong (Legco) as an elected member in 2008, he followed the Budget even more closely, observing the impact of the announcement on the business community and the people of Hong Kong. As the newly-appointed financial secretary, he focused on his priority – the needs of the Hong Kong community and its vision for the future – and then set about hammering out the details of the Budget.
Two critical skills honed in his career came in especially useful: teamwork and the ability to listen to disparate views and make a final decision. He spoke to people as widely as possible to better gauge the pulse of the community. Given the government's large surplus last year – HK$92.8bn – there was a lot of pressure for him to be generous in handing out 'sweeteners, but he resisted.
Responsible attitude
'That would possibly promote my popularity, but I thought doing a Budget is not like putting on a firework display. As financial secretary I have to take a responsible attitude and set out measures catering both the short- and long-term needs of the community,' says Chan.
The 2017 Budget, announced on 22 February, was based around three clear objectives for Hong Kong in terms of public finance: developing the economy and improving people's livelihoods; investing for the future and enhancing liveability by creating both development and environmental capacity; and building a fair and just society where people can all share the fruits of economic success.
From the more than HK$90bn surplus, Chan set aside HK$30bn for elderly services and rehabilitation services for persons with disabilities. He also ear-marked HK$10bn for supporting development of innovation and technology (I&T) 'because I believe this is the driver for our future economic growth'. A further HK$10bn has been allocated for youth development, for initiatives such as expansion of exchange programmes for young students who 'need to have more exposure, more horizons, and a multicultural competence so we can engage people from different backgrounds'.
In his Budget, Chan discussed the need for an Innovation and Technology Development and Re-industralisation Committee. He firmly believes that I&T will not only enhance Hong Kong's competitiveness but will also provide many opportunities for young people, especially those with an entrepreneurial bent.
Another key area and one outlined in the Budget is taxation and to this end he plans to set up a tax policy unit under the Financial Services and the Treasury Bureau. This is in response to the need to align Hong Kong's tax practices with international standards amid the changes in the global tax landscape.
'Hong Kong needs to follow, but that may weaken the competitiveness of our tax system, we have to tackle that. Besides, the mainland, Singapore and other economies use tax as a means to induce foreign investment or promoting the development of a particular industry. So we have to take a hard look into how we may use our tax system as a means to enhance our competitiveness,' says Chan.
Hong Kong is the international financial centre in Asia. Last year it maintained its position as the IPO market in the world, raising US$25bn (or HK$195bn) and outperforming both New York and Shanghai. 'In terms of IPOs we have been very successful, but aside from IPOs, what else can we do? There have been talks about a third board; I think this is an area we need to look at,' says Chan, referring to the Hong Kong Exchanges and Clearing's proposal for a third board for companies unable to meet the profit requirements of the main board or the trading criteria of the Growth Enterprise Market.
He's also concerned about land supply – a critical issue in land-strapped Hong Kong and a subject he knows intimately, given his previous position as secretary for development. 'I think perhaps I can contribute in expediting land supply initiatives, particularly for public housing' says Chan, whose family benefited from Hong Kong's public housing initiatives in the early 1960s.
Humble beginnings
Chan grew up in a squatter area in the 1950s; a humble beginning for a man who today holds one of the highest-ranking jobs in Hong Kong. The eldest of five, he and his family lived in a makeshift dwelling in Tai Hang Sai. They had a shared kitchen and had to walk a fair distance to use a public toilet. The area was cramped and there was little privacy, but it taught him how to get on with others and the value of teamwork.
'I liked ball games, but I couldn't afford a football. If you wanted to play sometimes you just queued up at the football pitch and you had to learn to mingle with people, to play together and to find a road for yourself,' he recalls.
A few years after their home was destroyed by fire, the family moved into low-cost public housing. Those tough early years shaped the person he is today. 'When I was young my teachers and my parents told me to work hard. At that time, people of my generation tried really hard,' he says. 'Another reason is we needed to make ends meet. I am the eldest in the family; I have four siblings and I have to support others in my family.'
When he graduated from secondary school he was already better educated than any of his relatives, but university wasn't an option. 'My dad thought that I needed to start working,' he recalls. 'Both he and I thought I didn't have the chance to go to university. He asked a relative to introduce me to an accounting firm and that's how I got started.'
The job was meant to be long term, but in the interim he was accepted at the Chinese University of Hong Kong to study business administration. His boss saw that he had potential and assisted him with his tuition fees and offered him summer internship in the firm.
University life appealed and when he graduated in 1977 he stayed on as a tutor, with a hope of pursuing further study abroad. He later took a different career path, joining the Inland Revenue Department as an assistant assessor. It was a fast-growing department with good promotion opportunities, but Chan wanted to experience more. 'I wanted to move a little faster, so after two years I left and joined a statutory body at that time called the Construction Industry Training Authority as its second most senior executive,' says Chan.
Three years later, another opportunity arose and Chan needed to decide whether to go back to the university or stay in the private sector. Ever since his student days he'd harboured a wish to go overseas; he thought if he went back into academia it might offer the opportunity to fulfil his aspirations. He asked for advice and followed the lead of a principal lecturer who convinced him to stay in the business sector.
'He said, "You are young, you're professionally qualified, even got an MBA [which Chan gained from The Chinese University of Hong Kong in 1984], so if you want to come back to the academic institution any time you will be welcomed with open arms. But if you choose academia now and later on if you want to go back to the business sector, it would be very difficult." It was good advice," recalls Chan.
Acting on it, he accepted a job at a property and construction group, which offered him the opportunity to assess different business deals and travel to mainland China and overseas, broadening his horizons and understanding of doing business. He later set up his own accountancy firm and also started to serve the accountancy profession and ACCA Hong Kong, becoming chairman in 1996-97. 'During my time as the chairman, the markets in the mainland were booming and exciting opportunities for Hong Kong accountants were abundant,' Chan says. 'ACCA has put in a great deal of effort in providing much-needed professional training and education for the young people there and our members in Hong Kong.'
In mid-2000s, Chan read a book that was to greatly influence him. Half Time: Moving from Success to Significance (2008) by Bob Buford pitched the idea that midlife isn't about a crisis; it's about growing awareness. 'I was pondering what I'm going to do at my half time,' he says. 'Hong Kong is wonderful place; you have every opportunity to work your way up, there is no glass ceiling. Hong Kong has given me a lot, so I made a decision to devote the second half of my time to serve the community. This is the time for me to contribute.'
That timely decision led to him standing for Legco. With a background in business where he was used to considering things from an economic standpoint, it was a big change, but one he embraced.
Deeper issues
'The Legislative Council brought me back to understand some of the deeper issues in the community, such as the wealth gap and poverty issues,' Chan says. 'As a legislator you scrutinise government expenditure and you speak for the public. It is a very important platform.'
He served as a member of Legco in the accountancy functional constituency, from October 2008 until July 2012. During that period he regularly met with people who came to lobby and he quickly learned the importance of recognising where people are coming from and their agenda. 'Is it a sectorial interest or in the public interest? The ability to draw that distinction and be conscious of competing interests is important,' Chan observes.
His next step, from Legislative Council to secretary for development, had his critics maintaining that he wasn't cut out for the job. What did an accountant know about how to handle the thorny issues around land planning and development? Chan was quick to counter that his training and experience ensured he was well-equipped for the job. As an accountant he had developed an enquiring mind and was used to asking why and digging deeper. Accountancy is a rational discipline, based on facts, figures and analysis – all very useful skills for the job. What's more, his experience working across a number of sectors meant he was used to listening to a number of diverse viewpoints and then making a judgment call.
When the opportunity to take on the role of financial secretary arose this year, Chan says he accepted the position because it is a broader platform to work for the public good. He notes that his being in the public eye and serving the community in a position of authority and respect can fuel controversy. 'You have to face criticism or opposition but I never shy away,' he says. 'This is my duty. This is my responsibility. So I just come out and face it.'
He has only recently stepped into a role that has high expectations from the people of Hong Kong, yet Chan is at ease with the immense responsibility before him. He adds that he is someone who considers all points of view and actively seeks and listens to what his peers have to say. 'As accountants we have an excuse to question things,' he concludes. 'We need to be humble so that we will take the advice and suggestions of colleagues seriously and think through and have a frank discussion instead of just insisting your own way.'
Kate Whitehead, journalist
"We have to take a hard look into how we may use our tax system as a means to enhance our competitiveness"