Successful family businesses can lose everything if they do not have robust succession plans in place. Yet PwC research shows the message still isn't getting through in Asia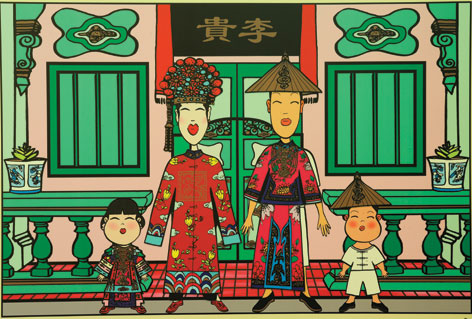 This article was first published in the July/August 2017 China edition of Accounting and Business magazine.
From the moment Kam Shui Fai starting selling hot siu mei (roasted meat) on a Hong Kong sidewalk last century, his plan – to provide for his children a better life, and livelihood, than his own – was on course.
Kam's Yung Kee Restaurant, established in 1938, became one of Hong Kong's most successful restaurants, famous for roast goose, its signature dish. His sons – and, subsequently, the next generation – had roles in running the business, but in the traditional way of Asia's Confucian family enterprises, the founder – patriarch Kam – retained sole control of the decision-making.
The business expanded and prospered, once named by Fortune magazine as one of the world's top 15 restaurants. But the internal squabbles of family members eventually ate away at its foundations and in December 2015, the culinary institution was wound up by a court's liquidation order. Today, the rise and fall of Yung Kee is held as a business case study of what can go wrong when family enterprises neglect to reinvent themselves in response to generational differences and the changing business landscape.
In the modern world – for a variety of reasons – the failed succession of traditional family businesses is a growing phenomenon. Research by Joseph Fan, a finance professor at the Chinese University of Hong Kong, shows that Asian family firms lose almost 60% of their value in the first transfer of power, when the founder steps down. In his paper, published in 2014, Prof Fan likened the seriousness of what he had discovered to 'corporate bankruptcy'.
Yet PwC's latest global Family Business Survey finds that succession planning poses a significant challenge for a majority of these ventures operating in Asia. In Hong Kong and China, only 10% of family businesses surveyed reported having a robust, documented and communicated succession plan in place.
In Malaysia, 31% of family businesses surveyed had no succession plan in place, compared with 43% globally, while only 15% have a robust, documented and communicated succession plan in place. A majority (62%) identified succession planning within the company as a key challenge in the next five years.
Singaporean family firms show a particular reluctance to handing over the reins. Among the respondents, only 12% have a succession plan for all senior executives, while 'a startling' 45% have no succession plan in place. Just 20% of respondents in Singapore indicated that they have incapacity and death arrangements, half that of family businesses globally (40%).
Rallying point
Ng Siew Quan, Asia Pacific entrepreneurial and private client leader, PwC Singapore, says the findings show a recurring theme. 'There's no point having detailed plans for business continuity if the single most significant risk to this is not addressed,' he says. 'A managed succession process can be a rallying point for the family, allowing it to reinvent itself in response to changing circumstances, but without a plan it is the most obvious "failure factor" for the family business.'
Fung Mei Lin, PwC Malaysia entrepreneurial and private clients leader and senior executive director, agrees that family businesses must focus their efforts in formulating a robust strategic plan if they want to successfully carry on their legacy into future generations. 'For many, day-to-day operational activities appear to take precedence over strategic planning that can ensure future growth,' she says.
While by no means region-specific, the concern is amplified in Asia Pacific where businesses have the most ambitious growth plans, Fung adds. PwC's research shows that 21% of family businesses in Asia are looking for the quickest and most aggressive growth, compared with Western Europe (10%), North America (12%) and global (15%).
Fung considers the lack of a robust and properly communicated succession plan to be 'an obvious fault-line in the family business model and an inevitable risk derailing even the most carefully constructed business continuity plans'.
With 69% of family businesses in Malaysia already having next-generation family members working in the business, they can't afford to let the lack of a strategic plan limit them in their growth ambitions, Fung says. Succession planning, she asserts, is more than just identifying the right person to take over the current generation's role. 'It is the embodiment of the overall decision-making process within the family business, making the values and aspirations of the current generation real for the future generations to come. It also ensures that the aims of the owners and the family, and the objectives of the firm, are properly aligned over the medium to long term.'
Increasingly, many family businesses in Asia recognise that it is not necessary to have only family members manage the business as they adapt to the rapidly evolving environment. For instance, while Singaporean respondents cited an increased desire to have ownership of a business remain within the family, they also expressed a willingness to bring in professional management to handle its day-to-day operations. 'The availability of options to pursue their ambitions outside the family business may be a reason, amongst others, as to why family owners are not passing on both management and ownership fully to the next generation,' PwC's report finds.
As the number of family shareholders grows, the introduction of corporate and family governance can be a significant advantage to clearly segregate what is family and what is business, the report continues. The family business can benefit from the wisdom and experience contributed by the independent professional managers, thus allowing the family shareholders to focus their efforts in dealing with exceptional issues and developing clear strategic plans for future generations.
In explaining why succession planning 'is a process, not an event', Quan stresses the pivotal role to be played by the finance function. 'Trust and fairness are key traits commonly identified with finance professionals, and which also encapsulate the commonly held values of family businesses,' he says.
'Given the training and nature of the job, finance professionals are equipped with the ability to take on an independent and objective position to communicating information and/or resolving matters that can otherwise run the risk of being an emotionally driven exercise. They also have the ability to provide some structure to balance the intricate and often delicate relationship between family and business.'
Well-placed advisers
According to Singapore Management University (SMU), family business advisers – such as PwC's Asia Pacific Centre for Family Business Excellence, as well as KPMG Enterprise, Deloitte Private, EY's Family Business and firms outside the Big Four – are well placed to help families cope with the changing dynamics related to the family, the business or both. Given the complexity of the structure of the family, its ownership and the business, SMU writes in a recent report, advisers can play an integral role in balancing the demands of these overlapping dimensions.
They have a lot to gain – or lose. According to findings from PwC's global survey, among family businesses – a pillar of the economy and reportedly more than six million in China alone – 64% have grown over the past year, despite economic uncertainty.
As Hong Kong's Yung Kee case demonstrates, impartial financial advice could be a make or break. The company's liquidation was brought to a head when the families of two feuding sons of the founder failed to reach a settlement on price in the buy-up of company shares.
Yvonne Kam Kiu-yan, granddaughter of the patriarch, said at the time that there had been no intention to kill the business. 'My father promised to my late grandfather that we would try our very best to take care of Yung Kee,' Kam told the South China Morning Post.
Peta Tomlinson, journalist
"Trust and fairness are key traits identified with finance professionals, which encapsulate the values of family businesses"