Modern slavery is happening everywhere - and businesses with appropriate governance structures are part of the battle against it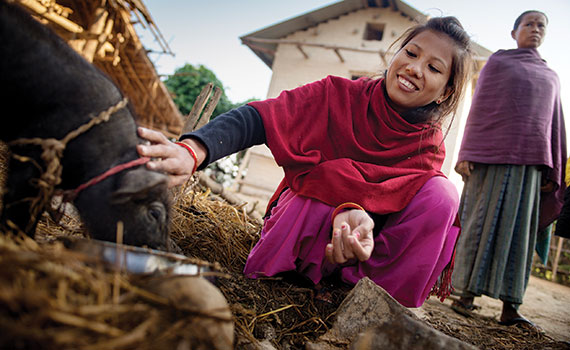 This article was first published in the July/August 2017 UK edition of Accounting and Business magazine.
Slavery is not legal anywhere, yet today over 20 million people across the world are effectively slaves, according to the International Labour Organisation. In fact, this could be a conservative estimate. Other organisations put the figure even higher – the Global Slavery Index 2016 estimates 45.8 million.
Governments across the world have taken action to tackle modern slavery, with 124 having criminalised human trafficking in line with the UN Trafficking Protocol. In Europe, the UK is seen as a leader in addressing the problem thanks to the Modern Slavery Act 2015, which is the first legislation of its kind on the continent. It was drafted after the issue attracted the attention of then home secretary Theresa May.
The act gives greater powers to law enforcers to fight modern slavery, ensures that perpetrators receive suitably severe punishments (including life sentences), provides support and protection for victims, and introduces an independent anti-slavery commissioner to improve the response to the issue.
Significantly, the act also puts some responsibility on businesses to combat the crime. It requires any business, or part of a business, with a global turnover of £36m or more, which supplies goods or services in the UK, to disclose each year what action it has taken to ensure there is no modern slavery in its business or supply chains. Already there have been convictions – in January two brothers received six-year sentences for recruiting vulnerable Polish men to work in a Sports Direct warehouse and withholding most of their wages.
Such 'modern-day slaves' have typically been tricked or coerced into working against their will for low or even no wages in sectors such as agriculture, construction, domestic work, hospitality, manufacturing and the sex trade. Many are trapped in foreign countries, having been transported across borders by human traffickers. Often they are told that they are indebted to their recruiter or employer and, if they have gone overseas, their identity papers or passport may be withheld.
'We're talking about vulnerable people, but also people who get into situations that they might not ordinarily get into,' says Justine Currell, executive director of anti-slavery charity Unseen. 'An example is a foreign national who wants to come to the UK for a better life and is desperate to work and maintain their family. They take a job offer that quickly turns out to be not what was originally promised.'
Modern slavery is also associated with areas of conflict. Nigerian militant Islamist group Boko Haram, which made headlines for kidnapping 200 Christian schoolgirls in 2014, is believed to take women and children from the villages that it raids and sell them on for a profit.
Over half of the world's slaves are female. More than a quarter – an estimated 5.5 million – are children. Asia-Pacific accounts for the highest number of modern slaves globally, 56% of the total, and it is particularly prevalent in North Korea, Cambodia and India. But it goes on in almost every country, including developed nations. In 2014, the Home Office estimated that there could be as many as 10,000 to 13,000 victims of modern slavery in the UK.
Not all the slaves in the UK have been trafficked here – some are UK nationals. 'There are people who are vulnerable because they've got drink or drug problems, are homeless, have suffered a marriage breakdown or fallen on hard times,' says Currell. 'They see a potential opportunity, often through a stranger, as a way of getting their life back on track, but that opportunity quickly turns into something much more sinister. The problem is that once you're in that situation, it's really difficult to get out because you could be threatened or beaten or your family put at risk of harm.'
Currell, who helped to draft the UK slavery act when she was a senior policy adviser at the Home Office, is adamant that business can play an important role: 'We were all told 20 or 25 years ago that cheap is best, so businesses were looking to reduce cost to get market share. The reality of that is somebody loses out, somewhere in the supply chain. There's now a recognition that that's not always the best way and that you can still offer relatively cheap, ethical goods by working closely with your suppliers.
'You need to have the right policies and practices in place and train your buyers to understand modern slavery so that they are looking at the human issues as well as the cost, quality and timeliness of producing the actual goods.'
'Modern slavery is something that all business leaders should take seriously,' says Jo Iwasaki, head of corporate governance at ACCA.
'Even if a business appears to only operate in one country, its supply chains will cross borders. And selling products or services that rely on slavery has financial implications as well as legal and moral ones. Building a culture where everyone knows what to look out for, and how to report it, is key to good governance in this area,' she adds.
Modern slavery affects millions globally, maybe even people in your town. So what can we do to combat it?
'Be aware of the potential for it to happen,' suggests Currell.
'Be curious and ask questions. Sometimes you'll be offered something that seems too good to be true, and often, it probably is.'
Sally Percy, journalist
"The act requires businesses to disclose each year what action they have taken to ensure there is no modern slavery in their supply chains"