In the face of instability and economic ruin, programme leader Muhammad Zarif Ludin has made huge strides in the development of an accountancy profession in Afghanistan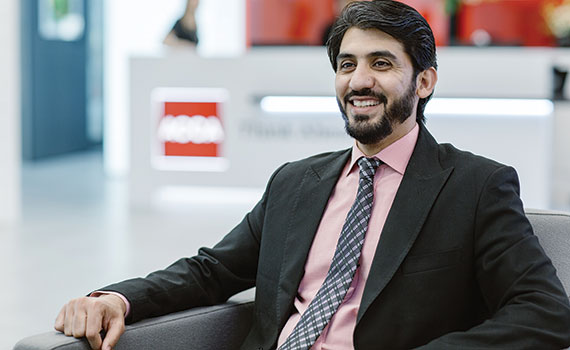 This article was first published in the July/August 2017 international edition of Accounting and Business magazine.
Trying to establish a professional accountancy body in a country characterised by chronic instability and an economy in ruins was never going to be a simple exercise. That's the objective of Professional Accountant Organisations Development (PAOD), a unit set up by the government of Afghanistan to implement the findings of a World Bank/International Monetary Fund Report on Observance of Standards and Codes (ROSC) study carried out in the south Asian country in 2009 with a view to strengthening its financial architecture.
This is a country that has no limited company regime, no statutory audit, no stock exchange, no training leading to a recognised professional qualification. Based on the ROSC recommendations, PAOD's remit had three parts: drafting and enacting an accountancy law; setting up an accountancy body, Certified Professional Accountants (CPA) Afghanistan; and building up the capacity of accountants and auditors.
Against such an unpromising background, astonishing progress has been made, due in part to the energy of PAOD's head, 32-year-old Muhammad Zarif Ludin. Ludin joined PAOD in 2013 as an accounting and IFRS Standards specialist working on the ROSC report, having previously worked as a lecturer, trainer and finance manager. He holds a bachelor's in accounting from Hazara University, Pakistan, and a master's in public policy from the Graduate Institute Geneva, Switzerland, and is studying towards qualification with ACCA. He says: 'I wanted to see if I could be useful at this strategic level and I thought it would be interesting to work at policy level.'
Five months after Ludin joined PAOD he was promoted to programme manager after his boss left to pursue a master's degree. He set about researching accountancy law and regulations in other countries (notably the US, the UAE, India, Pakistan and some European countries). Then, working in conjunction with the ministry of finance-led National Steering Committee (NSC), made up of representatives of key government ministries as well as the central bank, private sector and NGOs, including the World Bank, work began on drafting a code for Afghanistan. The code covers the regulation of accountants and companies, accounting education, ethics and disciplinary actions – ACCA is making a significant contribution to this work (see box). Ludin says: 'We considered IFAC [International Federation of Accountants] and best practice and then drew up a code, taking account of the context of Afghanistan.'
At times it was an uphill battle. However, by late December 2016 the draft code was completed. It passed into law in February this year.
Since then Ludin has been working on implementation and PAOD has grown, taking on four additional qualified or part-qualified ACCA accountants. The key objective now is membership of IFAC – CPA Afghanistan's initial application should be made in August – as well as membership of the Confederation of Asian and Pacific Accountants (CAPA) and South Asian Federation of Accountants (SAFA). Ludin says: 'If we remain disconnected from the world we will stay backward.' Full IFAC membership is a key target as is 'being recognised around the globe as a trusted accountancy body'.
A seven-member independent regulator, known as the Accountancy Board, has been established, which Ludin has been asked to chair for the next few years – its members, drawn from the government, meet regularly. With the help of PAOD the board is establishing sub-committees to create the building blocks of a professional accounting association: education, examination, professional standards and conduct, and membership and licensing.
Ludin is set to continue to play a crucial part in the development of this fledgling profession and is scheduled to be the first CEO of CPA Afghanistan. He's prepared to put in the necessary work: 'To make Afghanistan sustainable in the face of all the problems, you have to devote more time than is recorded in the time sheet.'
PAOD is also intent on capacity building: it is creating Afghan accountants through a 1,100-strong World Bank-funded scholarship programme supported by ACCA – with 100% of fees and exam costs waived, dependent on passing the exams. Started in April 2016, the programme is working well, and counts around 300 women among those undertaking training. At the same time, again with PAOD's help, Kabul University is establishing a bachelor's degree in accounting through a Malaysian university, with agreed exemptions from ACCA.
In such a war-torn, troubled country there are clearly immense challenges in establishing and maintaining an accountancy profession. Ludin says: 'In Afghanistan there is a lack of accounting knowledge. Local and regional politics exert an influence. That is why we take every step carefully. We have to be very flexible.' He expects to face opposition over the plans to implement regulation and professional standards. Only 20% of Afghan businesses pay any tax, never mind the right amount. Despite, or maybe because of, the immense problems, Ludin is convinced that accountants working with CPA Afghanistan are about to make history.
Andrew Steele, ACCA's market director – partnerships and recognition, comments: 'It has been great to see the tremendous progress that CPA Afghanistan has been making on developing a strong accountancy profession, a key foundation for sustainable economic growth. ACCA has been working in close partnership with CPA Afghanistan and other key stakeholders to support this exciting transformative work and we are committed to continuing to support CPA Afghanistan in achieving its goals, including IFAC membership, on a long-term basis.'
Peter Williams, journalist
"To make Afghanistan sustainable in the face of all the problems, you have to devote more time than is recorded in the time sheet"