Integrated reporting has come a long way since its roots in corporate sustainability, and accountants have a vital part to play in it, says IIRC chief executive Richard Howitt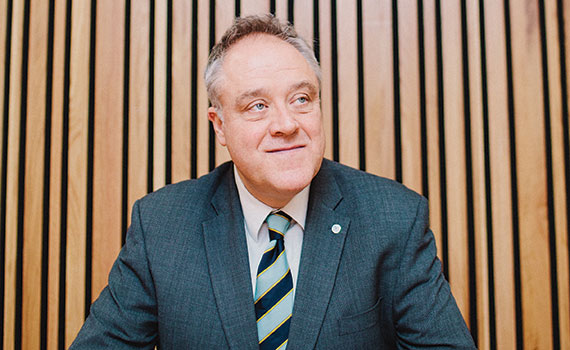 This article was first published in the July/August 2017 international edition of Accounting and Business magazine.
'This great global coalition' is how its CEO, Richard Howitt, describes the International Integrated Reporting Council (IIRC). The coalition is one that involves business, investors, regulators and professional accountants who have a passionate belief that integrated reporting (IR) is the future of corporate reporting. 'It is about creating better business for the long term and for our world,' says Howitt.
He insists that IR is first and foremost for companies. It provides a forward-looking, holistic view that recognises that businesses operate using six forms of capital, which the IIRC has described (see box, page 60). A company does not have to report against capital type but, the IIRC argues, ideally the board should be asking questions that enable the business to be more successful in creating long-term value.
The IIRC is promoting an ambitious agenda. It wants to see a complete shift from compliance-driven, 'burdensome' reporting to integrated reporting, which is good for the board and management, and would dovetail with business strategy and good corporate governance. Howitt says that such reporting is concise and more concerned with what is material to the business. He also claims that it would help to drive reform of capital markets by enabling a focus on the longer term. 'It will help investors understand value creators in our interconnected, complex world.'
The concept has garnered much support over the past 10 years. The latest high-profile proponent is the International Federation of Accountants (IFAC), which in a policy statement in January 2017 said it 'strongly supports' the IIRC and its framework. 'Like IFAC, we have champions worldwide who are leading the argument to make IR happen,' says Howitt.
Reporting journey
In companies that are on the IR journey, Howitt says that the senior executives 'really get it. They lead the change in the business and see the success.' When he meets CEOs of companies that have not yet started to change the way they report, the key is to convince them to see IR as a beneficial move for their organisation.
In the end, Howitt notes, it is often peers or institutional investors who are the best advocates. At the same time, long-term value creation strategies built into the plans of significant investors and regulators are as important to the IIRC as individual companies signing up.
Advocacy appears to be working. Howitt says that around 1,500 companies in the world are producing integrated reports, noting that 'not a single one has stopped doing it. They soon start to see the benefit. That is the best advert of all.'
In 2009–10, Howitt was part of the Prince of Wales's Accounting for Sustainability Forum, which brought together a network of CFOs. He is clear about the importance of senior finance leaders in spreading the IR message. 'Until CFOs embrace IR, it will never be integrated into reports. CFOs are the first focus of our efforts as we encourage companies to adopt IR.'
Years on from that forum and the IIRC is continuously campaigning in different ways – networking, training and working with regulators. It has a business network for individual companies to share learning, within which there are sectors such as banking and finance, technology and public sector.
In 2016 the IIRC started a global training programme offering short courses in IR. ACCA is one of its licensed training providers. 'When companies start IR or when they're thinking of doing so, the training is going to have a powerful effect on how they do it,' says Howitt. Increasingly, he adds, as the IIRC gains international, regional and national endorsements, companies are seeing IR as a trend that they are keen to know more about. They don't want to be behind the curve.
Accountancy firms have a big part to play here, and Howitt makes an appeal to them: 'Businesses are your clients. You are working with them on their reports. You are part of opening the door on this idea. Accountancy bodies have endorsed the idea that IR is part of your future. Each accountant has a role in advancing this.'
In IR's early stages the pioneers have been large, listed companies but in the end it will reach smaller entities. IFAC and the IIRC are working on a study into the applicability of IR for SMEs, and Howitt promises developments soon.
Breakthrough phase
Over the past three years, the IIRC has established what it calls the 'breakthrough phase', with the IR framework being developed, piloted, tested, agreed and implemented by leading companies. Next up is the global adoption phase, which the IIRC plans to start in 2018. The idea is to encourage more companies to adopt IR and at the same time obtain endorsements from international and national regulators. 'The ultimate goal is global adoption, full-stop,' says Howitt.
The framework continues to evolve. Howitt praises the IIRC technical team, which is constantly giving technical feedback to the market, as well as reviewing and advising on implementation. 'This year we have been doing a global feedback exercise on implementation of the framework. The output is a series of practice and guidance notes, which will be published over time.'
He is careful not to give the impression that there will be wholesale revisions to the framework. 'The framework is only three years old. Companies are adopting it and applying it. The most constructive approach will be to promote the practice and guidance notes at this stage.' But, he says, the IIRC has an open mind, and the aim of the feedback exercise is to hear what the market and companies have to say.
The IIRC teams – a mixture of staff and secondees – are based across the world: Europe, South Africa, North America, Asia and Australia. The work continues literally 24 hours a day. 'The teams are a great model,' says Howitt. 'We are getting senior secondees who are bringing their experience into IR, which is great for us. At the end they are taking their knowledge of IR back into business or the accountancy profession. This is one reason why IR has grown.'
He also praises the contribution that ACCA has made. 'Helen Brand [ACCA chief executive] is on my board. ACCA has been one of the most supportive members of the IIRC. In particular, it has helped push adoption in South-East Asia, with progress in Malaysia and Singapore. We have made major breakthroughs.'
But never mistake activity for productivity. The IIRC has one simple measure of success: adoption. 'We measure it not just in numbers of companies adopting IR but in qualitative terms as well. We look at how far systems in countries are moving towards integrated reporting, as well as the number of companies that say they publish integrated reports.'
The IIRC has been working closely with Italian energy giant Enel, which is close to adopting, as is steel and mining company ArcelorMittal. 'Every big new name that adopts sends a signal to the market and shows the momentum behind IR,' says Howitt. 'When General Electric adopted IR in 2016, that was a huge moment for IR in America.'
Board members
Before starting as CEO in November 2016, Howitt was an ambassador for IIRC but did not sit on the board. Now he can see that the board practises what it preaches in terms of high standards of corporate governance. He is also impressed with the quality and international reach of the board, ACCA's Brand being just one example. Others include chair Barry Melancon, CEO of AICPA, and UK Sinha, the former chairman of the Securities and Exchange Board of India. These senior leaders are, in Howitt's words, 'holding the flame for IR and committing their personal time and conviction to make this a success. It's a privilege to work with them. We make each other work hard.'
Like many others, Howitt is concerned about the trust deficit in leadership, as measured by the Edelman Trust Barometer, which 'is bad for business, regulation and the social licence to operate'. IR is one way to rebuild that trust, he says. 'It is about having a wider understanding of the way the business is managed, its relationships and resources.'
A former Labour member of the European Parliament (MEP), Howitt was offered the IIRC job and had resigned as an MEP before the Brexit vote last June. He received a standing ovation in the European Parliament. He emphasises that the IIRC has no view on party politics and he declines to offer any.
Still, as an MEP, he leaves a legacy. He is known as the architect of the European Union non-financial reporting directive. Deliberately it does not legislate for IR, which chimes with the IIRC's belief that IR should be market-led. The IIRC seeks endorsement, not regulation, from regulators. This is cited in the commentary to the directive and Howitt is working to make sure it is referenced in the directive's guidance, due to be published soon. 'For the EU it is an opportunity to advance IR. We have a clear pathway in Europe for further development.'
Thanks to the directive, large companies should be reporting on certain environmental or social information by 2018. In terms of IR, the UK's decision to leave the EU will have no impact. 'We take a country-by-country approach, seeing what works in each jurisdiction and each context.' In the UK, the strategic and directors' report required under the Companies Act is close to integrated reporting but Howitt is discussing with the Financial Reporting Council how that can be taken further.
Across the Atlantic, the Securities and Exchange Commission had been consulting on possible regulatory changes around IR, with the IIRC contributing in a public hearing. Howitt says he expects a pause following the election of President Trump, but that this is not the end for IR in the US.
He cites the letter written in early 2016 by Larry Fink – the CEO of the world's biggest investor, BlackRock – to the CEOs of large corporates in the US and Europe, in which Fink set out his vision for tackling short-termism, urging companies to report on their strategy. Howitt calls it 'a major breakthrough moment', with emphasis on long-term value creation backed up by others, such as the US-based Investor Stewardship Group.
Since becoming CEO of the IIRC, Howitt has appointed Bob Laux, who led the treasury controller group at Microsoft, to be a programme lead in the US. 'IR should be a global norm,' he says. 'The IR framework can and must be a crucial vehicle for companies to understand scalable development goals and how they contribute to value creation.'
The biggest challenge in his role, he adds, is the confusion in the market about the number of different frameworks, which leads to a sense that the frameworks are competing or that, somehow, corporates should comply with all of them. He wants the market and business to have a better understanding of how various bodies work together – for instance, taking a common position on materiality. What he calls a 'site map' would, he says, give visibility to the work of different bodies and show how they are related. 'At the moment there is confusion – which is an excuse for inaction – and I want to take that excuse away.'
Howitt needs corporates to rise to the challenge of IR of their own volition. In the end, he is putting his faith in the market – and, of course, that great global coalition – to make IR the worldwide norm.
Peter Williams, journalist
"Not a single company that has changed to integrated reporting has stopped doing it"