Ajay Shah FCCA, CFO of ping-pong bar Bounce, is helping turn this start-up into a market innovator with impact, on both sides of the Atlantic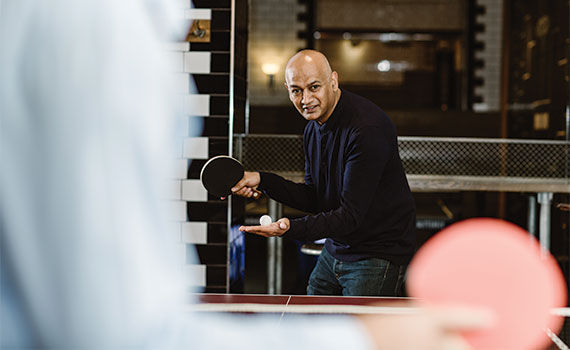 This article was first published in the October 2017 UK edition of Accounting and Business magazine.
Bounce, the fast-growing ping-pong club-cum-cocktail bar and restaurant has found its perfect match in its CFO. Ajay Shah is not only an ACCA-qualified, highly experienced CFO, he also played table tennis for his county, Bedfordshire.
The concept – and the company – was created by serial entrepreneur Adam Breeden, who had formed All Star Lanes, the 'boutique bowling' experience. The combination of food, drink, music and table tennis has captured the imagination of a wide age range: families, groups of friends and even the corporate market (80,000 corporate clients to date) are gathering around the ping-pong table. It is a business model that Shah says is in high demand for private and corporate customers.
When Shah joined in April 2016 the business was three-and-a-half years old and needed to be professionalised and taken to the next level. 'Entrepreneurs create new ideas; they aren't interested in back-office functions,' he says. 'At some point a business has to have a proper infrastructure.'
Since he took on the role, Shah has formulated tax strategies for patents, trademarks and R&D credits, and, in an eight-week period, implemented NetSuite, a cloud-based accounting system facilitating the ability to access the accounts in real-time from any device in any part of the world.
He traces his knowledge and expertise back to his days as an internal auditor (variously at Diageo, Woolworths, WHSmith and EMAP), where he says he was 'a true business partner reviewing businesses and their risk, not the traditional role of processes and controls'. He says the career trick for him was 'to keep moving and not be afraid to go into different industries'. He has also been CFO of healthcare technology organisations The Learning Clinic and Dr Foster Intelligence, both of which he helped to successful disposals.
This gives him a clear path on entering a new role. 'I have a framework that can unlock every business,' Shah says. 'Every company should have a strategy and an operational plan to deliver it. When it delivers the plan, one output will be a set of numbers. Seeing the link between strategy, plan and numbers gives an entire understanding of what the business is planning to do. Making that happen is an infrastructure of people, systems and governance. Understand how those components work and you understand the overall risk – low, medium or high. This model can be used in every single part of the business. It has always worked for me.'
Shah qualified with ACCA in 1992. 'The flexibility of the ACCA Qualification is the foundation of my success,' he says. 'It allowed me to choose the industry I wanted to work in and the pace I wanted to study at.' And it has continued to meet his needs: 'I was able to take on a CFO role with WHSmith Travel Retail in the US because I had an international qualification. That was really big.'
With the Bounce finance function set up, he spends a lot of time working on strategy with Breeden. A key question is where to invest. 'What drives the business is our ability to stay current and appeal to a wide audience,' says Shah.
For a young business it has also taken the brave step of opening overseas. Bounce Chicago, at 15,000sq ft, outstrips the 12,000sq ft venue in London's Farringdon. Launched in June 2016, it has gone so well that a second Chicago-based venue is due to open in March 2018 – except that will involve darts not table tennis. The company has an exclusive licence for the US and Canada to operate a digitally driven darts format using tennis' hawk-eye-type technology. Shah admits working across the Atlantic is demanding, given the company's size and resources, but that is not going to stop Bounce progressing. 'We think we can open up in any major city in the world,' says Shah.
Back in the UK, the company is looking to open smaller-scale (8,000sq ft) 'wet-led' (ie drinks and music) Bounce venues across the country. 'We are identifying ideal sites and raising money. Over the next two to three years, we will open a minimum of six venues.'
Shah spends a lot of time with investors. A private company, Bounce has been funded by high-net-worth individuals rather than venture capital or private equity. The company also has some 'growth capital debt' from Santander bank.
Looking forward
For Shah the key performance indicator is the volume of forward bookings. Walk-ins can get food and drink, but the tables are booked up to eight weeks in advance and confirmed three weeks before by groups of 6–30. The Christmas offering was on the website at the height of summer. Shah says: 'Business levels in the quarter to Christmas are two and a half times the rest of the year.' And the key risk is keeping capital outlay under control. 'The discipline is not to spend too much money kitting out the venues. It is all about the right payback.'
One example of that discipline is that the ping-pong tables are sponsored by Butterfly, a leader in the field, and so free to Bounce. Shah says the tops are replaced every six months.
As well as fundraising, which involves much networking, Shah oversees the work of the in-house finance department, including hedging the foreign exchange risks that amount to low millions of dollars, which come from the US business. This is quite a challenge in volatile markets, but one task that may fade as natural hedges come in.
In a company where the return on the original 15 investors' stake has increased 30 times in just two years, Shah has a lot to celebrate, as well as new continents to explore.
Peter Williams, journalist
"I have a framework that can unlock every business. It has always worked for me"