As she takes up the position of ACCA Hong Kong chairman, Teresa Tso FCCA looks at the challenges facing the profession, from technology to regulation to data analytics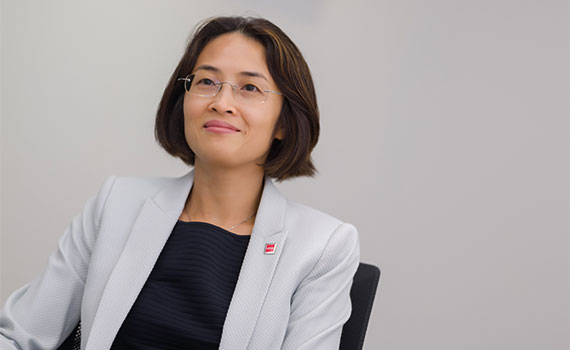 This article was first published in the October 2017 China edition of Accounting and Business magazine.
ACCA has significantly enriched my professional life. I passed my ACCA exams in 1993 – a year after graduating from university – and that qualification has formed the bedrock of my career. Ever since, I've received support from ACCA – from committee members, by networking, and through the continuing education programmes.
The profession is much more complex than it was 20 years ago and it's evolving rapidly. Innovation and advanced technology are shaping our world, and it's important that accounting professionals embrace the change and make the most of the opportunities.
Our annual conference in June was dedicated to this theme – 'Redefining Business for the New Normal' – and we discussed business transformation and how finance professionals can be best positioned in this 'new normal'. As chairman, I fully intend to support that goal.
It's no longer enough to be focused on your firm's work; young professionals need to be involved in the business and be able to have strategic-level discussions and share insights with senior management. An understanding of the industry is key and good communication skills and relationship management skills are also important.
Our daily work has changed significantly, and our clients and the industry are so much more complex and sophisticated. When I started out, we'd never heard of data analytics; now it's a must-have to help clients understand and address issues before they happen. Using analytics in audit can provide CFOs with richer business risk insights, a deeper understanding of transactions and a more forward-looking picture of their business and its markets. Working with new technologies gives us a deeper understanding of the business and means we can offer our clients so much more than standard audit services.
Different landscape
In my particular area of financial services the regulatory landscape is totally different compared to 20 years ago. Much is expected of the service provider, the auditor; you have to address so much more than the financial statements. But despite all this, the fundamental expectation of being a good auditor is more or less the same. You still need to qualify and you still need to be equipped with technical knowledge; it's just that now you are also expected to offer more on top of that.
When I passed my Level 3 exams, the ACCA Qualification was focused on technical areas such as tax law, auditing and accounting requirement standards. Today, the fundamental technical requirements are the same as back then but, because of changes in the regulatory landscape, revised expectations, advanced technology and digital disruption, finance professionals now need to evolve as well.
I'm delighted to see ACCA's continued commitment to leading the future. The ACCA Qualification has evolved to meet the changing demands of the job. The new Strategic Professional level exams include case studies and new modules, such as one on Ethics and Professional Skills. Of course, technical skills still make up the foundation, but employers now expect professionals to be more all-rounders and able to embrace advanced technologies.
It's important that the whole industry keeps working to attract and retain talent. Young professionals need to stay on top of the rapid changes that innovation and technology are pushing through and make the most of the opportunities. This is especially critical in the current climate where so many new initiatives, such as the Belt and Road and Greater Bay Area projects, are being introduced. Professionals need to keep on top of these changes, and ACCA can help keep their skills and knowledge relevant.
Backing diversity
I don't see a barrier to women making partnership. Last year, EY launched a report – Women. Fast forward. The Time for Gender Parity is Now – which found that companies that have at least one female director outperformed those with none. I think this is a very interesting finding. At EY our DNA includes diversity and inclusiveness. I fully support diversity, not just in terms of gender disparity but also in terms of different cultures, sexual orientation and beliefs.
I've said that technology and innovation are the key industry drivers at present – think of blockchain, artificial intelligence (AI) and robo-advisers – and I don't see that changing. Automation is a hot subject and I expect that 20 years from now many of us will be more involved in areas of judgment that cannot be managed by AI. Hopefully auditors will be more involved as business advisers and business partners.
Our ACCA Committee members are all very experienced and I hope my personal management and communication skills can help bring us together and use our experience to support our members. I aim to inject my energy and passion into this industry and for us to grow together.
Teresa Tso FCCA, a financial services partner at EY, was appointed ACCA Hong Kong chairman in September
"Young professionals need to stay on top of the rapid changes that innovation and technology are pushing through"