As we approach the second anniversary of the strategic alliance between ACCA and CA ANZ, the chief executives of the professional bodies provide a progress update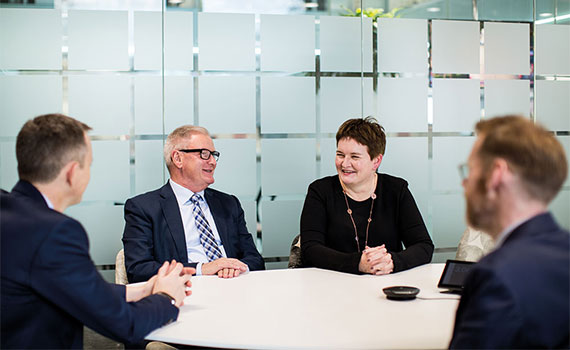 This article was first published in the May 2018 UK edition of Accounting and Business magazine.
Next month marks two years since ACCA and Chartered Accountants Australia and New Zealand (CA ANZ) launched the strategic alliance, a partnership that is already providing many benefits for members of the two organisations and making a positive impact on the global stage.
By sharing expertise across geographies and sectors, the alliance has created a stronger voice for its 800,000-plus current and next generation of professional accountants. That's 315,000 members and 486,000 students across 181 countries.
At ground level, the move has seen the organisations come together physically, with staff co-locating in a number of cities around the world, including Singapore, Hong Kong and Malaysia, as well as in headquarters in London and Sydney.
Both chief executives say one of the most satisfying results of the alliance is seeing members come together at events in these locations. These have ranged from networking events to CPD sessions, including discussions, debates and presentations focusing on new developments affecting the profession and career opportunities. Some are joint events; others are hosted by one body to which members of the other are invited.
Rick Ellis, CA ANZ's chief executive – who joined the organisation in August 2017, a year after the alliance was agreed – says that even in this short period of time, he has seen significant progress. 'The aligning of the ACCA and CA ANZ brands is having a positive impact on the standing of the profession, particularly in Asia, and this is consistent with our governments' focus on strengthening trade and ties in this region,' he says.
ACCA's chief executive, Helen Brand, agrees. She highlights the two bodies' pooling of resources to work together on a number of policy and research initiatives, resulting in joint reports such as the G20 Public trust in tax and Directors responsibilities for financial reporting: what you need to know. 'There has been great mutual support at the leadership and staff level, where we've been able to share ways to develop, as well as giving members access to each other's events and networks,' she says.
And, Brand adds, the alliance has challenged old- order concepts about which professional accountancy bodies can work together, giving the combined voices of the two organisations a greater weight.
A global voice
Influencing global debates is a key aspect of this. The alliance's joint response to the Monitoring Group's proposals on strengthening the governance and oversight of the international audit-related standard-setting boards is one such example. This group, which was created by a number of international regulators – such as the International Organization of Securities Commissions, the Basel Committee on Banking Supervision and the European Commission – has worked with the International Federation of Accountants to ensure greater public accountability in the standard-setting process.
'We both issued our own responses, but then we submitted a joint response, which I think was very powerful,' Brand says.
'We have a number of strategic priorities, which are focused around how we lead the accounting and finance profession confidently, guiding and supporting it through disruptive change to a sustainable future,' observes Ellis. Both organisations are continuing to introduce innovations into their qualifications.
'There are some extraordinary parallels in the ambitions that we have,' Ellis says. 'ACCA can support us, we can learn from it, but equally we can help to inform developments for ACCA.'
Brand agrees, adding that the alliance is exploring more joint initiatives: 'We are both looking at the wider components of the profession, and the different areas of learning that people in the finance profession more widely might need. We need to ensure that everyone has the right qualifications and skills. A huge part of this is digital delivery.'
Digital delivery
Both chief executives acknowledge the massive influence that technology is continuing to have within the profession. Indeed the next major piece of research the two bodies are collaborating on, along with KPMG, is a report that will investigate the role of robotics and artificial intelligence in the finance sector.
'The very strong feedback from our members is that we need to focus on accounting professionals, the services and communities of the future,' Ellis says.
One of the key elements of the alliance is to allow members to use their qualifications in a number of different locations, improving their international mobility. Ellis highlights one programme that will enable overseas students to start their training in Australia or New Zealand before heading back to home. 'The students can start the programme on a work permit in Australia and New Zealand, and then transition from our CA programme to an ACCA designation back in their home country once they have met the qualifying criteria,' Ellis explains.
In terms of future events, there is the World Congress of Accountants, to be co-hosted by CA ANZ in Sydney in November. It is an opportunity for both organisations to demonstrate the alliance in action. The other co-host is CPA Australia.
'There has been great enthusiasm for the alliance from our members,' says Brand. 'We will continue to seek out bigger and better ways to work together.'
Philip Smith, journalist
"There has been great enthusiasm for the alliance from members, and we will continue to seek better ways to work together"