As she begins her term as chairman of ACCA Hong Kong, Natalie Chan FCCA looks forward to strengthening the unique position of the special administrative region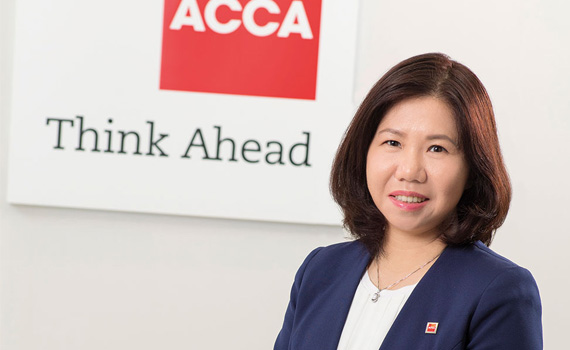 This article was first published in the October 2018 China edition of Accounting and Business magazine.
As an international financial hub, Hong Kong has played a key role in the development of the accountancy profession. The special administrative region (SAR) is home to more than 18,000 ACCA members – almost 10% of the global total. Natalie Chan, ACCA Hong Kong's newly elected chairman, plans to foster closer relationships between members.
'ACCA now has more than 200,000 members around the world, and this year also marks the 30th anniversary of ACCA in China,' says Chan, who is also an audit and assurance partner at Deloitte China. 'For members in Hong Kong, it means having a solid platform to connect with businesses, governments, educational establishments and other industry protagonists, not only to capitalise on potential business opportunities and share our experiences, but also to work hand in hand to explore global trends and issues in business, economics, society and our profession.
'Our stellar presence in China means our members are set to seize opportunities from its rapid expansion and new economic policies, including the Belt and Road Initiative (BRI) and Greater Bay Area (GBA) development,' she adds.
It is already clear that the GBA initiative will propel the region's economic growth. The region's GDP is expected to reach RMB30.4 trillion (US$4.4 trillion) by 2030. Meanwhile, China's direct investment in BRI countries surpassed US$50bn between 2014 and 2016. Chinese companies have set up 56 economic cooperation zones in more than 20 countries, generating some US$1.1bn in tax revenue and creating 180,000 jobs.
'All this will translate into unprecedented opportunities for the accounting sector as the backbone of business,' says Chan. 'For the development of the GBA, every city plays its part and uses its strengths while coming together to form a stronger network. It's about the flow of capital, goods and talent. The GBA is particularly important to Hong Kong because we have the high-calibre talent to contribute to the building of a stronger unit.'
Global vision
Chan notes that ACCA members in Hong Kong possess many strong qualities including their global vision, high proficiency in English and Chinese, great adaptability and in-depth understanding of business practices in China, Hong Kong and international marketplaces.
'Members in Hong Kong already have good foundations since they're living in an international city and are good at languages,' she notes. 'They also know the business cultures and practices in mainland China very well.'
In an indication of its importance, the GBA was the theme of this year's ACCA Hong Kong annual conference, reflecting the organisation's commitment to promoting awareness of the BRI and GBA programmes through research, publications and events.
'We want to provide our members with better insights into global development trends and in particular what is going on in China and Hong Kong,' Chan says.
The advancement of technology is one area that is impacting on the requirements for tomorrow's accountant, as noted in ACCA's research, Professional accountants – the future, which identified seven qualities required for future accountants to thrive in the modern business world: technical and ethical; intelligence; creativity; emotional intelligence; vision; experience; and digital.
'Digital technology not only disrupts the way we do business; it has also changed the demands of employers,' says Chan. 'IT skills are essential in today's business world with the emergence of new technologies such as fintech and blockchain. For us, accounting knowledge and familiarity with accounting standards are no longer enough,' says Chan.
Solid foundation
Chan notes that, as her first professional qualification, ACCA laid a solid foundation for her later career.
'ACCA was a great way to start my career and has opened many windows for me to explore,' she says. 'I have had exposure to different clients in different industries. It's not just about passing exams; it's really about continuing education.'
Chan, who is also a chartered financial analyst, welcomes the recent three-year memorandum of understanding (MoU) between ACCA and the CFA Institute, which will see the organisations collaborating on projects focused on ethics, professionalism, continuing professional development and thought leadership. They will also seek to host joint events and webinars, working to showcase the public value of both professions and the need for collaboration.
'With a strong focus on knowledge sharing, the MoU will also help our members get new and wider perspectives on business issues, especially in financial services and investment management,' Chan says. 'Collaboration between ACCA and the CFA will provide more possibilities and room for growth.'
Meanwhile, Chan – who has been an ACCA Hong Kong committee member since 2014 and became vice chairman in 2017 – says a key part of her new role is to understand members' needs.
'I would like to provide our members with good experiences and services because they really are loyal and active,' she says. 'I will listen to what support they require from us.'
Chan aims to not only expand ACCA's base but also create tighter bonds among members.
'Activities including cocktail events, conferences and other social networking can forge closer relationships among members,' Chan notes. 'ACCA is like a home to our members and ACCA Hong Kong, in particular, has a lot of members who contribute continuously to our activities.
I'm excited to be able to continue this great culture that enables our members to keep giving back to society.'
Cornelia Zou, journalist
"Members in Hong Kong already have good foundations since they're living in an international city"