Winners of ACCA China's inaugural Advocate of the Year awards explain what inspires them to give back to the profession, and why others should take their lead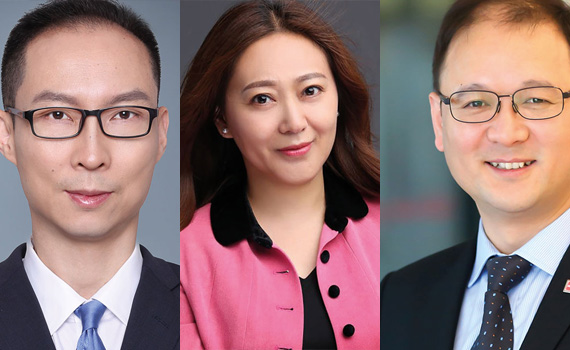 This article was first published in the November 2018 China edition of Accounting and Business magazine.
For those planning their professional pathway, ACCA membership can be career defining – or even life changing. Individuals for whom membership has had a profound effect are encouraged to become ACCA advocates, sharing their stories to inspire and nurture the next generation of professional accountants.
A culture of advocacy within the ACCA community creates a sense of pride around membership. For those who have gone before, advocacy – be it through engaging with university students, public speaking at conferences and on panels, or being published online and in magazines – gives a sense of purpose and direction to those who follow.
In recognition of the contribution of its advocates, ACCA recently launched regional and global Advocate of the Year awards. These highlight outstanding, peer-nominated individuals who make an active contribution to promoting ACCA and the profession, and inspiring and supporting fellow and future members.
Here, mainland China's inaugural winners describe their experiences.
Major Qinxue Mei
National winner and winner for Southern China
The group COO and senior vice president at new-energy company Jiawei Photovoltaic Lighting credits his success with a mid-career reset in 2011 that saw him embark on his studies with ACCA.
Despite rising through the ranks to be senior business operations manager for a large multinational utility company, Mei was looking to future-proof his career. 'Experiences and successes in the past cannot assure successes in the future,' he says. 'I wanted to ensure I remained competitive.'
The ACCA Qualification appealed because, he says, 'it is internationally recognised and in a multinational company that automatically confers professional respect'.
Juggling the demands of a busy job and a young family, Mei passed 10 ACCA exams in two years, followed by a global MBA. 'In short, my life was changed,' he says.
Mei wanted to use his story to encourage more middle-aged people to pick up professional studies 'and inspire them to find suitable and effective learning methods'. Advocacy provided the forum.
In May 2014, he founded Major's Club (MC), a non-governmental organisation (NGO) aiming to provide assistance to young people from a finance and accounting background. Through this, he has personally coached more than 100 people and, leveraging social media, MC has published more than 2,000 articles and attracted 18,000 followers globally.
'This is an era of data,' says Mei, who also represents ACCA at numerous public and professional engagements. 'Social media is the most effective mass communication tool for young people.' So far, the NGO has achieved 165,000 followers on Fenda – one of the four most successful knowledge-sharing platforms in China – and another 18,000 on the WeChat account, Major's Club.
Viewing professional accountants as 'the guardians of the business world', Mei believes that it is important to give back through advocacy.
'China's young population is huge: every year there are eight million graduates flooding to the job market,' he says. 'They need opportunities, and they also need the competency to grab opportunities. Employers need professional accountants who are well trained in ethics and various professional skills, besides having technical knowledge. That's exactly what ACCA is doing – serving both needs. I am an agent to transmit.'
Brooks Hongbin Zhang
Regional winner, Central China
The CFO of Shanghai Westgate Mall, who also serves as the independent director and chairman of the audit committee of Rivera (Holdings), visualised his career pathway early on. Reflecting on the ideals of youth, he says he is glad to have found his direction so early. 'With the goal of self-harmony, I could pursue a future meaningful life while enjoying the present,' he says.
Today, as Zhang mentors ACCA students at Shanghai University of Finance and Economics, he knows they face an uncertain future where the world has changed and industry boundaries have become increasingly blurred. 'CFOs must lead change, from the traditional role of controlling risk to creating value,' he tells his mentees, counselling that ACCA will be there for them in this new era 'to embrace change, embrace technology and embrace the future'.
Zhang also recounts to undergraduates how his ACCA accreditation has served him well, supporting a string of promotions and enabling his roles as independent director and audit committee chairman at Rivera.
What has he gained from advocacy? 'I feel that I am engaged in a career that is meaningful and makes me happy,' he says. 'The essence of life lies in dedication and cooperation. If a person adds emotions to their goal, they will develop along the path that best reflects their true life value. At the same time, one learns to continually change oneself, gradually forming a sense of social mission and responsibility.'
Zhang also finds inspiration in the feedback he receives. 'The meaning of life lies in inheritance,' he says. 'Inheritance includes the summarisation and dissemination of knowledge and experience.'
For Zhang, the most important skills of an ACCA member are the ability to think independently and opportunities for lifelong learning. After all, he concludes, 'everybody needs to learn more to cope with an uncertain future'.
Anni Xianna Liu
Winner, Northern China
Anni Xianna Liu FCCA is finance director at Amazon China and was named 2017 CFO Person of the Year at New Finance magazine's 13th China CFO conference. Liu finds it 'amazing' to be part of the ACCA family, a 'highly recognised role model of global thinking and diversity' and the gateway to her impressive career growth.
'ACCA external events give me more exposure and opportunities in various media and colleges, broadening my vision, and giving me pride and confidence in my work,' she says. 'It's the best decision I ever made in my academic pursuits.'
As ACCA embraces new trends and pioneers innovation, Liu is proud to represent the organisation at various high-level summits, as well as tutoring and sharing her story with students.
'Being an active advocate means a lot to me,' she says. 'It brings more positive attention to ACCA and the profession, which is definitely beneficial for personal and organisational development and ultimately the nation's economic development.'
Despite her busy schedule, Liu always finds time for ACCA advocacy 'because I deem it as an important part of my life'.
The journey to ACCA membership is demanding yet rewarding – and Liu is glad to have made the trip. In a rapidly changing business world, she feels equipped with the technical skills and professional support to handle the challenges that come.
'ACCA is a highly recognised and professional body in the financial field,' she says. 'We should promote it, train talent and accelerate their financial capability, and show value to the whole of society.'
Peta Tomlinson, journalist
"Being an active advocate means a lot to me. It brings more positive attention to ACCA and the profession"