From tax avoidance to bitcoin crime, Hong Kong's first Ethics Film Festival highlighted the importance of ethical behaviour in today's fast-changing business environment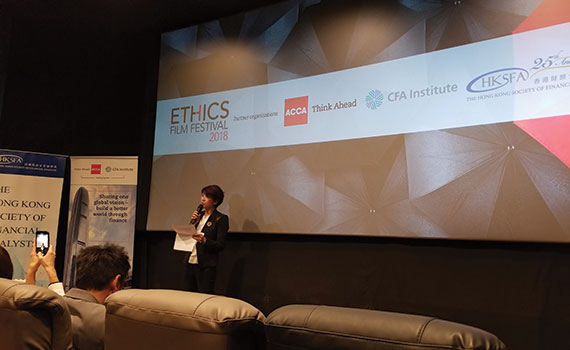 This article was first published in the January 2019 China edition of Accounting and Business magazine.
At a time when the future has rarely been more uncertain, ethical behaviour has become an integral part of all-round professional excellence, with the public rightly expecting professionals to show leadership in anticipating issues and tackling dilemmas. That's why ACCA Hong Kong partnered with CFA Institute and the Hong Kong Society of Financial Analysts to co-host Hong Kong's inaugural Ethics Film Festival.
Themed 'Ethical controversies today and tomorrow', the festival, which was sponsored by EY, ran from 16-18 October as part of ACCA's global campaign to mark Global Ethics Day on 17 October.
Jane Cheng, head of ACCA Hong Kong, opened the festival with an introduction to Global Ethics Day and highlighted ACCA's cooperation with CFA Institute, an association of investment professionals. Last year the two organisations signed a memorandum of understanding underlining their commitment to work together to boost public value and trust by connecting professions and disciplines.
'Through thought-provoking films, the festival gives us an opportunity to think ahead of the ethical challenges we face and how we can all work together to tackle them,' said Cheng.
Fantastic opportunity
In a video shown before the screening, ACCA chief executive Helen Brand underlined the importance of carrying out an annual ethics review.
'Global Ethics Day is a fantastic opportunity to raise awareness in all businesses about ethical conduct in everything that they do,' Brand said. 'Of course you have to think about it 24/7, 365 days a year. But having that one day in the year, where there's a real focus and a retrospective look at what you've achieved and what you need to do better, is important for all of us,' she said.
Also in a video, Paul Smith, president and CEO at CFA Institute, explained the responsibilities of a financial adviser.
'I always like to use the medical professionals as my analogy,' he said. 'When you sit in front of a doctor, you believe that he or she is advising you on your best interest. That's what we have to establish in the minds of our clients when we are sitting in front of our financial adviser.'
Birth of bitcoin
The festival opened with a sold-out screening of Banking on Bitcoin at Emperor Cinemas in Hong Kong's Central district. The US documentary, directed by Christopher Cannucciari, seeks to explain the beginnings of cryptocurrency – with the creation of the first bitcoin in 2009 and the arrival of an army of 'cypherpunk' activists – through to its potential to revolutionise transactions on a global scale. A lively panel discussion on the role of finance professionals in a digital age, led by Michael McMillan, ethics education director at CFA Institute, followed the credits.
Meanwhile, The Price We Pay, a thought-provoking Canadian documentary on big business tax avoidance, was screened on 18 October. Directed by Harold Crooks and based on Brigitte Alepin's book La Crise fiscale qui vient, the film looks at the mechanisms that enable large corporations to avoid paying billions of dollars in tax. The screening was followed by a panel debate headed by ACCA Hong Kong committee member Stanley Ho, a tax professional from KPMG.
Hong Kong's Ethics Film Festival builds on the success of the annual event that ACCA Singapore launched in 2017, bringing together like-minded professionals to discuss and address ethical issues and challenges in the finance profession. The enthusiasm and involvement of participants in Hong Kong highlighted not only the growing interest in ethics but also how screening films can stimulate debate with industry peers on topics that have the potential to impact finance professionals.
Chermaine Lee, journalist