By using net promoter technology, businesses can gain a clearer understanding of their customers' views and improve their offering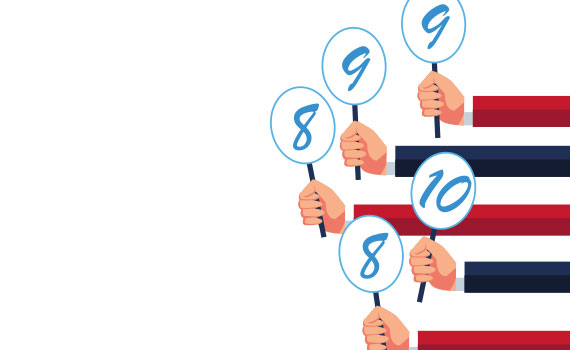 This article was first published in the February/March 2019 UK edition of Accounting and Business magazine.
How's your company's net promoter score (NPS)? You may not have heard of it before, but if you've answered a question on a website about your levels of satisfaction with a product or service, you've probably taken part in an NPS survey.
NPS is a method designed to measure customer satisfaction levels online. The surveys can be done on a company's website, by email or through an app. Customers answer a simple question such as 'How likely are you to recommend our company to a friend?', giving a score from zero to 10 (zero means they are extremely unlikely to recommend).
Based on the results, customers are put into three categories. The first is 'promoter' − those who give a business nine or 10 out of 10. These customers tend to be loyal and enthusiastic, singing the company's praises to friends and colleagues. They're far more likely than others to stay with you and increase their purchases over time. The second category is 'passive': they give the business a score of seven or eight and may be at risk of defecting to a rival. Their referrals are likely to be qualified and less enthusiastic. The final category is 'detractor': unhappy customers who account for most of the negative word-of-mouth about a business.
'NPS is a popular method for businesses to get a snapshot of whether a customer or visitor is likely to recommend your business,' says Simon Collin, founder of software company SightMill.
Because NPS surveys are done online, it's easy to survey thousands of people at once, several times a year, Collin says. Alternatives to NPS − such as a researcher phoning 5,000 people – would be a 'nightmare' to organise, he adds. Also, when humans carry out surveys it can be hard to remove the bias of asking a leading question, and customers don't always feel able to be completely honest, Collin adds. With NPS software, they tend to be much more frank.
Feeling the pulse
Fat Llama, a London-based tech startup that enables customers to rent their belongings to people nearby, is a fan of NPS software. 'The growth we need occurs only when users truly love a product,' says Jamie Snedden, Fat Llama's UK operations lead. Being able to feel the pulse of customers is critical, he adds.
The company uses SatisMeter software to carry out monthly surveys of its customers. Snedden says that the easy-to-use platform is flexible, enabling it to adapt its surveys, and can run email-only campaigns as well as in-product surveys.
This simplicity makes NPS software popular among SMEs, says Mo Naser, sales and marketing director at SmartSurvey, which makes NPS survey software for companies including Microsoft, BP, Vodafone and Barclays. SmartSurvey's single-score metric is easy to interpret, so it doesn't require a great deal of time to read reports and work out the effects of various business activities, he says: 'Businesses don't even need to calculate the NPS score themselves.'
Being asked for your feedback every time you interact with a company can be annoying. But if the surveys are done with a light touch and in moderation, they can help businesses understand their customers and improve service and sales.
Nick Huber, journalist