CFO Vladimir Lagutin FCCA has helped steer Volvo Car Russia through a decade of potholes opened up by the global crash, financial sanctions and the Rouble's woes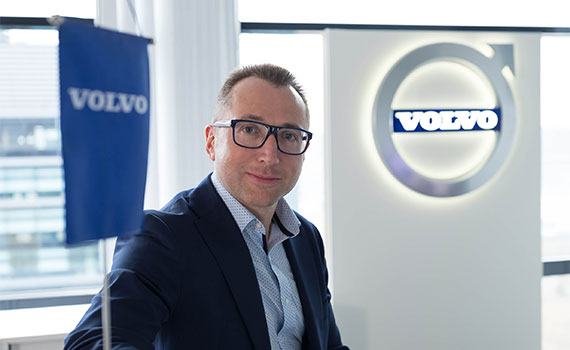 This article was first published in the February/March 2019 International edition of Accounting and Business magazine.
Two things catch the eye on entering the Moscow office of Vladimir Lagutin FCCA: a large framed poster of the UK electro-pop band Depeche Mode, and a case of tennis balls. As CFO of Volvo Car Russia, Lagutin says his remit extends beyond the classic FD duties to encompass responsibility for IT, and he is increasingly involved in business development, so there is plenty to keep him occupied. 'These are the things – music and tennis – that keep me from being stressed,' he says.
Apart from a period studying for an MBA in Spain, Lagutin has spent all his working life in the Russian capital city. In 2007 he joined what was then the Volvo division of the Ford Motor Company in Russia, having spent the previous decade honing his skills at DaimlerChrysler Automotive. Back then, the Russian car market was growing at around 30–40% year on year, and Volvo had a 20% share of the premium car segment in the country. With sales nudging 20,000 it was Volvo's fastest-growing market – an exciting time, says Lagutin.
In the wake of the global financial crisis, however, progress stalled. In 2010 the business was bought by China's Zhejiang Geely, an automotive-based holding group with no major Russian presence. As part of Ford, the operation could draw on the support that comes with being a subsidiary of a major international group. After the sale, though, the Russian division became a freestanding unit, and Lagutin found himself in charge of a small local financial department with limited functions.
'We had three to four employees who were involved in basic operations, like price formation,' he recalls. 'All the classic financial functions, such as accounting, had previously been provided by Ford Motor Company.' As a result, the Volvo Car Russia financial department had to be built from scratch.
Blessing in disguise
While it might seem a bad time to lose the link to Ford, Lagutin believes the sale brought about a freedom of operation that helped Volvo Russia manoeuvre during the recession. 'The exit [from Ford] happened immediately after the crisis, and this helped us to some extent – the branch was smaller and therefore easier to control,' he says.
Following the split from Ford, there was also a blossoming of what Lagutin calls 'group camaraderie'. Volvo had to recover its independence worldwide, so its branches united to survive, interacting more closely in the process. Lagutin's personal management style is firmly grounded in relationships with people. He believes that empathy – above all, hearing and understanding people – helps him to do business and make good business decisions.
He particularly values informal relationships as a conduit for passing on good practices and often turns to branch counterparts in other countries for advice on broader financial issues or concrete business solutions, such as better ways of working with car dealers. For instance, the Polish division of Volvo recently shared tips on boosting Volvo sedan sales, which are thriving in Poland but still slow in Russia.
Developing remote contacts is of great importance given Russia's vast territory, and Lagutin travels frequently to meet local Volvo dealers. 'Direct contact with the regions is important,' he says. 'If you don't get out there, messages are filtered by the managers: you hear what your colleagues want to say, but nothing from the people on the ground. It's better to see something once for yourself than hear about it a thousand times from others. And when you know people personally, you understand their needs better.'
While sales did pick up following the financial crisis, Lagutin says growth is still sluggish as a result of continued weak oil prices, a turbulent economic environment and the financial sanctions imposed on Russia.
These latest problems have had a more severe and long-lasting effect on the company, not least because, as an importer, Volvo's fortunes fluctuate with the exchange rate. The continuing weakness of the Rouble has made the Marque more expensive for Russians, with owners preferring to upgrade to a second-hand Volvo rather than buy a brand-new one. Nevertheless, in 2018 Volvo Car Russia sold 7,773 cars in Russia (where it has 41 dealerships), and a further 266 in Belarus and Kazakhstan. Globally, Volvo Group's 2,300 dealers sold a total of 642,253 cars in 2018.
Tougher times
'The competitive environment is becoming more aggressive,' Lagutin admits. 'The market has changed very much compared to the early 2000s, when, as we used to say, cars did not need to be sold, they just had to be released, because there was such strong demand. The total volume of the market is now 40% less than at its peak.'
Nevertheless, Volvo Russia has opened up new markets in neighbouring countries, distributing cars to Belarus for the first time in 2016 and Kazakhstan from early 2018.
With around 90% of cars on the road in Russia produced inside the country, Volvo is one of the few brands without local production. Last year it was rumoured to be considering opening a plant in St Petersburg, a prospect Lagutin says is 'an idea'. He believes that even without local production, the company, which has 65 employees in Russia, can compete by concentrating on boosting profitability rather than sales volumes.
Lagutin believes in flexibility and a willingness to learn. He studies both for fun (he has recently been learning Italian) and professional purposes. He qualified with ACCA in 2004 and describes its solid technical grounding as the foundation on which he has built his career. A decade later he did an MBA at the University of Navarra in Spain, an experience which he says underlined the importance of collaboration.
Meanwhile, his duties continue to expand. He took on the IT role in 2016, and last year became a senior business controller, linking his financial smarts with overall business strategy. He has also become involved in business development. In 2019, Volvo Russia will introduce car subscription, a direct rental arrangement with the customer that also encompasses maintenance and associated services. Lagutin has helped develop the product, keeping a close eye on cost-effectiveness.
'I welcome the chance to combine my financial reporting with analysis and consultancy,' he says. 'Opportunities for creativity make my work interesting.'
Irina Sedunova, journalist in Moscow
"The total volume of the market is now 40% less than at its peak"