Irene Ho FCCA, CEO at The Luxury Network Singapore, describes how building networks has been key to her journey from the Big Four to entrepreneurship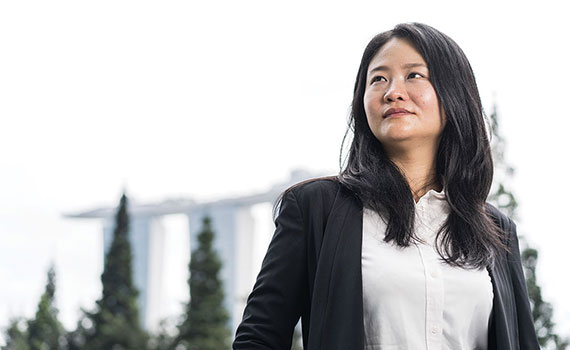 This article was first published in the April 2019 Singapore edition of Accounting and Business magazine.
Overcoming boundaries and challenging stereotypes have formed the underlying narrative for Irene Ho's life story, even from an early age. This determination has seen her progress from the challenge of supporting herself during her training to her role today as CEO of The Luxury Network Singapore.
Ho first heard about ACCA at secondary school, where two of her teachers were working towards their qualifications. They were, however, quick to warn her that a career in accountancy required a huge amount of work and dedication. Nevertheless the seed was planted and years later, when the opportunity for higher study presented itself, and knowing that she was up for the challenge, Ho found that ACCA was the perfect fit.
'ACCA was an obvious choice because I needed to fund my own qualification and I could study on a part-time basis while working full time – as my teachers had done,' she says.
After gaining the ACCA Qualification in 2004, Ho followed the well-trodden path of getting a job with one of the Big Four. She looks back fondly at her experience at Deloitte in Singapore, where she was IPO manager, which imbued in her many key skills, such as staying cool in stressful situations.
'I developed resilience and an attitude that there isn't any problem that I cannot solve. This was forged through years in audit where, no matter what, the accounts would be signed,' she says.
From Deloitte, Ho moved to KPMG Singapore in 2008, where she was transaction services manager. But even though she enjoyed working for a Big Four firm, everything changed the following year when the global financial crisis took hold, leading to a steady decline in the number of transaction services passing through the firm's hands. This prompted Ho's decision to take a career break to pursue a master's of financial analysis at the University of New South Wales in Australia.
'Instead of letting myself be affected by the financial crisis, I decided to take the opportunity to sharpen my skills in financial analysis, which was an area I had started moving into before the financial crisis hit,' says Ho.
Widening horizons
While Ho's ACCA training had given her an invaluable start in the accountancy profession, she soon realised that its value was even more far reaching. While applying for her Master's programme, she faced a roadblock with regards to the entrance requirements. Fortunately, ACCA Australia helped her liaise with the university in order to ensure her place on the programme.
Grateful for the help, Ho began volunteering to raise ACCA Australia's profile. She would later identify this as the moment when her spirit of volunteerism was first sparked.
On completing her Master's programme, Ho decided to widen her exposure by joining PKF in Brisbane, where she was assistant manager, corporate advisory. This enabled her to not only experience living and working in a new environment, but also discover the different working environment of a medium-sized practice.
'Unlike my previous Big Four experience in Singapore, where jobs would be assigned to you, we needed to hunt for our own clients. Furthermore, being in a foreign country, I had to build my network from scratch,' Ho says.
She promptly reached out to her network at ACCA, as well as becoming involved with the Singapore Business Council of Australia, where she served as president in 2012 and 2013. What began as a way to build her client base had exposed her to the immense power and opportunities of networking.
'In my various volunteering roles, I learnt to build partnerships with brands, find sponsors for events and engage deeply with members,' says Ho.
When she learned about The Luxury Network (TLN) at a networking event in Australia, Ho immediately saw an opportunity to launch a Singapore chapter. To her, it felt like a natural progression – 'something that my experiences had been preparing me for'.
Gap in the market
Ho admits that while the experience of establishing TLN in Singapore involved many challenges, it was 'ultimately also very fulfilling'.
Even though her time in a smaller accountancy firm had required her to come up with templates, systems and prospects lists from scratch, the realities of starting up a new company magnified many of these challenges.
In addition to the rigours and practicalities of running a start-up, Ho also faced the task of acquainting herself with the inner workings of the luxury market. 'I knew that there was a gap in the market for such services – connecting luxury brands and high-end service providers with the growing number of ultra high-net-worth individuals in Singapore and Asia. But I needed to learn quickly the psyche of these customers,' she says.
Today, six years after founding TLN in Singapore, Ho can rightfully claim to be one of Asia's luxury market experts. She has been consulted and interviewed by the Straits Times, Bangkok Post and other luxury research firms for her views on consumer behaviour and the state of spending in the region. Additionally, she speaks regularly at international forums and events, and is a guest speaker for ESSEC Business School's Executive Masters of Luxury Management programme.
Ho believes that true luxury is defined by its unreachability by the masses and is not simply something that one can buy with money. It is for this reason, she says, that people shouldn't expect ultra high-net-worth individuals (UHNWIs) to have the same values of time and convenience as everyone else. In an interview with Luxe Digital website, she said: 'I don't expect them to stop buying private jets to travel to meetings just because Skype calls or WhatsApp are available.'
As an advocate of networking, Ho says that this is important for every profession, but in some ways it is even more vital for the luxury space. 'Luxury brands represent the best of their industry, and it takes quality face-to-face time to build a level of rapport and trust between both collaborators and customers.'
She adds that the value that The Luxury Network brings to the table is in fast-tracking access to pre-qualified members (whose HNWI credentials have been verified), as well as extending their members' geographical reach.
Ho shares the example of how TLN recently assisted a Singapore luxury leather goods brand. 'As a home-grown brand, their main challenge was in getting their name out to the right audiences,' she explains. 'So we linked them up with a British luxury car brand who happened to be doing a car launch event in Japan. Through this partnership, the leather goods brand got to benefit by gaining exposure in Japan, as well as leveraging on the established name of the car brand.
'Ultimately, it's not who you know, but whether you know how to convert who you know into something valuable,' she adds.
Higher purpose
Ho's induction into volunteering may have started within the realms of business networking, but today it has evolved into a personal passion to make the world a better place.
Despite her busy schedule running TLN, Ho continues to actively volunteer in numerous capacities. Most prominent is her role as the head of Asia and the head of mission for Diplomatic Council (DC) Singapore. Through DC, which connects some of the top leaders in business, government and science, Ho is trying to reach a higher purpose.
'I am connecting my high-net-worth contacts to the diplomatic community, which in turn helps to drive business opportunities and create jobs,' she explains. 'Economic prosperity, however, is just the means to a bigger end. Ultimately, it is DC's belief that prosperity to mankind is one of the best guarantors of peace.'
Closer to home, Ho also leverages on the support of her members at TLN for various charity causes that she supports. 'Through my experience in finding sponsorship for events, I'm now able to use my skillsets to help charities in their fundraising efforts,' she says.
Another way that Ho is also making a difference is through mentorship programmes. Since 2017, she's been taking on interns, as a way to pass on her knowledge and to groom future leaders.
'From my younger days in accounting, the things I remembered most from my accounting mentors were values such as integrity, trust and honesty,' she says. 'In fact, I think that a major reason for my success at TLN is due to the fact that my members recognise the emphasis I place on these core values.'
Accordingly, Ho's approach to mentoring is to focus more on the 'hows' and 'whys' of doing things, rather than the more operational 'whats'.
As she so clearly demonstrates, the work you do may change but it's the values that matters most to a person's success.
'In a way, I'm still very much in the business of providing professional services. What I'm realising, however, is that today's clients don't want to be bounded by traditional service offerings,' she says.
'They want you to anticipate their needs and provide them with the necessary service it takes to help them to fulfil their end objective. If you are able to have that mindset, I think you're already halfway there.'
Rufus Tan, journalist
"Instead of letting myself be affected by the financial crisis, I decided to take the opportunity to sharpen my skills in financial analysis"