ACCA president Robert Stenhouse shares three truths about shaping the future in a time of change, which resounded around the recent ACCA UK members' conference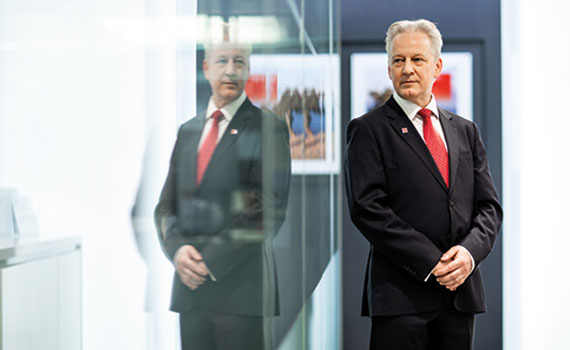 This article was first published in the May 2019 International edition of Accounting and Business magazine.
The theme of the ACCA UK members' conference in March was 'Shaping the future – unlocking your organisation's potential'. The fantastic speakers and panellists – mostly ACCA members – provided real-life examples and insights about how they were coping with change and leading transformation.
To me, three messages came across loud and clear from the day. I believe they are fundamental to the developing role of the finance professional and therefore to ACCA's strategy.
First, we are operating during a time of economic uncertainty, not only in the UK with Brexit, but also with the slowing of growth globally. However, individual businesses transform themselves successfully when they have a true focus on what their customers want and will want. This requires them to be open to feedback, to be agile and to embrace change. Such focus gives confidence to invest in times of uncertainty.
The next takeaway is that successful change is not achieved at any cost. It must take account of the stress it puts on society and those undergoing the change. Wider considerations of sustainability, by reference to the United Nations Sustainability Development Goals, and consideration of employee mental health and wellbeing are key constituents of successful change plans.
Finally, in times of change, learning fuelled by curiosity helps us all stay relevant. One of the speakers encouraged everyone to set aside five minutes a day to search the internet and look at articles and videos on subjects that interested them. To see the potential in new ideas, we need a base level of understanding of new concepts in the world around us.
On the theme of curiosity and bite-size learning, an excellent place to start is our latest professional insights research. In this edition of AB, we highlight the new ACCA report Machine learning: more science than fiction (see page 36) – an accessible, practical introduction to the basics of artificial intelligence and how it is being adopted in the accountancy profession.
Keeping these three themes in mind will help finance professionals shape the future and unlock their own potential.
Robert Stenhouse is a director, national accounting and audit, at Deloitte UK.
"Successful change is not achieved at any cost. It must take account of the stress it puts on society and those undergoing change"