We ask Dr In-Ki Joo, incoming president of the International Federation of Accountants, about building the global body and his new role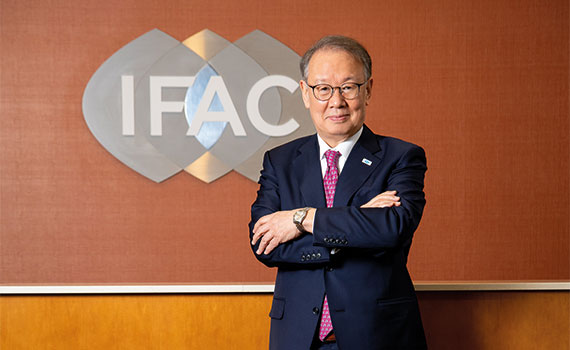 This article was first published in the June 2019 Africa edition of Accounting and Business magazine.
Q What do you think IFAC has achieved in your time on the board?
IKJ Our members have told us that speaking out on public interest issues adds significant value. Since joining the board in 2012, I've seen IFAC work meticulously to expand the profession's presence in, and engagement with, major policy-setting groups. This has been particularly important as the profession's skills evolve to meet the demands of businesses large and small, and at a time of record low levels of public trust in institutions.
IFAC has also worked hard, in partnership with our member organisations, to develop the accountancy profession's capacity in 10 countries in Africa and Asia, through a seven-year programme.
Q What do you see as the key role of IFAC?
IKJ To best represent its members, IFAC consults them widely on its strategic plan. The 2019-20 plan reflects our shared desire to support a dynamic, future-focused global profession. Key to success will be working with and leveraging the efforts of our members.
Q In what key areas does IFAC want to bring influence to bear?
IKJ As the first IFAC president to come from academia, I think there is much the profession and academics can do together to advance a future-ready profession. We must prepare both personally and professionally, and uphold and demonstrate our code of ethics – our professional foundation. We must work to encourage good governance: how organisations tell their growth and prosperity story, or declare the challenges they face, is critical to long-term value creation.
Q What is the key risk to IFAC?
IKJ The monitoring group review of standard-setting arrangements is obviously something that continues to occupy management time. IFAC fully supports a standard-setting model that is effective and transparent, and operates in the public interest. We will continue to work constructively with the monitoring group and key stakeholders to bring this review to an end after many years.
The biggest challenge for the profession is also our biggest opportunity. Technology is already liberating accountants from their more mundane tasks.
Q How do you see the work of IFAC progressing in different sectors?
IKJ Public sector. Accrual reforms are set to accelerate in the next five years. By the end of 2023, 65% of governments will report on an accrual basis, mainly through International Public Sector Accounting Standards. Greater transparency in the public sector is essential in fighting corruption, increasing citizen trust in governments and unlocking wealth.
Audit. The UK is not alone in conducting a review – so are Japan, the Netherlands and South Africa. In my opinion, audit is increasingly important as part of a broader conversation on good governance. To challenge and probe management, auditors must draw on a range of specialists – from big data professionals to experts in taxation, forensics, fraud and valuations. However, the multidisciplinary model isn't enough in itself. A high-quality audit stems from a consistent culture of ethics and integrity throughout the entire firm and its service offerings. Above all, standards and regulation can never be the entire answer: mindset and commitment to doing the right thing enable truly effective governance. This is where our profession must play a crucial role.
Tax. The joint ACCA, CA ANZ and IFAC G20 2019 Trust in Tax survey showed that the public has the greatest trust in professional accountants, although strong distrust remains in many countries. As a global profession, we must work to build trust in tax systems across the globe.
Risk. The reality is that risk management remains underdeveloped in many organisations. Given today's landscape of great change – and a future full of uncertainty – accountants must take advantage of their strategic, central role within organisations to drive better enterprise risk practices.
SMEs. Support for accountants in practice working with small businesses remains a key IFAC focus, and we continue to publish research, guides and thought leadership on issues of importance.
Q What value do bodies such as ACCA and CA ANZ give to IFAC?
IKJ IFAC's members drive the global accountancy profession's future. ACCA and CA ANZ have deep and wide networks and decades of experience that contribute greatly to the overall profession. Their efforts to support capacity building in developing countries, contributed thought leadership on IFAC's global knowledge gateway, and engagement with IFAC on important studies and reports all add up to a stronger global profession.
Q What are the differences across the accountancy profession in different parts of the world?
IKJ United by a global code of ethics, it is the world's only truly global profession. Our diversity across geographies means we have an incredible amount to offer each other in terms of learning, including how to anticipate and overcome challenges.
Q Why did you want to be president?
IKJ It is a great honour to be president of IFAC, not least because I get to work closely with the brightest minds in our global profession. My accountancy students in Korea were, however, my biggest inspiration.
Q How will you personally cope with the challenges/stresses of the presidency?
IKJ There is always more to do, and I am motivated by the great opportunities ahead for the accountancy profession. There is more that unites everyone interested in the profession – including the regulatory community – than divides us. As the profession's ambassador for the next two years, I am too energised by the opportunity and too humbled by the position to do anything other than give it my all!
Peter Williams, journalist
"Our diversity across geographies means we have an incredible amount to offer each other in terms of learning"