Malaysia's accountancy firms are setting up China desks to leverage off the Belt and Road initiative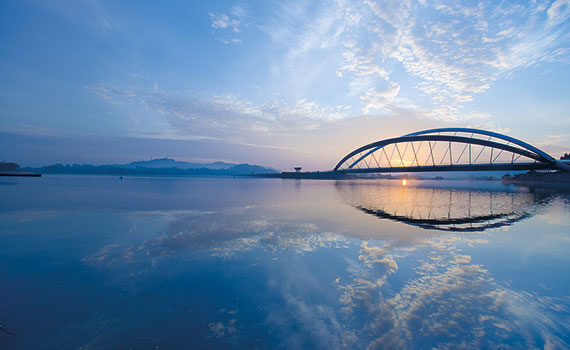 This article was first published in the September 2019 Malaysia edition of Accounting and Business magazine.
The emergence of the Belt and Road initiative (BRI) has been a boon for accountancy firms in Malaysia as they begin tapping into the business opportunities afforded by the multibillion dollar initiative, which aims to strengthen connectivity over a vast terrain.
A growing number of firms are setting up dedicated China desks or units to leverage off the BRI by offering professional services to companies from China seeking to expand into Malaysia and the region, as well as local companies looking to enter the vast China market. Some firms with international networks have even seconded senior staff from their China offices to help smooth this process for their clients.
This was certainly the case for William Yuan, a partner in PwC Malaysia's China business network, who has been seconded from PwC China, bringing his experience of inbound/outbound investments.
'It has been an enriching experience for me as a Chinese native to use my local knowledge to help Chinese businesses with their strategic planning as they explore investment opportunities in Malaysia,' he says.
PwC set up a dedicated China desk in Malaysia two years ago to help local businesses access the global supply chain and expand into multilocation operating companies through the BRI. The desk is led by PwC Malaysia's senior partners and comprises partners and directors from various parts of the business including assurance, tax, deals and consulting.
'Some of the services we provide include helping companies manage assurance, tax and advisory issues, such as mergers and acquisitions, due diligence, valuations and investment exit strategies, Yuan says, adding that PwC has seen a variety of Chinese outbound opportunities coming into Malaysia, including increasing foreign direct investment opportunities in the manufacturing and services sectors.
'Manufacturing companies in China are looking at Malaysia as one of the potential locations to set up alternative facilities for supply chain transformation purposes and to manage uncertainties brought about by the changing global trade environment,' he says.
Global focus
Globally, PwC has been focusing on the BRI for a number of years. 'We have invested significantly in this initiative through various measures including setting up our centralised BRI task force in China and building a global China business network in the key BRI regions to grow PwC's presence in the China market domestically,' he says.
Apart from Malaysia, PwC China has also set up China desks in other South-East Asian countries, as well as the Middle East, and Central and Eastern Europe. 'The breadth of services offered across the PwC global network ensures that our clients have the on-ground support wherever they are, to succeed in China,' Yuan says.
'We often collaborate with other firms in the network to harness growth opportunities together, be it in the area of joint engagements, awareness events, or thought leadership.'
Earlier this year, Lorraine Yeoh, PwC Malaysia's China desk leader, participated in a series of investment road shows together with Yuan in Shanghai, Beijing and Shenzhen. 'She joined other partners from PwC Thailand and PwC Vietnam to introduce the investment environment in these economies and discuss ways to capitalise business opportunities across the region,' Yuan says.
Baker Tilly Malaysia is another accountancy firm which has put a marker on the BRI business, having established its China Belt and Road desk in August 2017. The desk assists Chinese businesses in establishing their presence and growing in the Malaysian market, while helping local companies, especially SMEs, to expand their business in BRI countries. The desk also benefits from umbrella group Baker Tilly Belt and Road, which was established last year in China to coordinate activities among its members in BRI countries.
'Our China Belt and Road desk is backed by a team of professionals who are able to provide high-quality corporate services in tax, audit, banking, company secretarial services and so on,' says Malaysia desk's director is Koh King Kee, who works alongside partners from each of the audit, tax and advisory teams.
Since Baker Tilly Malaysia established its China Belt and Road desk, it has helped a number of China companies, including some high-profile ones, set up subsidiaries in Malaysia.
'China companies want to internationalise and Malaysia is a good first stop for them to understand the outside world and engage with it,' explains Koh, who is also the president of the Centre for New Inclusive Asia, a thinktank that focuses on the BRI.
Endorsement from the top
Koh says that the recent reaffirmation of support for the BRI by Prime Minister Tun Mahathir Mohamad and the renewed confidence of China's business community in investing in Malaysia is a positive development.
Mahathir's endorsement further improved ties between both nations after the government's recent announcements to revive big-ticket China-linked projects such as the East Coast Rail Link and Bandar Malaysia development, which were suspended last year. This will potentially benefit accountancy firms like Baker Tilly. 'We expect more SME investors from China, which will need professional advice,' Koh says.
'If the US-China trade war prolongs, this may give incentives to China SMEs to move some of their production facilities outside China. With the improved Malaysia-China relations, Malaysia will be a preferred choice.'
Koh points out that the first phase of the BRI saw a wave of mainly Chinese state-owned enterprises involved in huge infrastructure projects. In contrast, the second phase will involve mainly private sector enterprises such as trading companies, high-tech companies, services companies and SMEs.
'Of course, China SMEs are very big companies,' Koh says. 'There will be lots of opportunities and personally I'm very excited.'
Apart from the Big Four and larger firms, medium-sized firms have also capitalised on the BRI to acquire clients from China, targeting the SMEs rather than the huge state-owned enterprises. One such firm is 3E Accounting, a global network with its headquarters in Singapore and offices in 60 countries worldwide.
Partner Lawrence Chai says his firm has seen an increase in the number of Chinese clients starting businesses in Singapore and Malaysia.
'The infrastructure development and investment opportunities in the region brought about by the BRI have helped in the broadening of the horizon and opportunities for many business owners in China,' he says.
Chai firmly believes that the BRI is benefiting the Malaysian business community, especially accounting firms.
'As Chinese clients are starting businesses in Malaysia, they will need reliable professional consultants and accountants like us who can provide a convenient yet quality one-stop solution centre to assist them with all the compliance matters,'.
'Most of our Chinese clients in Malaysia are SMEs and many of them are in e-commerce businesses,' Chai notes. 'We assist them in setting up their companies in Malaysia and provide all the required compliance services including secretarial, accounting and tax, in an effective and innovative manner.'
Chai adds that although 3E Accounting does not have a dedicated China desk, it is still able to leverage off its own global accounting networking group to assist clients to venture into any country where they can tap into the BRI.
MK Lee, journalist
"China companies want to internationalise and Malaysia is a good first stop for them to understand the outside world and engage with it"